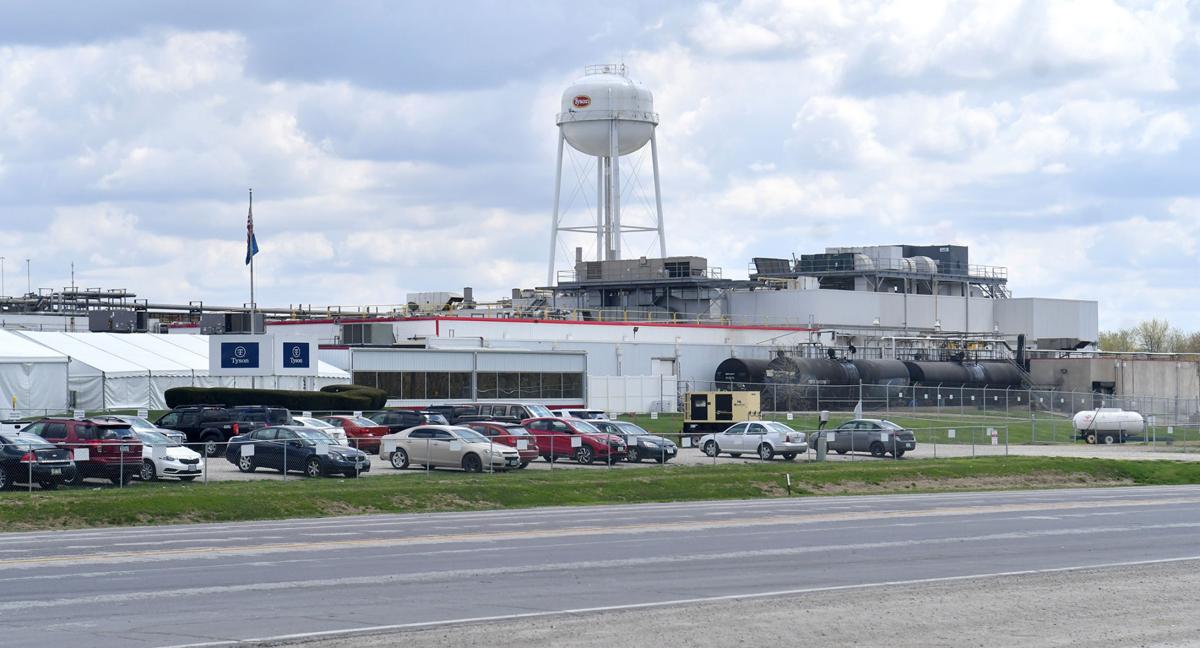 SIOUX CITY — Tyson Foods plans to launch regular, weekly testing of its workforce, as part of a stepped-up effort to avert spread of the coronavirus, like the outbreaks that sickened thousands of employees and idled or slowed production at several of the company's Iowa, Illinois and Nebraska meat plants this spring.
As part of an expanded monitoring program it will announce Thursday morning, Tyson also will hire nearly 200 nurses and administrative support personnel to support the 400 people now part of the company's health services team. 
The expanded roster of nurses will conduct the on-site tests and assist with care management, coordinating treatment for employees who contract the disease.
To support the increased staffing strategy, Tyson also will create a chief medical officer position at the corporate level.
Four company representatives shared details of Tyson's new monitoring initiative with a Sioux City Journal reporter during a Zoom meeting Wednesday.
"This is a very proactive way for us to do our best to stay ahead of this virus, rather than what we've experienced in the recent past," Hector Gonzalez, Tyson's senior vice president for human resources, said.
In the initial stages of the pandemic, Tyson and other meatpackers struggled to contain the virus in plants, where workers traditionally work side by side in production lines and often share crowded locker rooms and cafeteria and rides to work.
Tyson already has tested around 40,000 workers, or nearly a third of its workforce. Of its 122,000 employees, less than 1 percent, or about 1,200, are active COVID-19 cases, according to the company.
The company conducted mass testing at several plants where large-scale outbreaks occurred, including its flagship beef plant in Dakota City, Nebraska, just across the border from Sioux City. By far the metro area's largest employer, the plant temporarily shut down in early May after nearly 790 of the 4,500 workers and contractors tested positive for the virus. 
Tyson also temporarily idled several other plants, including pork facilities in Storm Lake, Columbus Junction, Perry and Waterloo, Iowa, and Madison, Nebraska, after hundreds of workers were infected.
Under its expanded monitoring approach, the company will test thousands of workers each week across all of its 140 facilities.
"That will be ongoing all the time," Tyson senior vice president Scott Brooks, who leads the company's COVID testing efforts, said.
"As we expand this, we're going to be touching even those facilities where we don't know if we have any cases," he said. "So it's going to be a significant expansion."
While it's not logistically possible to test all workers every week, the monitoring program will provide a sample of the workforce, Brooks said.
Workers with no symptoms may be selected for testing based on an algorithm-based selection process that considers various scientific data. The number tested each week will be dynamic and adjusted based on factors, such as the number of positive cases involving plant workers and the community.
Other information also will factor into the weekly testing process, said Dr. Daniel Castillo, chief medical officer for Matrix Medical, a private clinic services company Tyson retained this year to conduct on-site screenings. 
"There are some people, because of their nature of the work, who might interact more with others. So that data would trigger that algorithm to identify those folks to be tested perhaps more often," Castillo said. 
"It's continuously learning and updating based on up-to-date data, who needs to be tested, how often and what's the baseline testing rate." 
Castillo praised Tyson for its forward-thinking approach to mitigating the risk of the virus.
"I do believe that this is something other organizations will look to adapt," he said. "I expect that we'll be hearing a lot more of these type of approaches from other companies."
Marc Perrone, international president of the United Food and Commercial Workers, the largest union representing Tyson hourly workers, urged other industry employers to follow Tyson's lead and "take immediate action to expand COVID monitoring as we work to flatten the curve.
"Together, we will continue to look for new and better ways to protect the health and safety of the brave frontline workers who are so important to the nation's food production system," Perrone said in news release from Tyson.
Tyson officials point out the expanded monitoring and increased health staff hiring is the latest in a series of precautions and safety measures the company has taken since the pandemic struck.
Workers have their temperatures taken daily by infrared scanners at plant entrances and also are required to wear facial coverings. 
More than 500 social distance monitors also have been installed in plants to track social distancing efforts and ensure personal protective equipment is worn properly.
Workers who test positive receive paid leave and may return to work only after they meet criteria established by Tyson and the federal Centers for Disease Control and Prevention.  
Concerned about COVID-19?
Sign up now to get the most recent coronavirus headlines and other important local and national news sent to your email inbox daily.