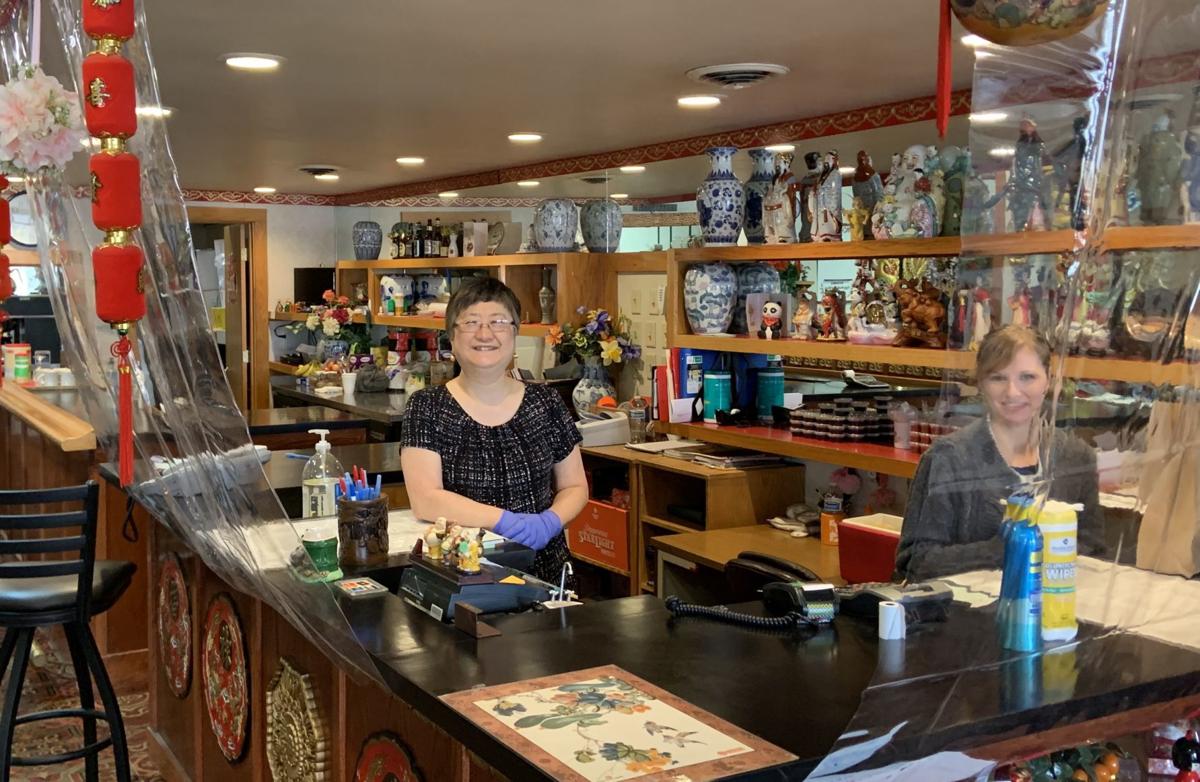 MUSCATINE — Walking into Peking, there may be many different things that catch a customer's eye – from the beautiful red and gold colors to its stunning Chinese décor.
But as of lately, the first thing people may notice when they walk into Peking, are the sheets of protective plastic hanging above the pick-up counter.
"It protects me, and protects the customer," said Peking owner Shun Yu Chiang, a second generation Chinese immigrant.
With this, she wears gloves each time she hands out a to-go order, and has stocked up on hand sanitizer. All of this is done to keep customers safe while continuing to serve them.
For nearly 44 years, Peking has been part of the Muscatine community, providing both dining in and carry-out. "Everyone knows us already as a local business. I don't even put ads out because everybody knows us," Chiang said, "and we've always done carry-out."
While it's business as usual on the carry-out side, her dining room has been empty since last Tuesday. Like many restaurants, Chiang has been forced to temporarily close her dining room in order to slow the spread of COVID-19. She says that this change has caused her to lose some business, but she is trying to stay open for as long as she can.
"Everything is a question, but we'll try so hard to keep open," she said, "Until the government says we have to completely close down, we'll stay in business serving hot and fresh food to the customers."
This is Chiang's and her staff's main goal – to keep serving "homemade, healthy and fresh" food to her community.
So far, she says her supplier hasn't had any issues getting ingredients to them, thanks to how long they have worked with them. As for Peking itself, the chefs are still following the strategy of 'order one, cook one'. "Just come, and we'll cook fresh."
This strategy seems to be working so far, and while sales are down, she says they're doing good business and Peking has plenty of support from their customers. There have been reports of backlash against Chinese restaurants because the coronavirus originated in China.
"We're never down," Chiang said, "This is a different situation, not just for me but for everybody, but we're never down." Along with wanting to provide homemade food, she adds that she hopes Muscatine's COVID-19 case numbers stay low, and no one passes away from the disease.
"If you think about how one family business can stay open for 40-some years, that's an amazing community to be in already," she said, "They've helped us for many years."
She wants to do continue doing her part to feed and protect her customers. "Go Muscatine!" she added, cheering her city on as it moves toward the end of the second week of the restaurant and bar lockdown.
Concerned about COVID-19?
Sign up now to get the most recent coronavirus headlines and other important local and national news sent to your email inbox daily.