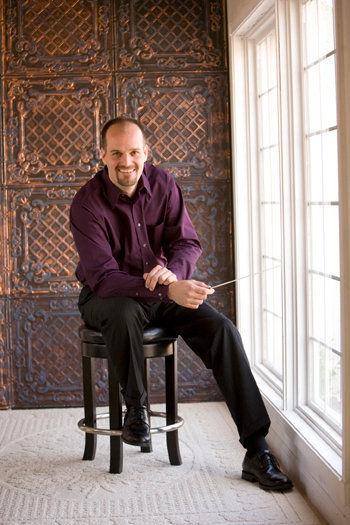 MUSCATINE — For Maestro Brian Dollinger, this latest concert season for the Muscatine Symphony Orchestra has been unlike any other he has experienced.
Although the symphony has recorded its performances before, this has been its first completely virtual concert slate.
The season comes to a close with a MasterWorks concert titled "Coming Together" this Saturday at 7 p.m. on streaming and 7:30 p.m. on Public Access Channel 9.
Before the final performance, Dollinger took some time to reflect on the season as a whole, which consisted of five virtual concerts, not a single performance missed.
"We have truly been blessed to be able to achieve this goal," he said of putting on the five virtual concerts without having to cancel a single performance. "While so many other performing arts organizations not only here in Muscatine but around the world have had no performances or have even closed down for good, the Muscatine Symphony has been able to preserve and create five new programs for our community and the larger Eastern Iowa and Western Illinois region."
Dollinger said he felt the season has been very successful, partially thanks to the partnership the symphony has formed with both Muscatine Community College and Muscatine Power and Water, both of which have helped with the internet streaming and cable broadcasts of the Symphony's performances.
"I know many of our faithful audience members are more comfortable with mobile technology than others, so being able to sit in their comfortable living rooms and watch on their own TVs was really important to me," he said. "Keeping in touch with as many people as possible was the goal, and I believe we did a great job with this."
While having the ability to stream and broadcast their performances has been a relief in some ways, it has also been a struggle in others.
"There are so many moving pieces when we go virtual," Dollinger said.
Those pieces ranged from making sure the audio is crystal clear to placing cameras to even something as simple as a rehearsal, which had to be altered the most.
"I was very reliant on each individual musician coming to our rehearsal time even more prepared than usual," he said. "We did not have the opportunity to have multiple rehearsals for each concert, so we had some very intense, condensed rehearsal times."
Dollinger also admitted that getting used to performing without a live audience took some time for him and his musicians, and that it was occasionally a bit awkward. At the same time, however, he has also found a new creative outlet through the post-production editing, where he would match the various camera angles to the audio recordings and make it into an engaging video performance.
"I think that it has been nice for me to be able to choose what was being 'seen' during the performances," Dollinger said.
As enjoyable as that part has been for him, Dollinger is still hoping to get back to in-person performances with a live audience for the next season of MasterWorks concerts.
"As always, we'll be looking ahead with multiple plans in place. But, like this past year, we have to be able to pivot and utilize technology to its fullest in order to continue on our successes," he said, adding that the symphony would have to focus on remaining financially stable as well as continuing to provide entertainment to the community, due to it being reliant on ticket sales and donations.
Dollinger is also hoping the 2021-2022 season will provide a chance to properly celebrate the Symphony Orchestra's 20th anniversary, even if this celebration will be a year late. As for this upcoming concert, Dollinger is excited to bring the symphony's woodwind and brass sections back into the performance, making this concert truly feel like a "coming together" moment.
"Because of the nature of COVID-19 being a respiratory illness and these instruments utilizing the movement of breath to make their music, we have erred on the side of caution with their inclusion in our previous performances," he said. "But, as viewers will see, we have utilized all our resources to find safe and effective ways of including these wonderful musicians again."
Alongside classical composers such as Mozart, Haydn and Mendelssohn, the symphony will also feature a piece composed by David Stern. His piece, "Rhapsody for Violin and Strings" will have its world premiere at this concert.
This isn't the first time an original Stern piece has premiered at an MSO concert. Friends with Stern since their time at Ball State University, Dollinger said that two of them have supported each other with Stern often sharing newly written compositions with him.
"With the unique restrictions that the orchestra has to deal with, I felt that this would be a wonderful opportunity to showcase not only his piece in this premier, but also our longtime concertmaster, Heather Turner, as the soloist," he said. "My only wish is that our audience could experience it in-person with the composer in attendance, but I'm sure this will not be the last time I perform this work, nor premiere more of his music."