Local
top story
Muscatine's John Dabeet participates in Nakba commemoration at United Nations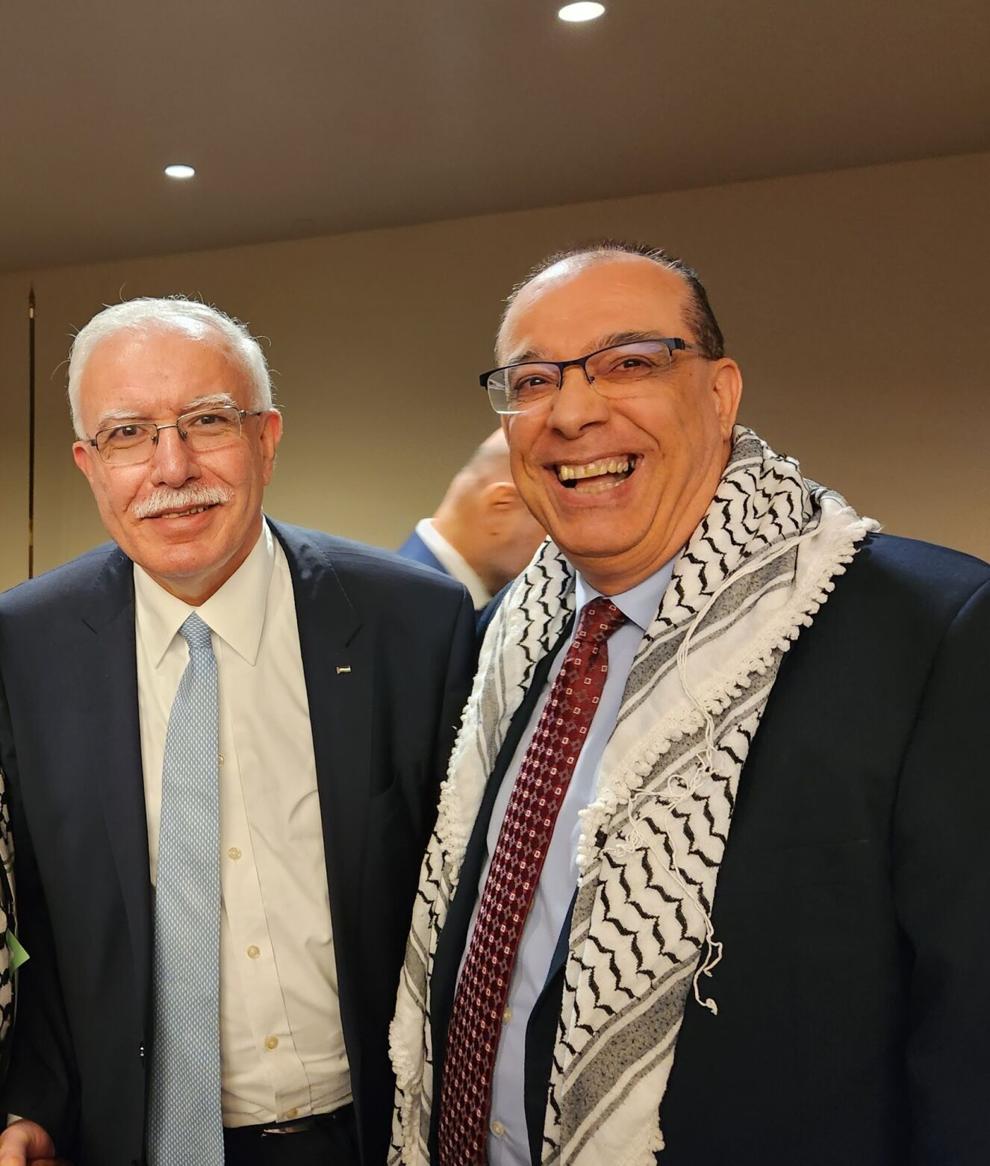 In November 2022, the United Nations decided for the first time in its history to hold a high-level meeting on May 15, 2023, in commemoration of the 75th anniversary of Nakba, also known as the Palestinian Catastrophe, which resulted the mass displacement of the Palestinian people.
For many Palestinians, including Muscatine's own John Dabeet, the acknowledgement and commemoration of this day can be seen as major way of continuing to raise awareness and share the story of the Palestinian people.
Dabeet had the opportunity to be at the United Nations in New York for all three days of the commemoration.
"It was super exciting," he said.
Muscatine
top story editor's pick spotlight
Prof. John Dabeet couldn't help but be choked up as he accepted his presidential award for a lifetime of service.
Dabeet said he felt that after 75 years, this event has shown that the world as a whole is now starting to recognize the suffering of Palestine. As a Palestinian-American and as someone who is trying to share the Palestinian narrative, being shown this along with being part of such a historic moment was very meaningful and meant a lot, he emphasized.
"(To me, this commemoration) means that the world is saying 'it's time to end the occupation of Palestine, and it's time to let Palestinians have their rights and their independent country.' It's time for the Palestinians to govern themselves and live in peace, like any other nation," Dabeet said.
During the meeting, Palestinian President Mahmoud Abbas took the time to address the General Assembly, and several American-Palestinian leaders from around the country were invited to take part in the anniversary and commemoration. After each meeting, a two-hour culture event was held featuring movies about Nakba and music performed by a well-known Palestinian singer.
Last Friday, January 27, Secretary of State Antony Blinken took the time to meet with several Arab-American and Palestinian-American leaders -…
Although he did not lead any of the meetings, which were all led by the United Nations, Dabeet said he still appreciated getting to participate. He enjoyed getting to speak with Abbas once again, having the chance to thank him for all the diplomatic steps that he has taken towards Palestinian peace.
"It was definitely a historic moment to be at the United Nations during that time," Dabeet said.
With the decision being that the United Nations would officially consider May 15 of every year as Nakba Day, Dabeet said he hoped that the continued commemoration would encourage the world to not just acknowledge the 75 years of Palestine living under a military occupation but to also stand with Palestine and support its efforts to live independently.
"We don't lack education or leadership or any of those things that are important to building and securing a nation, it's just the military occupation that doesn't allow us to achieve such a goal so that our future leaders and our kids can enjoy life like anybody else," Dabeet said. "Living in freedom and peace is a basic human right, and we should encourage it everywhere in the world."
'Newsweek' reports that advocates for immigrants' rights have sued the Biden administration over its new asylum ban.
Nikki Haley, former South Carolina governor and U.S. Ambassador to the United Nations in Davenport Friday campaigning for president.