Local
top story
Alquist 3D holds live demonstration of 3D house printing process for special guests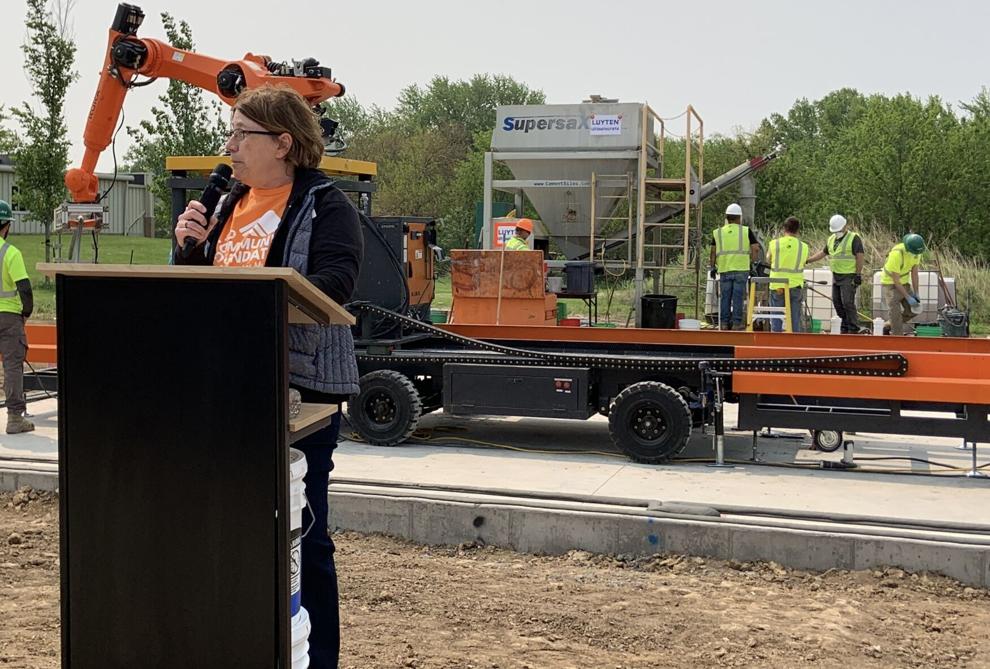 Charla Schafer felt thankful on Friday. 
"Gratitude is how I'm feeling today," Schafer said as she stepped to the podium. She's president of the Community Foundation of Greater Muscatine. "Gratitude to live in a community and work with people that are impatient about making their neighbors' lives better and their community stronger, embracing collaborative solutions to address our significant priorities."
On Friday, May 19, at Duncan Drive in the Arbor Commons subdivision, special guests and community leaders had the opportunity to see Alquist 3D's work in action as it began printing the exterior walls of Muscatine's — and Iowa's — first 3D printed home.
This collaboration between Muscatine County and Alquist 3D was first announced in December 2022, with the team's stated goal being to increase the housing within Muscatine County through innovative measures, using the 3D printing technology in order to provide a faster and more efficient process.
In addition to providing 10 new homes to the Muscatine community within the next year, the efforts made will attribute to the state's overall goal of adding 42,000 homes by 2030 in order to meet demand.
During her speech, Schafer stated that while she is incredibly proud to live in Muscatine County, she also acknowledged that not every person who wants to live in the county has the opportunity to do so.
Eleven thousand people, or 48% of the county's workforce, commute to Muscatine for work. This includes 25% of local educators. Recent report shows that Muscatine County has the third-highest housing expenses in the state.
Through these statistics, Schafer further emphasized the importance of not only providing housing, which she referred to as being "foundational" and "intersectional," but to do so in an efficient and effective manner.
"Too often, communities try to address complex issues through siloed navigation, and that's sub-optimal," she said.
Schafer also acknowledged the importance of solving local issues at their source and keeping an open mind in regards to new and different solutions such as using 3D printing for housing.
"We have to get upstream. So often we serve the downstream outcomes rather than preventing them. It's like we continually choose spending money to replace the drapes in the house because there's a hole in the roof. We have to focus on the foundational priorities and fix the hole, and that hole is housing."
During the event, several other leaders on the project made remarks. Besides Schafer, other speakers included State Senator Mark Lofgren; Rich Dwyer, who serves as chairman for the Community Foundation of Greater Muscatine; Dr. Naomi DeWinter of Muscatine Community College; and Zachary Mannheimer, founder and CEO of Alquist 3D.
For more information and details on these upcoming 3D printing projects and the local housing initiative, residents can go to www.givinggreater.org/housing.
On Friday, May 19 at Duncan Drive in the Arbor Commons subdivision, special guests and community leaders had the opportunity to see Alquist 3D…