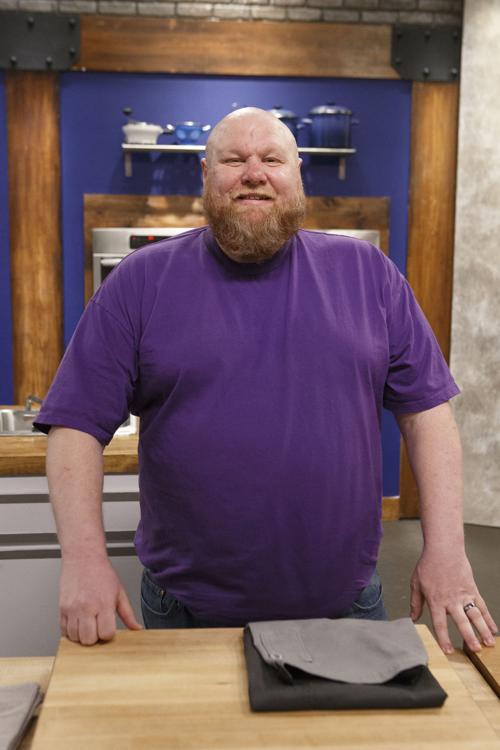 Not long ago, Johannes "Yo" Phelps' go-to dishes for his family were cereal, driving to a restaurant, or ordering delivery.
His lack of even the most basic culinary skills prompted his fiancee, Jami, to sign him up to audition for the Food Network's "Worst Cooks in America" season 20, the 46-year-old Davenport man said.
"She thought it'd be a riot," he said. "I thought it was a joke."
Then he started getting phone calls.
"It just really solidifies the fact that my cooking is that bad that we needed to have an intervention," he said.
Between him and his fiance, the couple has seven children, ranging in age from 11 to 21. "We're kind of like the Brady Bunch plus one, except we don't have a maid," Phelps said.
"The kids absolutely refuse to eat my food," he said, quickly adding that he doesn't blame them.
Phelps, a realtor, said his fiance, who loves the Food Network, nominated him for the show late last year, and they began filming on the East Coast early this year, before COVID-19 hit. 
"It's probably one of the hardest secrets to ever keep," he said.
In the premiere, which aired last Sunday, 14 people from across the country were divvied up into two teams to be mentored by either Iron Chef and "Supermarket Stakeout" host Alex Guarnaschelli, or chef and Food Network regular Anne Burrell.
Phelps was chosen for Guarnaschelli's team, he said.
"I had the Iron Chef there with me. ... (It's) probably one of the top 10 things I've ever done in my life," Phelps said. It was like a dream to have someone of that caliber who is so well-known in the industry "help train, and mold and teach you," he said.
For the show, "recruits" essentially are put through a "culinary boot camp," completing challenges designed to improve their kitchen skills, according to a news release from the Food Network. At the end of the seven-episode season, the most-improved recruit will win $25,000 and bragging rights for their mentor.
Episodes air on the Food Network on Sunday nights at 8 p.m. central time, and the finale will air Aug. 2.
Throughout his time on the show, much of which is still a secret as the episodes are still airing, Phelps said he learned how to read and follow recipes, as well as various cooking techniques for meats and vegetables. "It was like a whirlwind," he said. "These are things I never thought I would be doing."
The lessons moved quickly. "You really have to try to laser focus on the training" so you can recall it for challenges, he said. But the team leaders knew what and who they were dealing with.  
"We're not master chefs here. We're not even cooks," he said. "We're people off the street. ... I don't even know why they gave us sharp objects."
Showing signs of improvement isn't difficult when you start so far below average, Phelps said. "When you're already below the expectation level, everything you do (seems better)," he laughed.
It's amazing to him that he has been able to take what he has learned to create meals at home, he said. "Jami and I actually started cooking together," he said. "I was able to learn some skill sets … and now we use it together for the children."
But he isn't a master chef yet. "It's a good thing (Jami's) still there," he teased. "I still have a lot of learning to do."
Phelps said his fiance runs Eising On The Cake Bakery out of their home. "Not only can she bake, she can cook, too," he said.  Having her with him in the kitchen is "definitely a help."
As he continues to improve his skills, he teased, "to know you're not poisoning your child as you're trying to give them life-sustaining elements is always a plus."
Phelps is grateful for his experience and for all of the people it put in his path. "The whole process from spending time with the cast and the chefs and being in another town you're not used to, it was overwhelming. But at the same time ... you just stood back and realized the opportunity that you received," he said.
He found a kind of "dysfunctional" second family in the cast. "We talk all the time," he said. It was a kind of "raw and emotional" experience, he said, and everyone involved was coming from a place of help. "I think everybody bonded a little bit more on that."
He also takes his missteps in stride. For instance, he said he fell during the first episode, right into the counter. He's happy he can make people laugh, he said, and he realized that "it can only get better from here."
The only drawback he has experienced so far is the fact that he can no longer use the excuse of not being able to cook to get him out of cooking. But it was worth it.
"It was awesome. Who can say that they trained with an Iron Chef? And who gets that opportunity?" he said. "It's priceless."
To meet the rest of the contestants, watch highlights and cooking demos, and catch up on previous episodes, visit FoodNetwork.com/WorstCooks.
Stay up-to-date on what's happening
Receive the latest in local entertainment news in your inbox weekly!