As much a story of the civil rights movement and American history as it is Theodore M. Hesburgh, "Hesburgh" will interest historians and as well as Notre Dame alumni.
The film by Patrick Creadon, who also directed another terrific documentary,  "Wordplay," about the New York Times' longtime crossword-puzzle editor Will Shortz, again chronicles a fascinating life. This time, it's the biography of Hesburgh, a well-known Catholic priest and longtime president of the University of Notre Dame.
"Father Ted" had connections … that's an understatement. It seems every pivotal moment of American history for at least 60 years involved Hesburgh in some fashion. In many ways, his story reminds me of the fictional "Forest Gump," the iconic Tom Hanks character who seems connected to every turning point in recent American history.
The movie's focus on his involvement with the civil rights movement makes it particularly timely because of its connection to the late Martin Luther King Jr.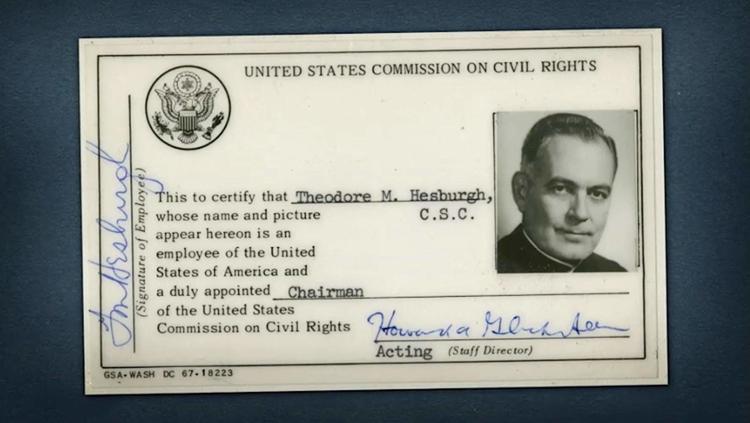 Hesburgh was appointed by President Dwight D. Eisenhower to the new Civil Rights Commission in 1957. Through a series of hearings, the commission found African-Americans were being denied the right to vote in the South.
You have free articles remaining.
Hesburgh's clever idea for a relocation of a hearing is among the finest moments here and could be considered one of the finest moment in a turbulent time.
The likes of Ted Koppel discuss Hesburgh's ability to "reach across lines."
We also learn about Hesburgh's personal life, including his friendships with the Pope and his unlikely but delightful friendship with then-popular advice columnist Ann Landers.
Much of the film is told through Hesburgh's own words, read by voice actor Maurice LaMarche. Hesburgh himself is shown in archival footage and photos, while many people who knew Hesburgh share their recollections.
His presidency of Notre Dame is depicted, too, again reflecting social and political changes and the divisiveness of the Vietnam War era.
You don't need to be Catholic to appreciate Hesburgh and the impact he made on academia and  society.