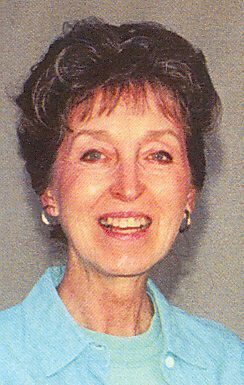 January 12, 1939-July 18, 2020
Eldina Marie (Bortleson) Benninger passed away on Saturday, July 18, 2020, surrounded by her family, who sang favorite hymns to usher Mom into Heaven.
Eldina (Bortleson) Benninger was born on January 12, 1939, and lived in Stockton, Iowa, a town of 250 people. Her parents were Herbert and Mildred Bortleson. Though they had lived 15 minutes apart in Iowa, Dena and Bernard Benninger met in California, and they married in Ventura, Calif., in 1960. They have been residents of Santa Maria since 1965.
An accomplished oil and watercolor artist, seamstress, and gifted soloist and classical pianist who faithfully played the piano and organ in her church, Dena Benninger's entire being was focused on her vibrant relationship with Jesus Christ and her family. Prayer was her ministry. She would be found sitting in her chair in the early hours each morning fully dressed and made up, wrapped in an afghan, Bible and journal in hand, spending time with her Lord.
Dena was a faithful wife, cherished mother, a selfless nurturer and our champion encourager. She loved beauty and spread it all around, radiating joy. Her heart beat with love for her family, and she generously poured that love over all of us. We were always more important than anything else going on. We cannot count the endless sacrifices she made for us, or the prayers she bathed our lives in.
Mom delighted in little everyday pleasures, adored roses and the colors purple and blue, looked for the positive in every person and circumstance, and had the courage to grow.
Today she is exactly where she has always wanted to be—in Heaven, with the eternal lover of her soul. Her bright light has joined the even brighter glow of her Savior, Jesus.
Survivors include her husband, Bernard Benninger, 88, son Stephen Benninger of Gahanna, Ohio, daughter Barbara Vessell of Woodbridge, Va., daughter Mary Morris of Lake Tapps, Wash., and six grandchildren—Kent, Chad, and Grant Benninger, Natalie Vessell, and Maeli and Macen Morris—sister Frances Kennedy of Manteca, Calif., and cousin Gilbert Bortleson of Black Diamond, Wash.
To plant a tree in memory of Eldina Benninger as a living tribute, please visit Tribute Store.
Obituaries Newsletter
Sign up to get the most recent local obituaries delivered to your inbox.