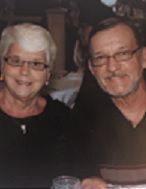 COLUMBUS, Ohio - Mr. and Mrs. Robert L. (76) and M. Carlene (Sneddon) Wilbur (77) of Columbus, Ohio, were called to their eternal home in heaven while on their great adventure visiting nine national parks on Thursday, August 22, 2019, in Moab, Utah. Married 54 years, Bob and Carlene died the way they lived — side by side, hand in hand. Bob was a beloved husband, father, grandfather, great-grandfather, brother, brother-in-law and uncle. Carlene was a beloved wife, mother, grandmother, great-grandmother, sister, sister-in-law and aunt. They resided in Columbus, Ohio, and Palm Coast, Fla.
Bob and Carlene met at and graduated from Mount Vernon Bible College, where their decades of Christian ministry began. As faithful members of the Vineyard Church of Columbus, they demonstrated their shared love for Christ in every aspect of their lives; they embodied what we all strive to be. They enjoyed spending time with their loved ones, assisted in raising their grandchildren, doted on their great-grandchildren, and relished their pool and lanai at their Florida home. Second only to Carlene, Bob loved every motorcycle he ever owned; his other passions included serving others, telling bad jokes well, and cheering for the Ohio State Buckeyes. Carlene was renowned for cooking and hospitality (her elaborate Thanksgiving meals required a spreadsheet); she will be lovingly remembered for raising her eyebrows and pointing her long, bony finger to set others on the straight and narrow. They are survived by their daughters, Michele (Jon) Christiansen and Kim Wilbur; #1 son, Brian; "adopted" daughter, Chris Lees; grandchildren Kyla, Kyle, and Mahalla; great-grandchildren, Hazel and Damon; and step-grandchildren, Jaret and Savannah; all from Columbus, OH. Bob is survived by his sister-in-law, Pat, and his brother, Richie (Doreen). He was preceded in death by his parents and brother, Earl. Carlene is survived by her sisters, Peggy Sneddon, Kathy (Dave) Crosley, and "adopted" sister, Jackie Emlet; Sneddon brothers, Dick (Ann) of Muscatine, Tom (Vicki) of Wilton, Jerry (Joan) of Wilton, and Carl (Kathy), also known as Joe and Kate, of Blue Grass. She was preceded in death by her parents and niece, Jessica Sneddon Schweitzer. Bob and Carlene will also be missed by their numerous nieces, nephews, extended family and friends. Their legacy remains — two lives interwoven with family and friends, contagious laughter, unwavering faith, and a love for each other that never failed.
A memorial service and luncheon (casual dress) for family and friends will be Sunday, September 15, at The Rendezvous, 3127 Lucas St., Muscatine, Iowa.
Visitation and luncheon will be 1 to 3 p.m. There will be a prayer and the opportunity to share memories at 1:15 p.m. In lieu of flowers, donations in their names can be made to: MCSA (Muscatine Center for Social Action), Iowa Ave., Muscatine, IA 52761.
Obituaries Newsletter
Sign up to get the most recent local obituaries delivered to your inbox.