The facility, called the Meridian, will be housed on 14 acres and will include multiple levels of living from independent and assisted living to memory support, short-term rehabilitation and long-term care. Approximately 100 independent living apartments, 16 assisted living and 16 assisted living memory support, 20 short-term rehabilitation suites and 20 health care suites will be offered, according to a press release.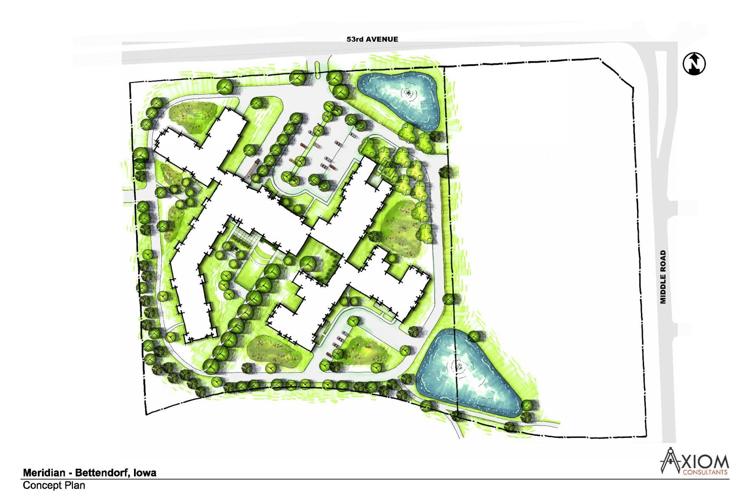 A Genesis "Healthplex" will also be constructed adjacent to the facility, the release says.
You have free articles remaining.
"We're honored to become part of the Quad-Cities' senior living landscape, and we look forward to bringing the WellSpire brand of vivacity, activity, health and well-being to a market that welcomes development and enhancement of services for older adults," WesleyLife CEO Rob Kretzinger said in a release. 
"Through our partnership with Genesis Health, we're focused on a common mission to pave the way for people 55 and older to lead healthier, more fulfilling lives that focus on purpose and well-being. The Meridian will be an opportunity to illustrate how we plan to make that mission come to life." 
Bettendorf was chosen, Kretzinger said in the release, due to its rapid growth over the past few years and projected future growth.
"Genesis continues to be thrilled with our joint venture and partnership with WesleyLife in the formation of WellSpire," Genesis Executive Director of Home and Outpatient Services Glen Roebuck said Monday. "We look forward to changing the landscape in service and care for older adults in the Quad Cities."
In addition to the Meridian, Wellspire also plans to identify needed changes to Genesis properties of Illini Restorative Care and Crosstown Square apartments in Silvis and Westwing Place in DeWitt. They also plan on developing a senior living community in Moline, the release says.