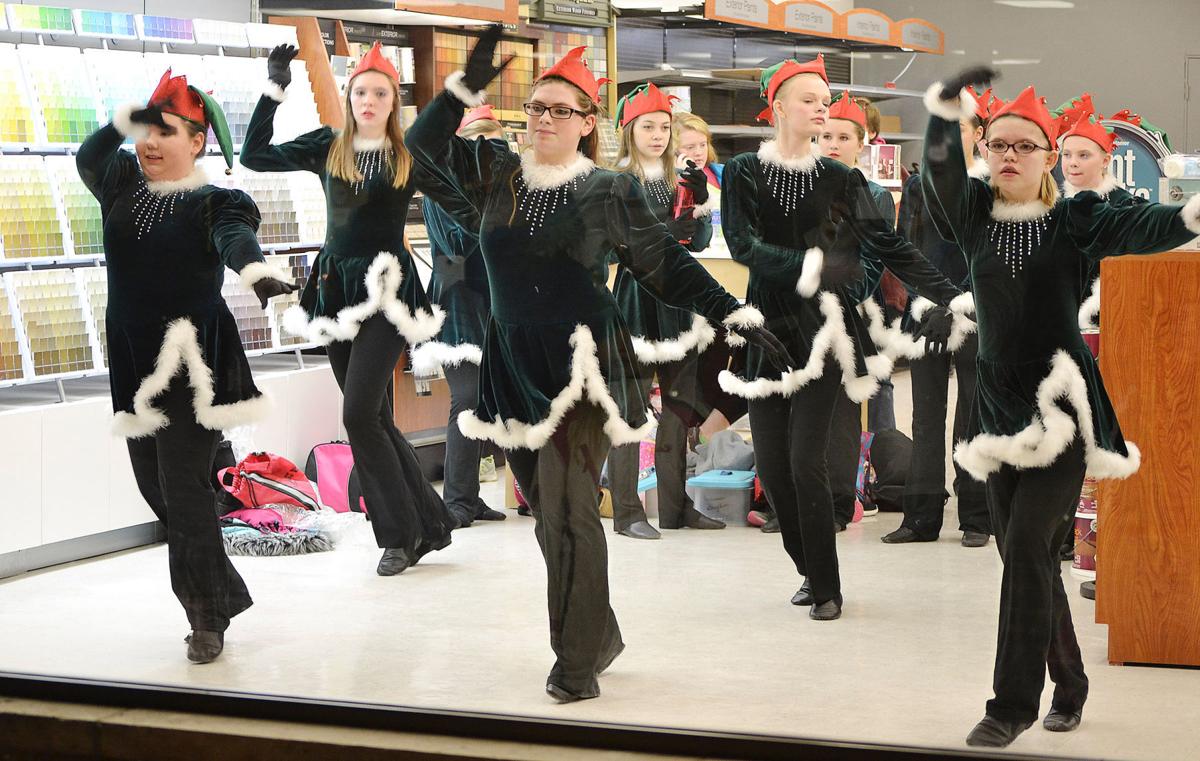 MUSCATINE – For 36 years, the class at Miss Louise School of Dance has performed in the Sherwin Williams store front window, and though the Holiday Stroll may seem a bit different this time around, this year is no exception.
Ten of Miss Louise's dance company students will perform during the second night of the Stroll, Friday, Dec. 4, from 5:30 to 7:30 p.m.
While it may seem like only one night a year for those who head downtown to watch them, both the dancers and Miss Louise Munday spend a whole year preparing for it.
"We rehearse for three months, and we're listening to Christmas music in September." But as she and her dancers continued preparing for their upcoming performance, Munday had one question for them: "Why is performing at the Holiday Stroll important to you?"
"One girl said that (the performance) helps get people in the Christmas spirit, and because it was tradition. Another one said that they love to perform for the people that come to watch them. Another dancer said that it was important because it made people happy, and to bring joy to those who may not normally be able to attend a performance," Munday said.
Her favorite responses, however, were those dancers who said that the performance was important to them because it was fun, and because it also showed how important Christmas was by coming together and being part of the community.
"For me, the reason why I have always done a Holiday Stroll performance is to give back," Munday said, adding Christmas has been an important part of her family. "My grandfather was the first to patent the Christmas tree stand, so Christmas has been in my blood my whole life. It's a wonderful time, it makes people happy even when things are rough."
For several months this year, Munday had to close her dance school because of the pandemic, even cancelling the traditional Mother's Day weekend recital. Her students and her families still gave her a bit of cheer that day with a car parade.
"I thought, this is happening all over the world. This pandemic has flipped our lives upside down, and we need something to give us spirit – whether that's driving past a performance or walking down to see it," she said, "(Our performance) is a way to give back and hopefully it'll work."
To avoid the spread of COVID-19, Munday made masks mandatory in her studio. Her students keep a 12-foot distance from each other and wash their hands every half-hour, and pop-in visits are prohibited.
"The change has been massive," she said, "I've probably bought $1,000 worth of everything that is anti-bacterial and 99% germ safe. I've tried my hardest to be thoughtful about not only these children, but myself as well. But I try to make it so it doesn't seem desperate, because I don't want the children to be afraid. I want to bring them some kind of joy and let them continue to do something that they want to do."
Her dancers will perform four at a time to allow for social distancing, and will be wear special holiday masks. "I don't know how big of a crowd we'll get. It'll be very odd to not have a hundred people standing outside Sherwin Williams watching us perform. It's not going to be the same, I don't see how it can be… but we have to learn how to change with the times."
"I hope people venture out to see us, and I'm very grateful to the parents who are allowing their children to do this," Munday said. "I also have to commend everyone who has worked on this year's Stroll and who have tried to move forward in hard and difficult times. It may be a massive and huge success, or it may not."
She and her dancers are happy to be part of the Stroll this year, regardless of the turnout or any of this year's differences. "Muscatine has been very good to me, it's a good place to live and I'm really blessed to have had one business for 43 years."