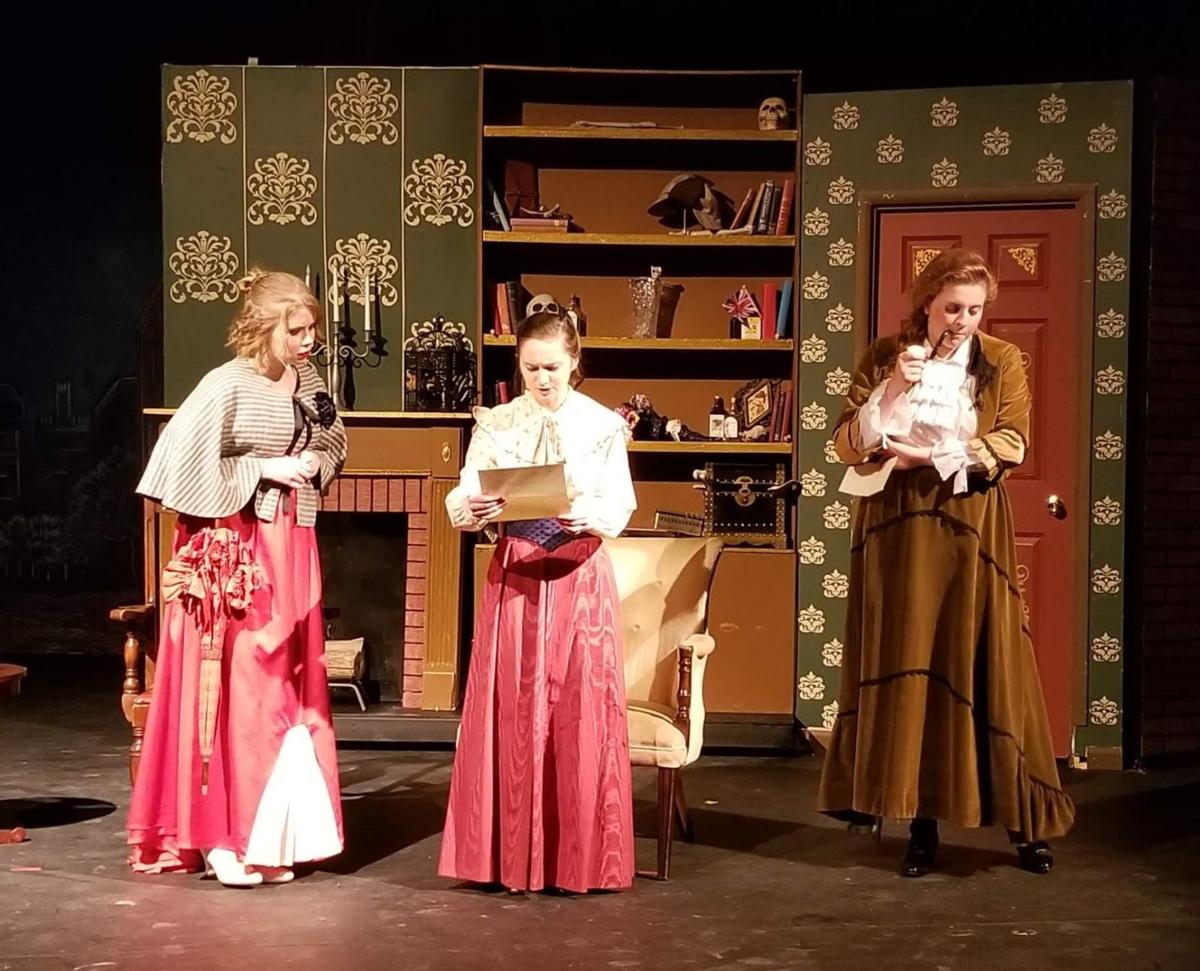 MUSCATINE — Mystery stories are no stranger to twists, but in this fall's Muscatine High School Drama Department performance, the students are bringing a twist to a classic character.
This weekend, Nov. 8 and 9 at the school auditorium, the Muscatine High School Drama Department will present "Miss Holmes." This fanfiction murder-mystery is based on classic Sherlock Holmes stories, but envisions how Holmes and Watson's adventures might have played out if they were women, pitting their determination to solve crimes against the gender norms of 1880s England.
Drama Teacher Rene Mauck had been searching for something new.
"I knew I wanted a murder mystery, something serious but also not just your same old Agatha Christie." Eventually, Mauck came across the Miss Holmes play, absolutely loving both its main character twist and its mystery.
"It has some funny stuff in it, but it's still a gritty murder mystery, and I just thought that kids would have a blast with it," Mauck said.
Chloe Finn plays Miss Holmes in her first lead role. "It's a very interesting and new experience that I've enjoyed for the past two months. It's been a challenge, but it's also been really fun," Finn said.
Having already seen other interpretations of the character, Finn feels her version of the character is less analytical and more spunky and excitable, while also following the Sherlock tradition of always paying attention to every detail, subverting expectations. "This version is less 'old English-y man' and more just bright and fascinated by everything."
You have free articles remaining.
She said all the line memorizing she had to do (along with learning the accent) was a bit of a challenge, but one that was well worth the effort.
Anna Poffenbaugh — who plays Watson in her first play at MHS — and Lucas Burkamper said they enjoyed the character twist. To them, the story made sense as a 'gender-swap' story and that this one element changes so much, offering a more personal conflict for the characters along with all the dangers and adventures of a mystery.
And they all enjoyed working together on the show.
"We're all on a really similar playing field skill-wise, and it makes it really awesome to work with them," said Jonathan Taverna, who had never been in a murder-mystery play before, and has found the experience interesting and rewarding. "I think it's really cool to deliver a play that people have to pay attention to and understand to enjoy it."
Mauck said the play offers an interesting look at how women were confined by their expected roles in society and the ways they fought for lives outside of those roles.
"I think the kids are really enjoying that aspect," Mauck said. "They're all teens, meaning they've only ever grown up in a culture where women have so many more opportunities, so to look back on how it was is pretty eye-opening for them."
Miss Holmes is a bit more mature than their average school play, Mauck said. The mystery makes the plot more complex, and there are murder-mystery elements such as death and gunshot sound effects. "It's probably not great for little kids, but I really think older kids and adults will really enjoy watching it and trying to figure out the mystery before the end."
"Miss Holmes" performances are 7 p.m. Friday, Nov 8 and Saturday, Nov 9 at Muscatine High School's auditorium. Ticket sales start at 6:15 p.m., with general admission seating. Tickets cost $6 each, and activity passes will also be accepted.