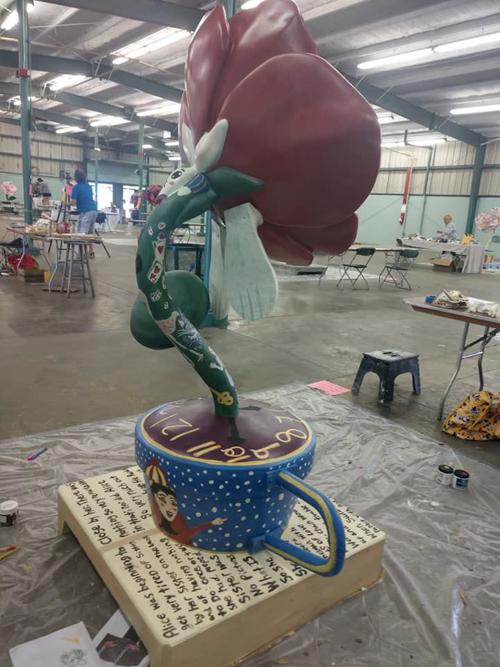 MUSCATINE —Roseville, Minnesota, is celebrating "20 Roses in 2020" with a new art display, featuring 20 rose statues, each painted by one of 20 artists. One of the artists is Muscatine resident and contemporary artist, Kimberly McCracken.
"I just couldn't believe it," McCracken said, "I can't even explain how I felt, it just felt so surreal. Like, is this a dream? I felt so honored that they even considered me." She added that she felt proud to represent Muscatine.
McCracken, also known by her artist name Mimiku, is a University of Northern Iowa graduate with a bachelor of arts in English and a master of English and Medieval Literature. While she works in the Musser Public Library in Muscatine, she is still very interested in art as a hobby.
"I've always been really into art, growing up as a kid," she said. "But I didn't start getting serious about it until fifth grade." It was then when she won 1st place in an art gallery contest, an achievement that encouraged her to follow her artistic passions. "That kind of was what got me to be serious about it."
With all her crafts, she sort of considers herself a "jack of all trades." Along with using it to make cosplay props, she and her fiancé, Manuel Mendoza, have also helped out residents earlier this year by making face shields using their 3-D printer.
As for the Roseville project, McCracken noticed it on her newsfeed and decided to give it a shot, not sure if she would be picked. "I had thought it seemed really neat, and I thought 'why not? I'm gonna try it!'" she said, "I wasn't expecting anything, especially being from Iowa, since it was in Minnesota. I figured they would just stick with artists from their state." However, it didn't take long for Roseville to get in contact with her, and soon she was chosen.
McCracken began work on her rose earlier this month, and finished it a week later. She was inspired by the flower imagery in the story of "Alice in Wonderland." Like the other rose statues used for the project, her rose is nearly seven feet tall, and has a circumference of 100 inches and a total weight of 658 pounds. The rose also includes some 3-D printed materials.
"On the base of the rose, I put some of the wording from the Alice in Wonderland book," McCracken explained, "and I snuck in a little, personal Easter egg in there that I put in memory of my mom." Her mother passed away a couple years ago from cancer. "She was my biggest fan, and I wanted her to be a part of it."
"20 Roses in 2020" will be an outdoor display that will be up from July 1 to Oct. 31, with the statues being placed around Roseville in outdoor public spaces to be enjoyed at no charge. Being based on a book, McCracken's rose will be found at the Ramsey County Library.
"It was kind of perfect," she said, in reference to her rose's location, "because I work at the library here in Muscatine, and so it's like a gift from one library to another." As for the future, McCracken said that she hopes to eventually be an illustrator for children's books or make her own comics. "I would love to be able to incorporate my art into my love of books." In the meantime, she encourages her fellow artists to pursue their own creative passions. "Don't give up on anything you want to do, because you never know where your dreams are going to take you."