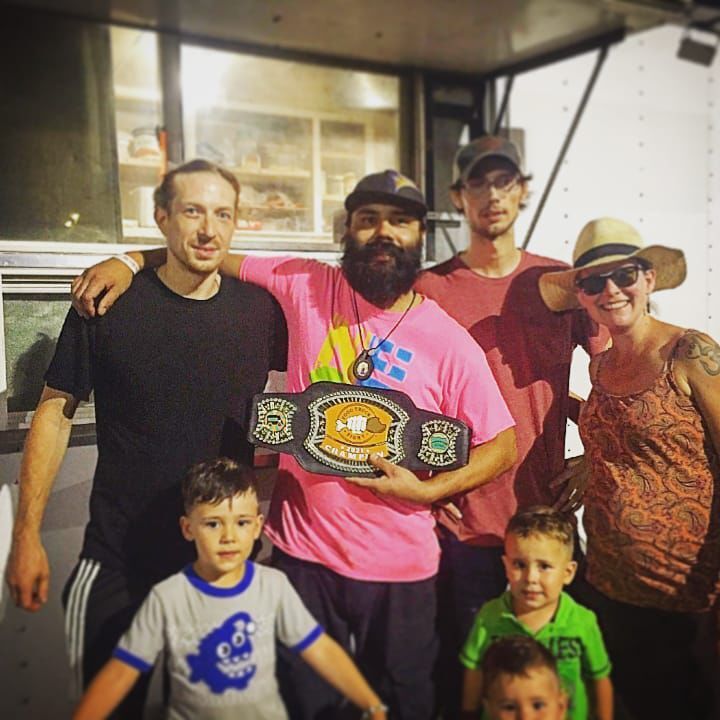 WILTON — QuickE's is known as a food truck where people can get high-quality homemade tacos. But last Saturday, owner Erasmo Espinoza realized just how popular his tacos were.
During the first Muscatine Food Truck Fight, QuickE's Tacos was competing for the top prize and title of Best Food Truck. The food truck quickly sold out of food, and Espinoza learned he was in the top 3. Once the votes were tallied, QuickE's was declared the winner and awarded the Food Truck Fight Championship Belt.
"I was definitely shocked," Espinoza said, "When they announced third place and second place, it took a moment for me to realize that I was obviously first place. I was also overwhelmed and really excited, because it made all of those long days, long nights and all that struggle of building the business up pay off."
Espinoza thanked the Greater Muscatine Chamber of Commerce and Industry and the Food Truck Fight for the opportunity and for making Muscatine a great place to have a business.
QuickE's opened in January 2017 in Colorado. Espinoza was working at various restaurants at the time, and one restaurant owner sold him the trailer that became his food truck. He moved back to Iowa in August 2019, taking QuickE's with him. 
"I grew up in a Mexican household, and I love tacos," Espinoza said. "There was a short period in my life where my grandma raised us, and my grandma and uncle had a taco stand (taquerías) down in Mexico in my grandma's living room, basically."
The taquerías near his grandmother's home had a "lively" feel to them, and this mixed with good times and good food stuck with him.
"You would go to this place in the street after the sun went down, and a lot of people would show up," Espinoza said. "A taquero (person who makes tacos) to me was similar to a good bartender. He would feed you really good food, and at the same time you could talk to him about life and get advice or joke around or whatever."
Once QuickE's started to come together, he wanted to bring those same elements and feelings to Muscatine County. Espinoza said his tacos are inspired by different cultures — the Mexican food he ate at home, and the American food he ate at the school cafeteria or at his friends' houses.
This mix of cultures inspired him to include ingredients such as corned beef in some of his tacos. His tacos are known for their fresh, homemade and hand-marinated ingredients. Espinoza wanted to avoid 'heating and serving' his food, and instead wanted to make as much as he could from scratch. This extra work is worth it when he sees it making a difference, he said.
"I feel like tacos honestly just bring happiness to people," Espinoza said. "Our motto is 'spreading love one taco at a time', and that's kind of what I try to run with. When people come to the trailer and their days are dragging a bit, my biggest goal is to turn their frown upside down and make their day a little bit better with my food. That was my goal in Colorado, and I carry that same mentality here in Iowa. I just like making people happy through food."
Espinoza will focus on his food truck for now and "ride the wave of life" instead of expanding into a brick-and-mortar restaurant, though that's still his dream.
"Sometimes I don't believe in myself or in my food, I think we all struggle with a little bit of that from time to time. So that makes the support that I do get all the more worth it," he said. "I want to thank everyone for their support, and I want my customers to know that the main reason I do this is for them. I like to spread love through tacos, and I wouldn't be here without all my customers who have always complimented me and have eaten my food."
QuickE's is across the street from Arty's Ice Cream and Grill in Wilton on Mondays and Fridays from 11 a.m. to 7 p.m., at Contrary Brewing Company in Muscatine every Thursday from 4 to 8 p.m., and at Headquarters in Muscatine on Sundays from 11 a.m. to 7 p.m. Check the QuickE's Facebook page for additional dates and times.