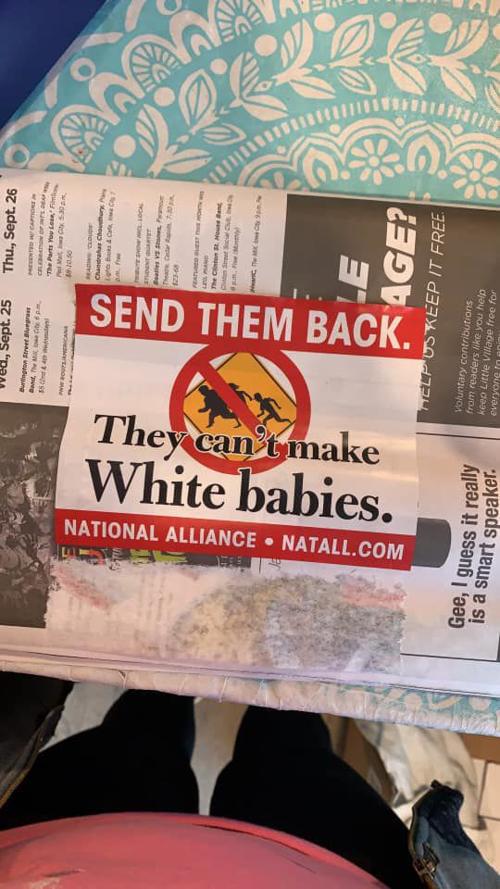 MUSCATINE – There were very few words to describe the anger, the pain and the outrage Miyah Payne felt when she picked up the latest edition of a local monthly publication laying in her yard and found an adhesive-backed anti-immigration message included.
Last week, many residents found messages calling for the expulsion of immigrants because "they can't make white babies" included with the publication. The publication has no connection with the National Alliance, other than reporting on the group. The free publication was used to add enough weight for the single-page fliers to easily be tossed into people's yards.
"I saw the paper laying out in my yard passed the sidewalk like it was thrown from a vehicle," Payne said. "I looked around to see if anyone else had gotten one because I had never seen anything like it and I walked in my house and proceeded to read it I was enraged. I was literally shaking."
Payne explained her husband his Hispanic and her two children are bi-racial. She said she has been happily married to her husband for almost 21 years. She also says most of her closest friends and family are Hispanic. A former daycare owner, she has cared for many Hispanic and black children as if they were her own.
Upon contacting the publication, Payne learned the publication had nothing to do with the flyer and apparently someone had taken several copies of the publication and used it to distribute the flyers. The publication reports this is the fifth time someone associated with the National Alliance had used their monthly publication to distribute propaganda. In an online statement the publication reported the same flyers were thrown into lawns in Iowa City and Cedar Rapids in December 2019 and in September and October 2019 they were left in various neighborhoods in the Quad-Cities. The same flyer was also distributed in the Wetherby Park neighborhood in January 2018.
One of the first things Payne had worried about was that she was specifically targeted. She commented in her neighborhood two Hispanic families and two black families live in the same block.
"It's so easy to just be mean and hateful to people and judge without knowing," Payne said. 'The real issue here is having a little bit of kindness. We're going through so much with this pandemic. Everybody is living through something no one has lived through before and then to bring this and throw it in random people's yards, instilling fear in some people?"
In speaking with her children regarding the flyer, she was surprised to learn there was a "rampant bullying problem" in Muscatine. She was horrified to learn her 13-year-old son had been called many racist names in school. He commented this is what he deals with on a regular basis in school.
Payne said she had naively thought this kind of thing didn't exist but then when she found the flyer she realized someone had gone out of their way to collect the papers, put stickers on them, roll them up and drive through a neighborhood distributing them.
"This is not OK," Payne said. "This is 2020. If you want an all-white America you had better go and find a box somewhere and live in that because it's just not going to happen."
Be the first to know
Get local news delivered to your inbox!