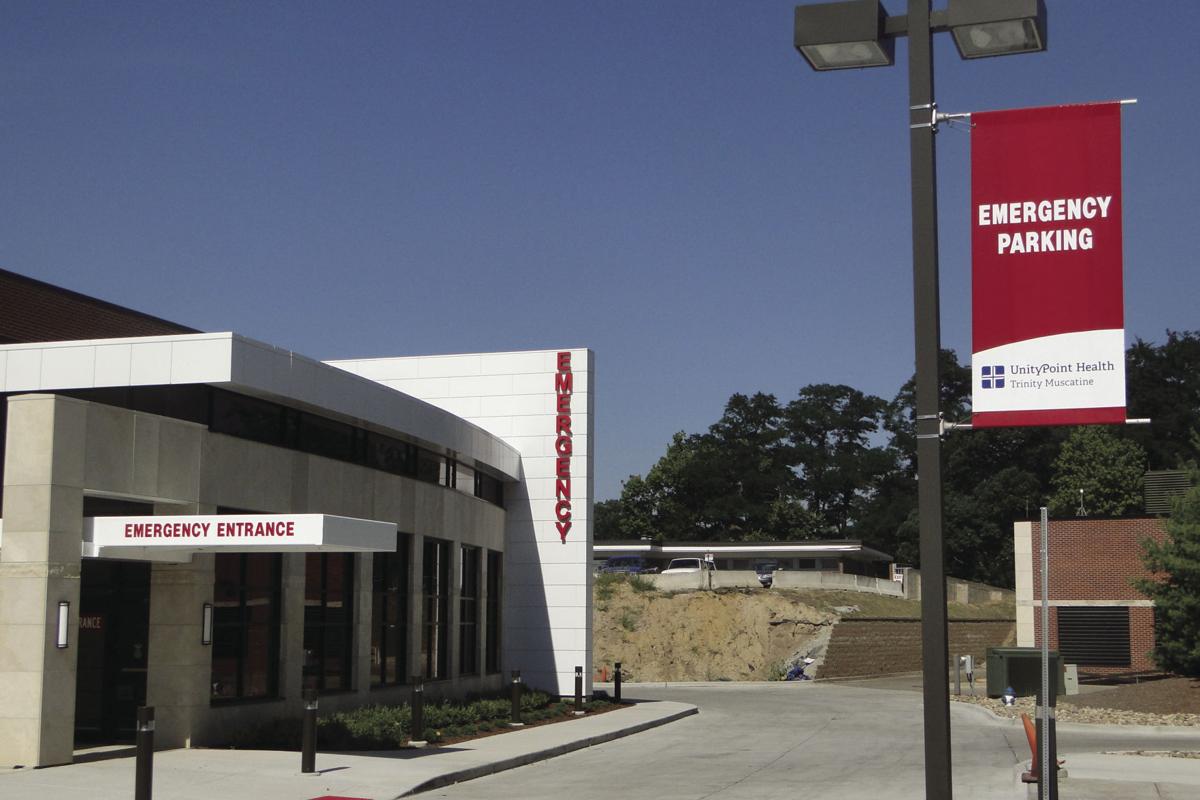 MUSCATINE — With a rush in the emergency room at UnityPoint Health-Trinity Muscatine due to a spike in the number of COVID-19 cases in Iowa, as well as a shortage of hospital beds throughout the state, hospital employees are asking people to reserve a trip to the emergency room for only an emergency case.
UnityPoint Health-Trinity Muscatine emergency room lead nurse Tasha Tovar spoke of healthcare providers having to ensure any case of COVID-19 in the emergency room is not spread to another patient.
The hospital has stated no patient will be turned away.
However, because of the numbers of patients seeking treatment throughout the state, the public is asked to determine if they need emergency treatment or if urgent care would be sufficient before seeking medical attention.
"Anybody who is experiencing low oxygen levels or difficulty breathing is definitely an indication for an emergency department visit," Tovar said. "Any type of immunocompromised or high risk patient, if they are experiencing COVID symptoms with shortness of breath or dehydration, they are much more appropriate for emergency care than urgent care or express care."
Other symptoms that might warrant a trip to the emergency room may include persistent pain or pressure in the chest, confusion, or discoloration (blueness) in the lips or face.
Tovar said mild symptoms are expected with COVID-19 and some of the symptoms that can allow a patient to recover at home include aches, coughs without shortness of breath, fever, and loss of taste and smell. Tovar said many of these can be treated with over-the-counter medications. She said mild nausea or normal symptoms of a cold can be treated at home. She recommends people with mild symptoms stay at home and self-isolate.
Tovar also said people who have been exposed to COVID-19 but don't have symptoms should not go to the emergency room for a COVID-19 test. She said there are many testing places available, but having to perform testing could further congest the emergency room.
Emergency medical responders are also very busy with the pandemic and Tovar said they should be called only in an emergency.
Tovar said the community has helped the staff tremendously simply with their recognition and support. They have noticed that support beginning to wane a bit as the state has reopened after being shut down due to the pandemic.
"We aren't in isolation from COVID – our families are dealing with it also," Tovar said. "We are human people outside of the hospital and this is affecting our lives and our children's lives and our parent's lives as much as anyone else. Our nursing staff continues — not only our nursing staff, but our techs, our housekeepers, our security, our dietitians — they are all showing up to work every single day and kind of exposing themselves by risking exposure to COVID for the people who need our help. I think continued support from our community would be the biggest impact the community could make."
Be the first to know
Get local news delivered to your inbox!