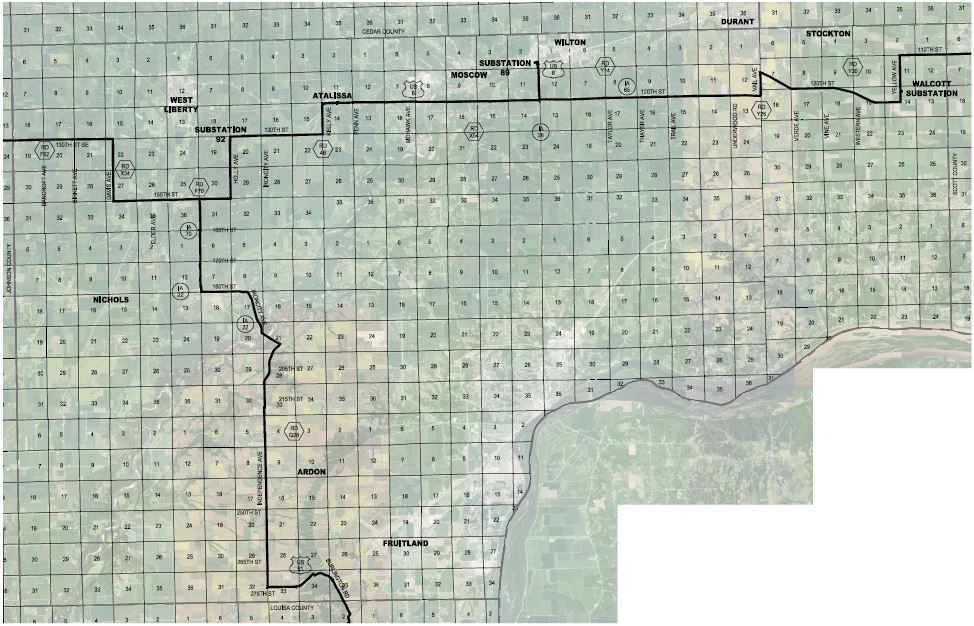 MUSCATINE — With a ream of paper in hand, Keith White, Muscatine County's engineer, approached the lectern the way he does most Mondays to tell the Board of Supervisors about the permits up for approval. While the number of permits ranges from week to week, they do sometimes stack up.
This week, however, was different.
"This is all one," White said, running his finger through hundreds of pages of a single permit application. 
The permit was filed by MidAmerican Energy for 55 miles of fiber optic cable the company plans to run through Muscatine County along its borders with Johnson, Louisa and Scott counties. With a project his big, White said the county is facing a problem.
"I don't want to pick on MidAmerican because we haven't had issues with them, but when they are out here trying to put out 55 miles of private fiber, what assurance do we have that they put in where it is supposed to be? Undoubtedly they will have some contractor come down here to do it."
White said that when it comes to contractors doing work around utilities, the county has had problems in the past. In just the past few years, contractors hired by CenturyLink to provide high-speed internet in rural areas cut a hole through North Isett Avenue and Bayfield Road and damaged a gas main in a subdivision along G28. 
"If this begins to look like it is going off the rails like with CenturyLink's (contractors) where they are tearing stuff up, then we will probably have to hire some other people to provide that oversight," White said.
Contracting for more oversight is the only solution White said he can see to keeping tabs on the 55-mile project. 
"Do we spend the money on having someone out there to watch our back? Or do we stick our heads in the sand?" White said. "What I'm not seeing is them (the utility) having someone out there where they come out to inspect the work being done."
The Supervisors approved the permit.