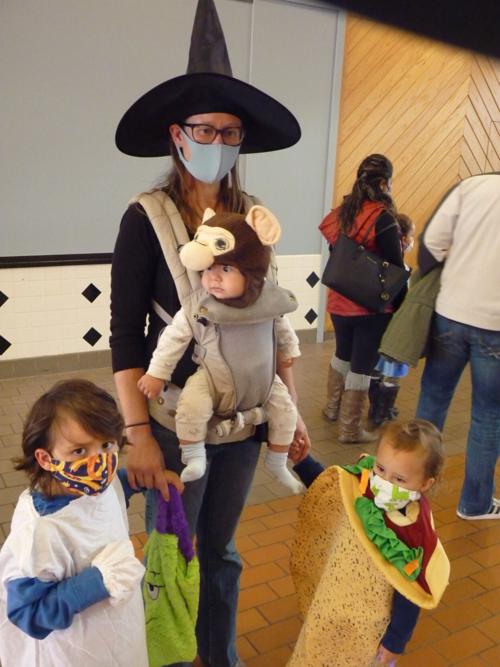 MUSCATINE – With less than a year in the Muscatine community, Sarah Espinoza is always looking for new place she and her three children, Chon, Emmanuel and Robert, can meet new people. When she saw an advertisement for the annual Fall Fest event at the Muscatine Mall, she knew she had to attend.
Decked out in Halloween costumes, the family waited in line Saturday afternoon at the beginning of the Fest, which included several tables for young people to play games and make crafts. The event is sponsored by the Muscatine Parks and Rec Department. Along with most of the other attendees and workers at the event, the Espinozas came to the event wearing masks and were careful not to get too close to the other people at the event. Sarah Espinoza said she attended hoping for some "Halloween fun."
"I'm hoping to gain a little more of a sense of community and I hope these guys have a great time with some Halloween fun," she said.
Entering its 10th year, the annual festival was threatened as were many other events by the COVID-19 pandemic.
Kelsie Stafford with Muscatine Parks and Rec said some adjustments had to be made this year, but the department is very happy to be able to offer the event to the community.
"We're really good about switching up activities so it is always something fresh and new to come and do," she said. "Kids love wearing their costumes so it is another opportunity for them to do that. It offers an indoor trick or treat instead of outdoors. Its good for all ages and just a good time."
She said the department had not wanted to skip this year. While ensuring safety took a lot of work, she said it is worth it to allow people to still attend and feel safe.
Brissa Echeveria volunteered her time to the festival as part of her membership with the Muscatine Key Club, She happily sat at a folding table giving out gifts to the costumed children who came by. She said this was an opportunity to help children who may not have much of a chance to celebrate Halloween.
"I thought it would be really nice to have all these kids come out here with their families and have a little bit of Halloween spirit," she said.
Be the first to know
Get local news delivered to your inbox!