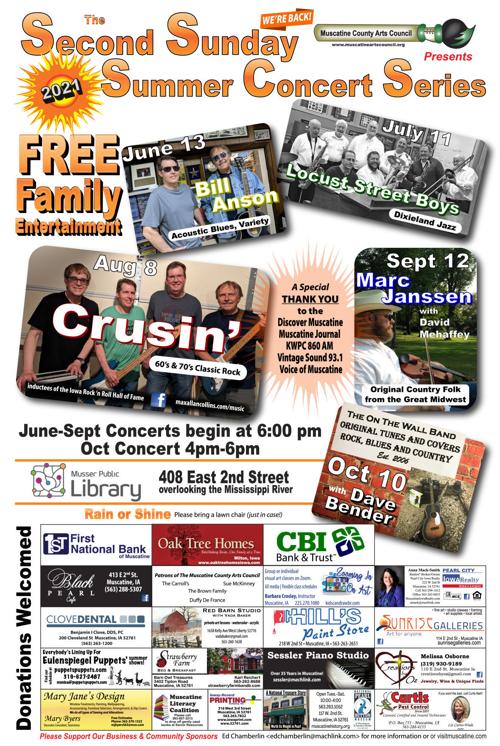 MUSCATINE – After being forced to take a year off due to the pandemic, another summer event has returned to Muscatine.
At 6 p.m. Sunday, June 13, the Muscatine County Arts Council, in coordination with the Musser Public Library and HNI Community Center, 408 E. 2nd St., will hold the first in its series of Second Sunday Summer Concerts.
Arts Council President Ed Chamberlin said the series has been going on for the past 12 years. About two years ago, the concerts moved from Pearl Plaza to the Musser Public Library.
Because this was a popular Arts Council series, the group wanted to bring it back as soon as it was safe.
"It just seems like the longer you wait to bring something back, the more likely people are to forget about it," Chamberlin said. "We felt that now's the time to bring back some of the things that were pretty successful for people to do during the summer. People are getting vaccinated, and while it's not gone, COVID-19 cases are down. Things are making a positive turn, and we feel people are ready."
The council also saw it as a way to help out local musicians and musical groups struggling from the  lack of concerts and performances.
"A lot of these musicians really haven't done much work in the past year, so everybody's looking forward to doing these shows," Chamberlin said. "(The concert series) is a positive for everybody, and I think it'll be really good for the community to have the opportunity to come out on a Sunday night and listen to some live music."
Kicking off the series on June 13 will be Bill Anson, a duo playing acoustic blues and variety music. On July 11, the Locust Street Boys will bring Dixieland Jazz to the city.
On Aug. 8, the band, Crusin', which was recently inducted into the Iowa Rock 'n' Roll Hall of Fame, will take the stage playing '60s and '70s classic rock. On Sept. 12, Marc Janssen and David Mehaffey will perform country folk music.
On Oct. 10, the On The Wall Band, accompanied by Dave Bender, will perform original songs and rock, blues and country covers to bring the 2021 series to a close.
"You never know who's going to show up, and we try to mix it up entertainment-wise because we do have a base that generally comes, but we're also trying to expand our base," Chamberlin said. "We're always looking for new people to join the Arts Council."
All of the concerts will take place rain or shine in the library parking lot or the library's upstairs room. For outdoors concert, guests are asked to bring their own lawn chair. Social distancing and wearing masks will also be optional.
"If it's nice out, we'll definitely be outside in the parking lot," Chamberlin said.
"We are excited to host the concert series again this year. The 3rd-floor meeting room seats a large audience, and the lovely air conditioning is a welcome break from the heat if we have to host it indoors," Library Director Pam Collins added.
All five Second Sunday Summer Concerts are free, but donations to the Muscatine County Arts Council are welcomed at the event. For more information, go to visitmuscatine.com or the Arts Council website.