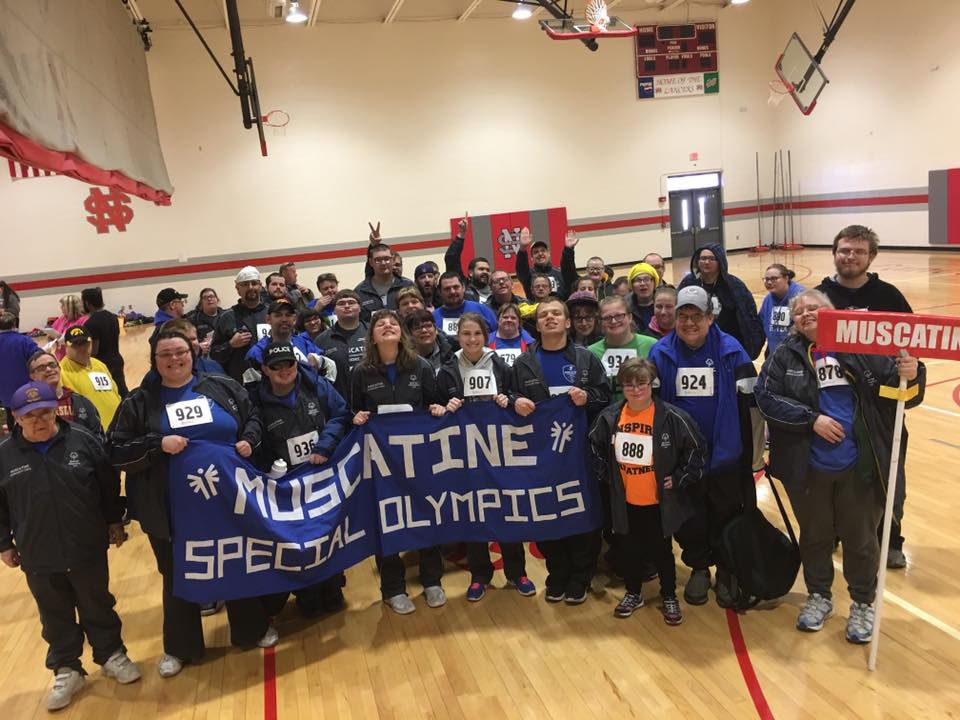 MUSCATINE — While the international Olympics may only happen every four years, there's a more local Olympics that happens all year round, and has just reached its golden anniversary.
This year marks the 50th anniversary for the Muscatine Special Olympics, a part of Special Olympics Iowa that offers year-round sporting events for those with intellectual or developmental disabilities to participate and compete in.
"It's not like what you think about the regular Olympics that you see every four years," said Jason Miller, "We're more like an Iowa high school athletic association."
Miller has been the director for Muscatine Special Olympics for 10 years and has volunteered with the program since he was 13. "People ask me all the time 'when are the Special Olympics?', and I tell them 'It's all the time'."
Along with allowing athletes to compete and advance to state competitions, Muscatine Special Olympics holds district competitions for all 13 of the sports they offer. However, for most people, when they think of the Special Olympics program, they think of the summer games in Ames, usually in May. On average, 50-60 Muscatine athletes qualify for these games.
"Athletes still have the opportunity to go to a national games or world games every four years, so there's still that opportunity available … But here locally, we always constantly have sports going on," said Miller.
When asked why the program offers events year round instead of just once or twice a year, Miller said that he considered it an evolution in their programming along with it being an important service. "For the athletes, this is their outlet. There's no other program like this for them in our community, and so this is something they look forward to."
You have free articles remaining.
He also pointed out that Muscatine Special Olympics wasn't just a sports program, but helped those with intellectual and developmental disabilities in other parts of life, such as getting jobs. One of the most notable programs are their Global Messenger Workshop, which helps athletes write and develop speeches to help advocate for themselves and others "so they can go out into the world and tell people about Special Olympics and how important it is to them."
Other programs include a unified sports program, where anybody in the community can play sports with the athletes, a wellness program, and a Healthy Athletes Initiative, which focuses on keeping the athletes' eyes, ears and feet healthy and checked regularly at no cost to them. "We're finding that this is not an area where they get the best treatment or care, so we're finding those things for the doctors." This program also helps get athletes glasses if they need them.
"There's a number of different things that we offer on top of just sports, and I don't think a lot of people realize that," Miller said, "That's what makes our program a little more unique and fun."
Along with this, he acknowledged that services similar to the Special Olympics that help people with disabilities have had funding cuts or are at risk of being cut. "We're faced with some of those challenges too…" However, to him, that just makes the Muscatine Special Olympics all the more important to support.
Looking back at 50 years, Miller found it hard to think of one specific memory that rose above the rest.
"These athletes have a lot of good stories," Miller said, "And if you spoke to any of them, they would probably think of many instances where they thought the program was great to them… I think the coolest thing for me is just being able to work with this population and be able to be around them."
With this anniversary to celebrate and so many athletes to celebrate with, Miller and his team are hoping to use the facilities provided to them through their collaboration with the Y to throw one big celebration. This would include bringing both athletes and fans in as well as putting up old articles and pictures in their Special Olympics display case.
"We've got a few events we've been discussing about having," Miller said, "Mostly we're just looking to put some things on social media to try and create some awareness and to help people realize that even though it hasn't been a full-time thing for 50 years, we've still been in existence in Muscatine for 50 years." 
Be the first to know
Get local news delivered to your inbox!