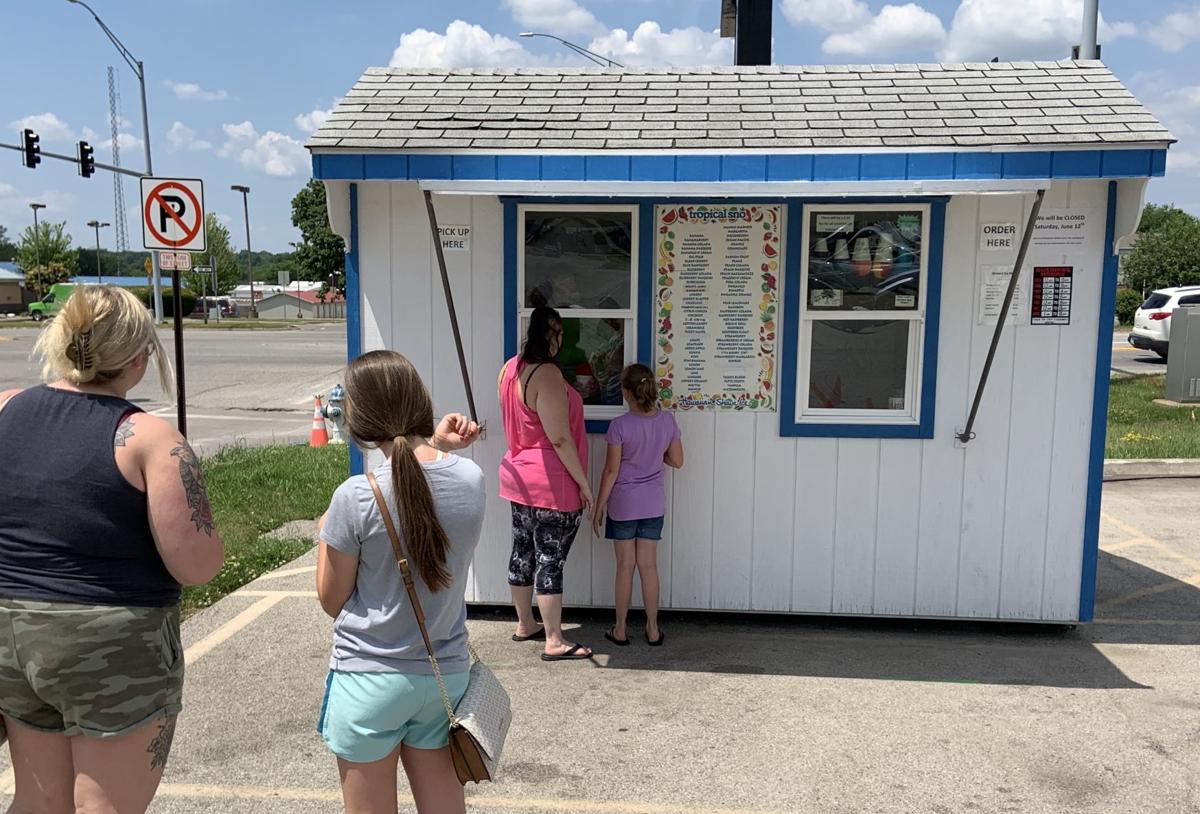 MUSCATINE – Every summer, people flock to a parking lot on Ford Avenue to enjoy a shaved ice at Hawaiian Breeze Shaved Ice. For some, this is a staple on a hot day. For others, it caps off an evening after an afternoon at the park or Aquatic Center.
For owner Jennifer Frederick it's more than a summer job. She's owned the stand since 2018, but she's worked there since 2005.
"When my parents ran the True Value store in Muscatine, they originally opened (the shaved ice stand) as part of True Value," Frederick explained.
Working for her parents, she made shaved ice at the stand — then called Wilson's Tropical Snow Shaved Ice — for several years. In 2017, the stand was sold and operated by a different person for a year, although Frederick still worked there. She had the chance to buy the business and changed the name again.
The business has plenty of history for her, and many benefits in the present.
"I really enjoyed helping my parents with (the business), and for a short time my cousin and I even ran it together," she said. "It was just something really fun to do in the summer, and I enjoyed seeing all the repeat customers each season. I'm thankful for all of their support."
Her goal is to provide the "perfect summer treat" for customers. With over 50 different flavors, the crew hand makes all orders.
"It's nothing that we buy from a store, so it's got a really nice, sweet, tangy, kind-of fresh flavor to it," she said. "We've always kept the same flavors since they always go over so well. There's lots of customers that come back and have their favorites, and they're expecting us to have their favorites, so that's what we provide."
Hawaiian Breeze has expanded a bit, adding a trailer she can take to public and private events — something she hopes to expand in the next few years.
"I think people like to come with their friends, get shaved ice and hang out in the parking lot and talk," she said. "On hot summer days, it's just really cool and refreshing."
Frederick said it's still the perfect summer job her, something to do in the summer when she doesn't have to care for her two young children at home every day.
"I just enjoy the people," she said. "It keeps me busy during the summer, which I enjoy, and my kids love to stop by and see me and get shaved ice too when I'm there. We really appreciate the community's repeated business over the years, and it's promising that it's lasted so long. I hope we'll be around for a long time still. It's just nice to see when people are excited for us to reopen."
Hawaiian Breeze Shaved Ice is open from early June to late August. Current hours are Sundays 1 to 8 p.m., and Mondays through Saturdays noon to 8 p.m. For more information, visit Hawaiian Breeze Shaved Ice on Facebook.