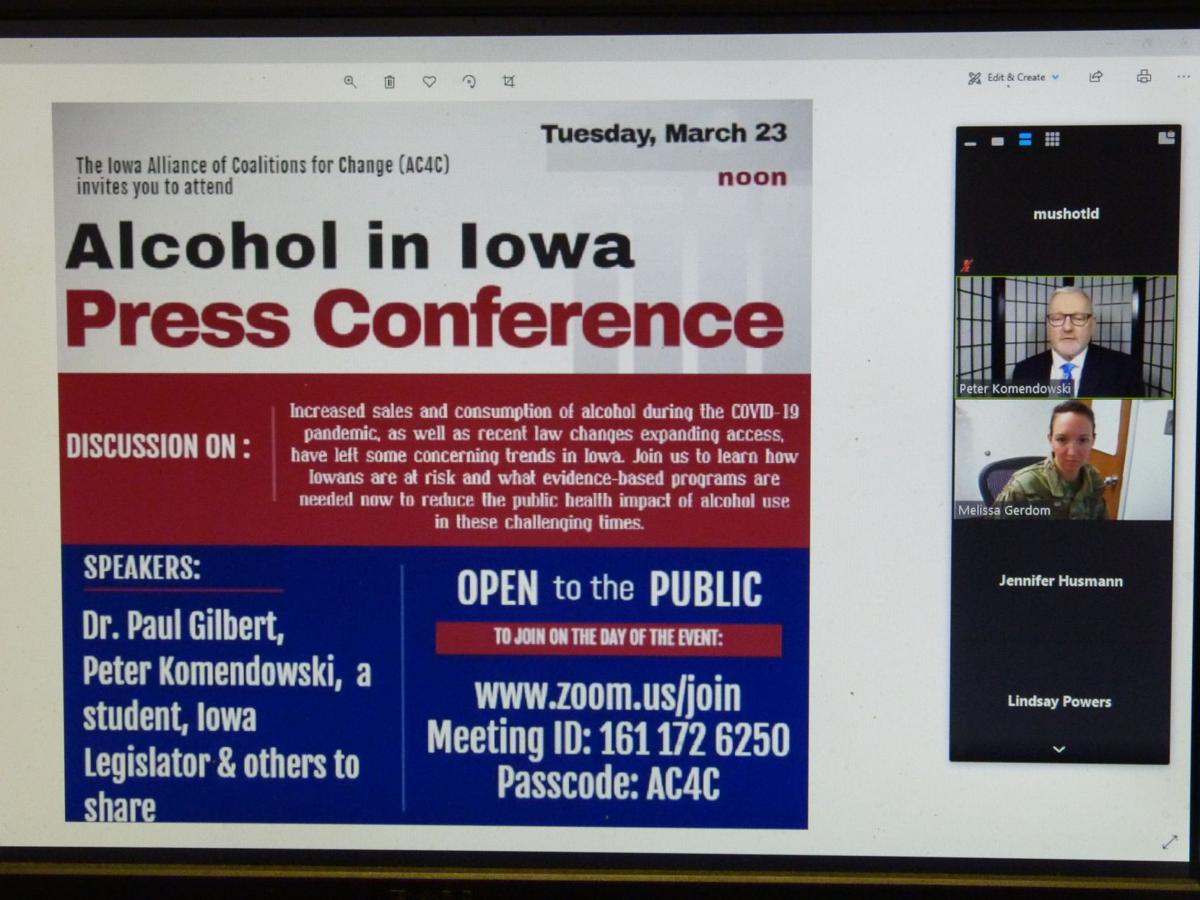 MUSCATINE — Seeing several disturbing trends concerning alcohol issues in Iowa, the Iowa Alliance of Coalitions for Change held a news conference Tuesday to discuss increased sales and consumption of liquor during the COVID-19 pandemic.
"The alcohol issues we have been facing with youth in Iowa have been daunting," moderator Peter Komendowski said. "Now, post COVID it is even worse and we realize we are embarking on some very critical issues for our children and every caring parent in the state of Iowa."
Dr. Paul Gilbert, a professor at the University of Iowa, College of Public Health, said he studies drinking patterns, usage services and pathways to recovery. He said Iowa is a heavy drinking state, well above the national average for heavy, binge drinking. Gilbert said alcohol use exhibits a tremendous economic burden on the state, with $1.9 million going to healthcare and criminal justice costs due to alcohol. Gilbert also said drinking levels during COVID-19 have been on the rise. He also said there are more calls nationally to use all tools to control or minimize harm related to drinking.
Sen. Claire Celsi, D-Dist. 21, a former member and chair of the Iowa Alcoholic Beverages Commission, remembers she started paying attention to legislative roles in drinking when alcoholic beverages in convenience stores expanded after she first joined the board. She said the commission, driven by the governor, stopped education and prevention to focus on revenue generation.
"It became a big revenue generator that continues to this day," she said.
Celsi said the state is passing increasingly more "alcohol permissive bills." She believes alcohol consumption is as big a crisis if not more than COVID-19 because it is ongoing. She recommends using some COVID-19 relief funding to help address problems caused by alcohol and to raise the beer gallonage and possibly liquor taxes to fund prevention and education.
Prevention expert Katya Boltanova said as a state, it is important to put efforts into prevention. She said it is easier to prevent drinking in teens than to have to deal with liver disease, which is strongly on the rise. She also said attention must be paid to issues that arose during COVID-19 including checking identification for alcohol deliveries or to-go orders.
"Our goal is to prevent the young population to access alcohol," Boltanova said. "The easier it is for young people to access alcohol, the more likely they are to try it."
Aurion Redding, a student at Wartburg College, said she has seen several of the issues being described on the college campus. She believes if there were more prevention efforts geared toward college students, there would be fewer incidents on campuses.