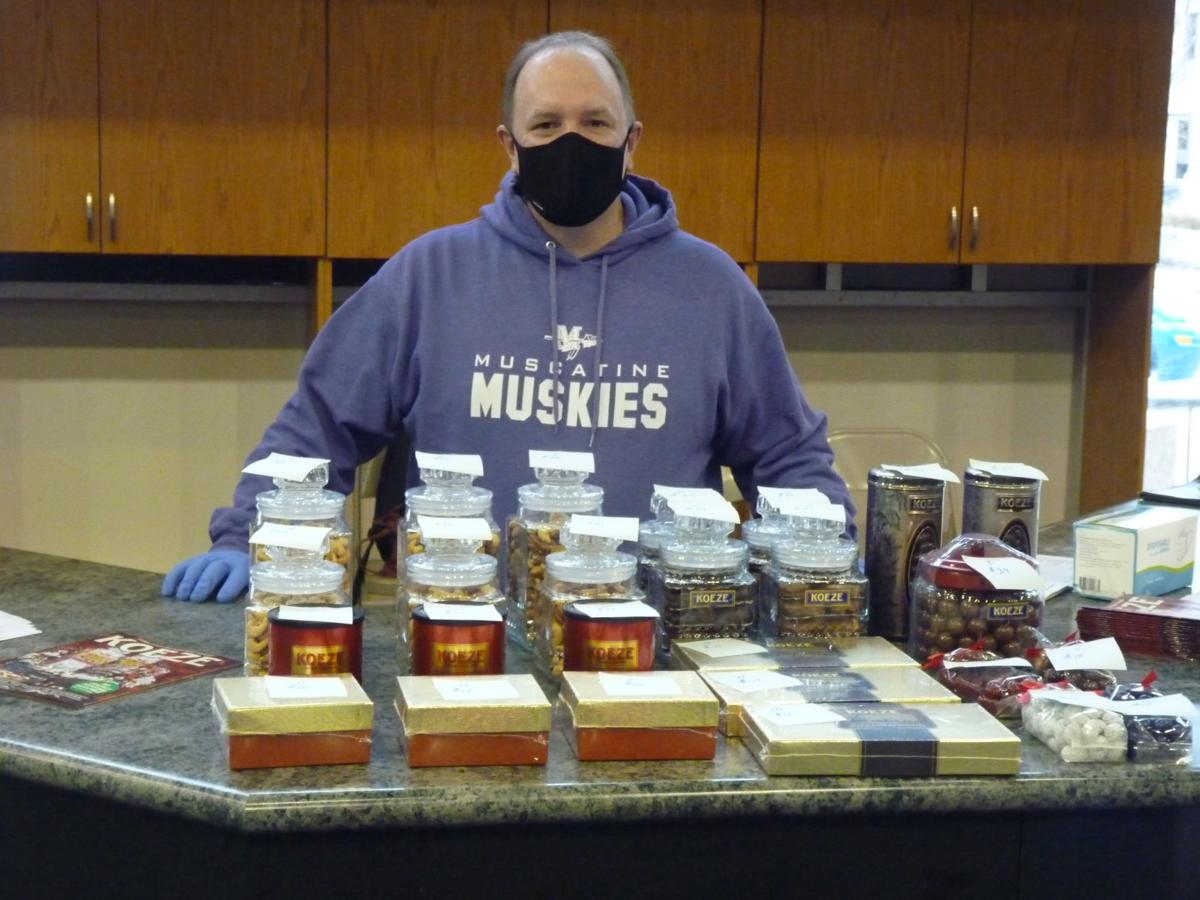 MUSCATINE – While the annual sale of Koeze Nuts to benefit the Muscatine High School band boosters is a local event, organizer Scott Comstock said that people from all over the state eagerly await the yearly return of the sale to get their nut fix.
As the event got started over the previous week, boosters and members of the band - with the permission of the Stanley Center for Peace and Security which recently purchased the building – set up the former Musser Library building at 304 Iowa Avenue to showcase the wares. Through Dec. 12 every Tuesday from 6 to 7:30 p.m. and every Saturday from 10 a.m. to noon the building will become the Koeze Nut headquarters where people can purchase a jar of the luscious legumes or place orders for other products.
"This is about the 37th year of this fundraiser for the Muscatine Band Boosters and the proceeds go to support the band organization at the high school," he said. "Anything that supports and improves the band, this is for."
He was not sure if there was any specific thing project that the money was going for this year. In the past it has been used for such things as the rights to special music for the band to perform as well as other supplies. The boosters partner with HNI, which has a ruck that visits the Koeze headquarters in Grand Rapids, Mich. To pick up orders. Stacks of boxes of the nuts lined several of the walls in the main area of the building.
Catalogs and order forms sat on a table in the building for customers who wish to order something the boosters don't have on hand. Signs on the door recommend face coverings and social distancing while ordering. A display table with the items available has been set up.
The most popular item is the "colossal cashew" 30 ounce jar. There are also plenty of chocolate covered nuts available as well as different chocolate covered fruits such as blueberries and cherries. Many of the offerings come in different sizes.
"It's just a really good product, which is one reason why customers keep coming back year after year," Comstock said.
He said that the Muscatine community has always been very good about supporting the high school band, and said this is one of the main ways the band is supported. He commented that he is unsure what events the band has coming up in the near future. He said with the COVID-19 pandemic the regular schedule of the band will have to be modified.
Be the first to know
Get local news delivered to your inbox!