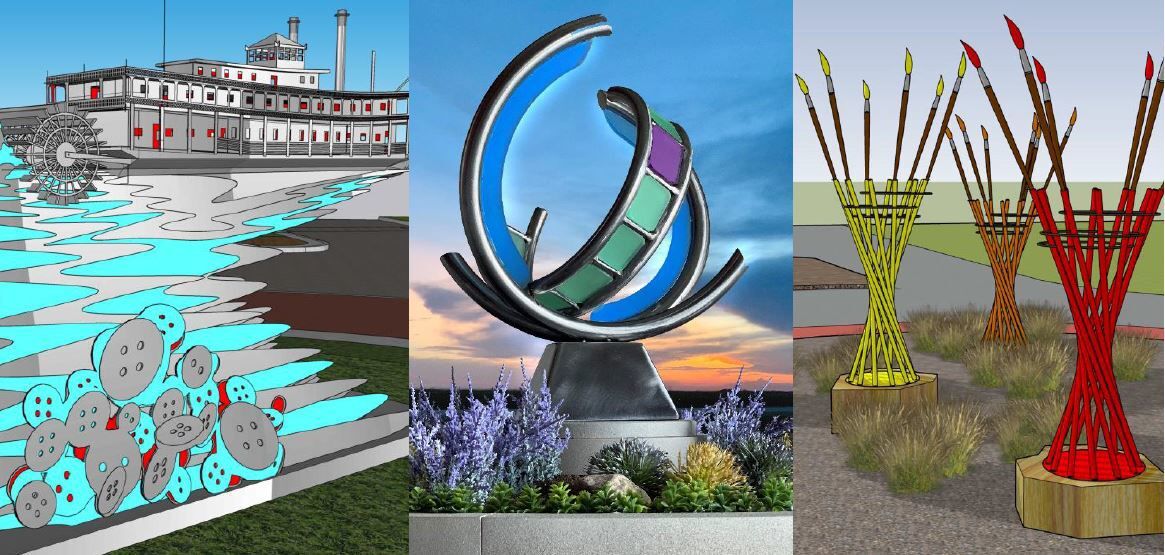 MUSCATINE — After months of preparation, Muscatine residents will finally get a chance to let their voices be heard. From Wednesday, Dec. 1, to Friday, Jan. 10, the Muscatine Public Art Advisory Commission will let residents vote on which art piece to place in the Mulberry Avenue and 2nd Street roundabout.
"We're all so excited to have more conversations about public art and how we can use that to create more of an identity for Muscatine, and so we're eager to see what people think of the concept designs," Art Center Director Melanie Alexander said.
Beginning in 2020, the Muscatine Public Art Advisory Commission began looking into possibilities for a new public art piece for the downtown area. While the area already has several murals, this latest project would be a full-sized art installation.
The Advisory Commission's stated goal was to install a permanent work that "reflects the Muscatine community and/or its history, is unique to Muscatine, can be easily maintained, is designed to be durable, and will not impede the safety of motorists or pedestrians."
Seventeen artists applied, three were chosen as finalists. These finalists were Daniel Miller of Iowa City, Nathan Pierce of Cape Girardeau, Missouri, and Greg Mueller of Lutsen Mountain, Minnesota.
According to the Advisory Commission, the three artists have experience with successful public art installations, a creative vision and the potential to give Muscatine something unique.
With each artist's concept designs now finished, the Advisory Commission launched the art installation survey, where voting is available at https://surveymonkey.com/r/HSCR6SF, or in person at the Musser Public Library, the Muscatine Art Center and Sunrise Galleries.
Mueller's design focused on Mark Twain's famous Muscatine sunset quote as well as the Native American translation of the city's name, "island of fire."
Miller also brought in an element of Mark Twain to his piece, creating a bust of Twain alongside a steamboat and a series of pearl buttons. Together, they create the piece, "Old Man River."
Pierce focused on the river and its relationship with its communities within his concept piece, "Zenith."
"We have three very different ideas, but they all connect back to the river, so (the concept is) interesting in that way," Alexander said. "Our identity of being on the river is certainly an important part of Muscatine's history, present and where we'll be in the future."
Some concerns have been raised about safety, and if the installation would be a distraction to motorists. Alexander said each of the selected designs were reviewed and approved by the city's engineer, and the Advisory Commission specifically requested pieces that wouldn't be too distracting for motorists.
"This is a project that started with some city leadership being interested in seeing something placed in the roundabout, and the Advisory Commission is simply putting a process into place to get ideas about what could go there," Alexander said. "Hopefully we'll end up with a finished work of art that goes in the roundabout, but we also hope that this is the start of many more projects in Muscatine."