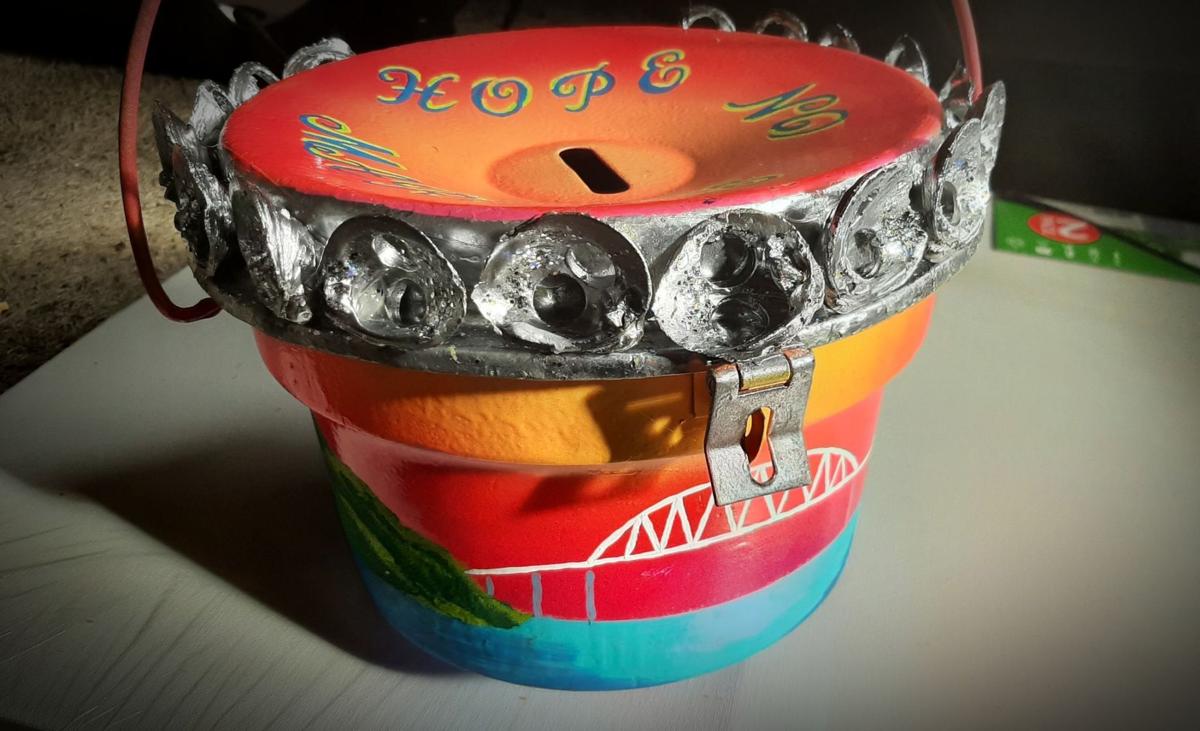 MUSCATINE — Muscatine artist Chris Anderson has distinguished himself through murals and community projects. This holiday season he isn't just spreading creativity — he's also spreading what he sees as hope.
The Salvation Army's red kettle has become an iconic symbol of both Christmas and charity. But after so many years, some of these kettles are showing their age. Lt. Greg Bock of the Muscatine County Salvation Army came up with a way to give these kettles new life.
"I was excited to hear from him," Anderson said about Bock contacting him him with the idea, "I like what he does. (Bock) is a great person, and he really goes above and beyond to get his campaigns going with the Salvation Army."
When Bock first asked him to paint a few of the Salvation Army's kettles, it didn't take much for Anderson to say yes. According to Anderson, Bock approached him because of his artistic skills and because he heard Anderson's story.
"Personally, I've struggled through life, and there have been times where I've called on (the Salvation Army) for help, and I know that the money that they generate in these red kettles helps people with homelessness, food and even Christmas gifts," he said. "I can relate with all of that in a very personal way, because I've received their help before."
For his first kettle, Anderson took a creative approach. Along with a neon design, Anderson attached painted clamshells to the sides of the kettle, which he and Bock dug up together.
"I thought it would make for a good talking point, and it also showed how you can take something from the dirt, wash it up and make art out of it," Anderson said, "I think it turned out really cool."
At the top of the kettle, Anderson painted this year's slogan, "Hope Marches On." This kettle is at Hy-Vee at 2400 2nd Ave. Anderson said he was inspired by Bob Ross for the second kettle. It has a more traditional winter background on it.
Although he was originally only going to paint two, Anderson said he quickly decided to paint two more for this year's kettle campaign, including the kettle that belongs to the Muscatine County Sheriff's Office.
Anderson said he plans to paint more kettles next year, and said it may become a tradition. He considers working (and painting) with the Salvation Army to be a privilege.
"I really hope these kettles catch people's eye, and maybe encourage them to donate," Anderson said. "Just having it be a different color than the usual red color will make someone stop and be like 'whoa, what's this?', and maybe at the same time that they're doing that, maybe they'll throw some change in there."
This year's kettle campaign goal for Muscatine County is $190,000. Residents can visit www.registertoring.com and search for Muscatine to sign up for a bell-ringing time or to start a virtual kettle. To ask about spending time in Muscatine's giant red kettle, residents can call the Salvation Army of Muscatine County at 563-263-8272.