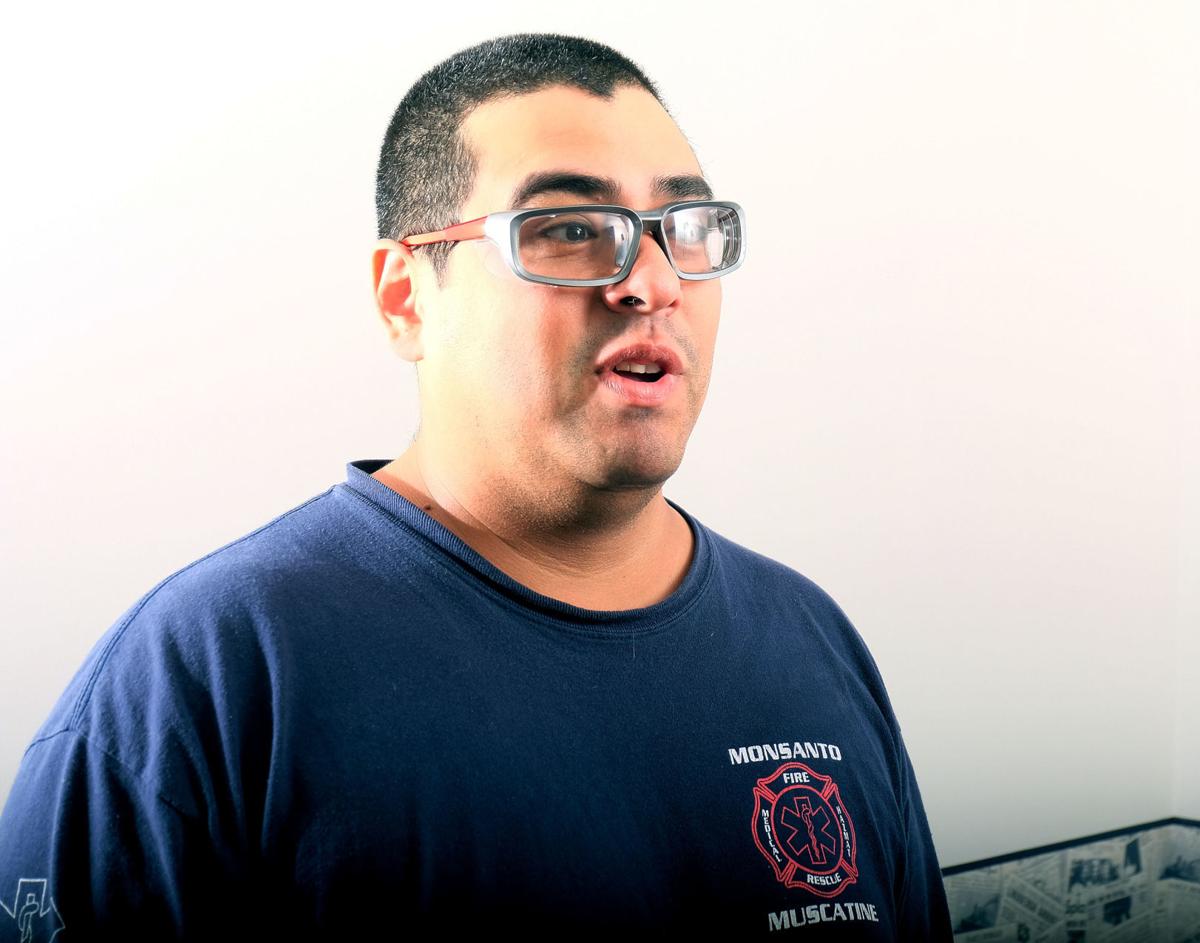 MUSCATINE — Between bites of food and bits of conversation with her family, Beth Sabbath fell silent. Originally from Muscatine, she was visiting from D.C. to see her mother and sister. As is ritual, they went to Guadalajara on 2nd Street.
"It's our favorite restaurant in Muscatine," Sabbath said. "I ordered cheese enchiladas — something without meat because when you are visiting home, you just eat so much. ... We were having a nice time."
It was Friday, June 22, a busy night for restaurants. Sabbath said she was seated on one side of a booth with her husband and sister. On the other side was her son and mother. While she does not remember what they were talking about, she remembered wanting to join in.
"I was trying to get a word in edgewise because everyone was talking," Sabbath said. "Instead of waiting to swallow my food, it just globbed together in my throat."
She was sitting there stuck on the bench beside her husband and sister, unable to get their attention.  
"You can't talk or say anything," Sabbath said. "I was trapped."
Days before she and her son watched an episode of "Seinfeld" where Kramer loudly banged on a table to try and get Joe DiMaggio's attention at a donut shop. It gave her an idea.
Meanwhile on the other side of the dining room, Jesse Joe Gomez and his wife Beth Gomez were having their date night. Jesse's torta al pastor was fresh from the kitchen when he heard someone loudly beating on a table. He assumed the worst.  
"I heard what I thought was somebody fighting. I heard the table bounce up and slam down," Gomez said. "To me, it sounded like fighting words. ... I'm thinking 'Oh no.'"
Sabbath slapped the table loudly trying to draw her family's attention to her choking.
"I looked up and everyone in the restaurant was stopped," Sabbath said. "Everyone was just watching."
Sliding her out of the booth, Sabbath's husband began attempting the Heimlich maneuver.
The Heimlich maneuver or abdominal thrusts is a first-aid procedure aimed at dislodging windpipe obstructions. The person delivering the thrusts gets behind the choking victim and places the inside of their fist flat between the bottom of the rib cage and the belly button. Using their other hand to provide pressure, they perform several quick, upward thrusts until the blockage is dislodged. 
Unfortunately, the obstruction would not loosen. The Gomezes, watching from their table, could tell it wasn't going well. Jesse Gomez has been an EMT at Monsanto for eight years. He said Beth Gomez looked up at him.
"Jesse, she's choking," she said. "Go."
Jesse Gomez ran around the dining room over to the Sabbaths who were standing by their table. 
"By the time I got there, (Sabbath's husband) sort of stops and asks 'Do you know what you are doing?'" Jesse Gomez remembered. "My wife yells, 'He's an EMT.'"
While a person is receiving abdominal thrusts, they are not facing the person attempting to save their life. Sabbath said that left her staring at the crowd of onlookers. 
"All I want to do is just get out of there," Sabbath said. "Just crawl back into my corner of the booth. ... I just wanted to sit down and disappear into the walls."
She panicked. Her thoughts she said shifted from Kramer to her family.
"Once I got up and nobody was able to get it dislodged, I started thinking about other things," Sabbath said. "I knew eventually I would pass out. I'm 60 and I have kids in their 20s. My mother is in assisted living. It's all a flash. Will they be okay?"
She said she felt like a ragdoll flopping around with the thrusts.
"I could hear things going on behind me, but I really couldn't feel what was going on," Sabbath said.
When Gomez took over, he had the first pangs of nervous energy. 
"You practice these skills but never really know that you can really do it until you do it," Gomez said. "With all that adrenaline going, all I can think is, This thing has to come out."
He said someone had to stop him after a while. The first or second thrust had dislodged the food. Sabbath was breathing. 
"She hadn't been breathing for a while," Gomez said. "I lightly hugged her and just sighed. I was so happy it had worked."
Weeks after the incident, Gomez got a letter from Sabbath's house in Virginia. 
"I was very flustered and embarrassed afterwards and am not sure that I thanked you adequately," Sabbath wrote in blue script. "God had to have put you there for me. ... Out of all of those people, ... you were the one who saved me."
On the cover of the card is a picture of a drummer boy in American Revolution-era attire with the stars and stripes flying overhead. When asked what he made of it, it got Gomez thinking about his place in Muscatine.
"When you talk about being a citizen, being part of a community, it is about being a helper," Gomez said. "I think I finally feel like someone who has contributed to my community. Everybody in the community should aspire to be able to do that in some way. Not necessarily in saving someone's life but helping somebody. I think that's part of this whole thing. I feel like I'm better part of the community."
Be the first to know
Get local news delivered to your inbox!