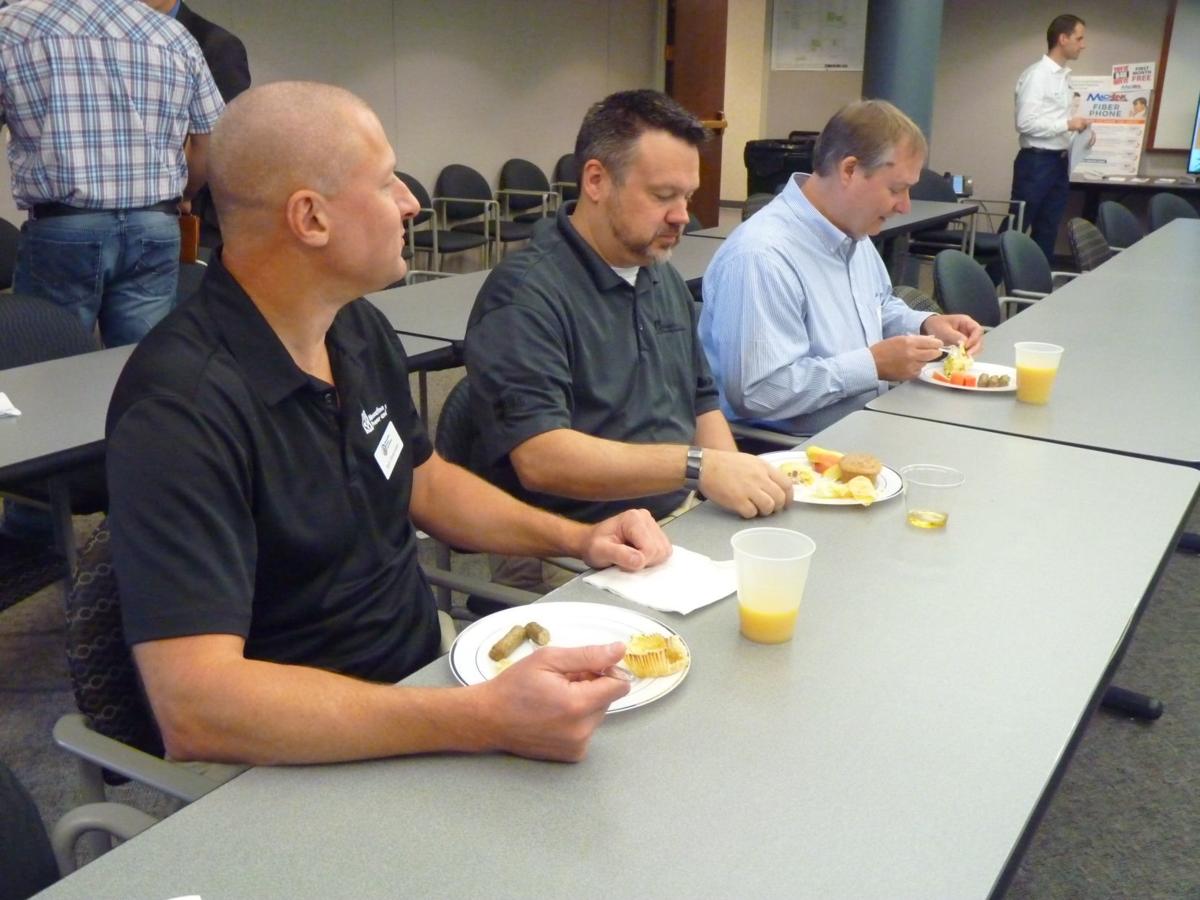 MUSCATINE — In what is known as the most well-attended event of its kind, about 50 people listened to the Muscatine Power and Water senior leadership team discuss what can be expected from the utility in 2020 during the annual Power Breakfast.
A major part of a PowerPoint presentation given during the event was the list of projects that Muscatine will see in the coming year. Other items discussed included the reliability of the utility as well as the low cost of electricity compared to other users throughout the state and country. MPW residential users pay about 11 cents per kilowatt hour, compared to the average Iowa user who pays close to 13 cents per kilowatt hour.
Director Erika Cox said one of the projects planned for the coming year will give fiber optic internet to all MPW users. She said this will set Muscatine up as a gigabit city with the infrastructure capable of handling all communications needs for the foreseeable future. All customers are expected to be converted by August 2020.
"The infrastructure we built in the 1990s was kind of maxed out in what we could do with it as far as expansion, upgrades and services we needed to make," she said. "We designed an upgrade to the coaxial fiber system to all fiber."
You have free articles remaining.
MPW got into the communications business during the late 1990s after being given voter approval. Previously the city-owned utility had only provided power and water. After the referendum, the utility also provided cable and internet service.
Also on the agenda is a new 161k volt transmission line project. Cox explained with three generating units in town, the city produces more power than the it needs, making it important to have connections to sell excess capacity on the open market. The revenues are used to keep rates lower. It also allows energy to come into town from the outside when the units are down for maintenance or repair.
Beautification projects are also scheduled for Mississippi Drive and Grandview Avenue. The power lines currently on poles in those areas will be run underground in conjunction with the city's beautification project.
Cox also mentioned the contest Muscatine has entered to win a water tower wrap. While Muscatine was in the lead for about two days, rival Colfax came back and is now leading by about 1,500 votes. People have until Friday to vote in the Facebook contest. Muscatine's entry can be viewed at www.mpw.org/votenow.
The presentation also looked at MPW capital spending. In the last three years the electric segment has invested $20 million in Muscatine and over the next three years will invest $36 million more. The water department invested $12 million over the last three years and will invest $5.2 before 2023. The communications segment is investing $19 million to upgrade the system to fiber.