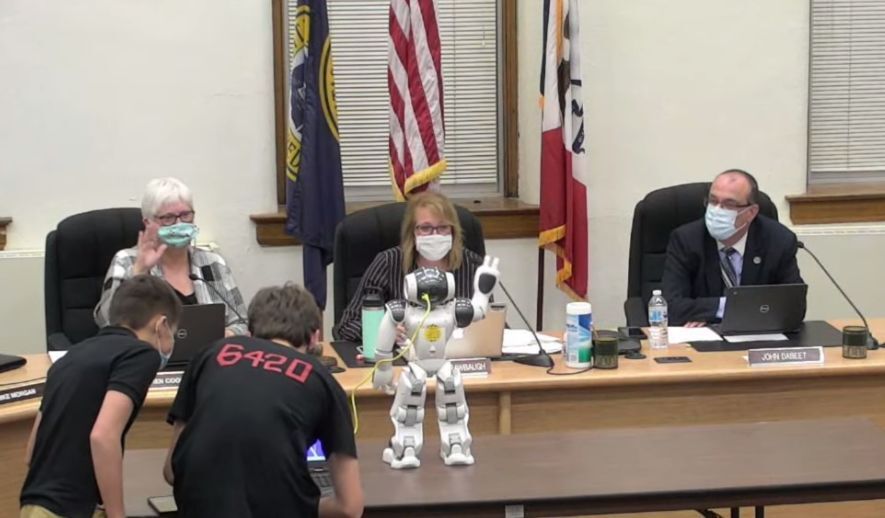 MUSCATINE — Last spring, the Muscatine Community School District established the Leaders Innovating for Tomorrow grant, allowing teachers the opportunity to write a proposal for up to $2,500.
Through these funds, teachers bring new opportunities into their classrooms, or address learning loss students suffered during the pandemic.
More than 62 educators applied for this grant. During this week's school board meeting, Joelle McConnaha, executive director of teaching and learning for the district, introduced a few of the educators with projects funded through the LIFT grant.
Muscatine High School physics teacher, Michael Bobay, applied for a PocketLab Sensor Pack. It measures and collects data from hands-on science experiments, and transmits it to a student's computer or phone. The pack also includes a software for visualization and analysis. Bobay also purchased a 3D printer to create custom parts for the PocketLab sensors.
"Our goal is to make physics a little more hands-on by integrating the PocketLab with the technology that the students already have," Bobay said. "We're able to get data that students normally wouldn't be able to get in the blink of an eye. It's a great resource for our students."
Susan Clark Jr. High biology teacher Pam Joslyn used the grant to help students participate in a STEM camp. Students visited the Discovery Center in Muscatine, the Muscatine Art Center, and the Museum of Science and Industry in Chicago. Learning activities for students included water testing and kayaking, building with straws and more.
"The purpose was to ignite students into STEM careers and areas, and also to show our opportunity for building partnerships within the community," Joslyn said. "Many students said that they had made new friends and learned about teamwork, and that the camp gave them a better appreciation for STEM in general. It was really beautiful to watch these 31 students bond over the course of that week."
Susan Clark Jr. High instructional coach Emillie Duran said she and other teachers identified a need to improve student and family engagement. A survey showed a low sense of school belonging, adult connections and emotional safety from students and a low sense of school-family partnership from families.
"It started as a small group of teachers discussing ways to improve how we work with families, and it turned into this proposal with the support and input from over 35 teachers," Duran said.
Duran said the extra funding allowed her group to be creative to provide "meaningful opportunities" for students and families.
The teachers created Family Engagement Nights at the junior high, which included free food, meals and Muskie gear for families; Fall and Spring Celebrations of Learning; and Muskie Connect Nights. Additional initiatives like SCJH Action Teams and alternate engagement strategies such as positive calls home and a parent leadership team were also recently launched.
"We saw this proposal as an opportunity to brand ourselves and show what we're all about, and that we want students and families to be excited to come to Susan Clark Jr. High," Duran said.
Jefferson Elementary Principal Dr. Kandy Steel also discussed two Jefferson projects funded through LIFT. The first was a multiuse Jefferson News Network broadcasting studio for students; the second was the NAO robot named MILES (Muskies Invested in Learning Every Second) after Katie Miles, the teacher who applied for the grant. MILES, as well as the students writing code for him, gave a brief demonstration of his conversation skills to the board, which was met with applause.
"This was just a sampling of some of the awesome things that are occurring in our schools," McConnaha said. "Just going in and out of the schools and seeing these awesome things that they've created to really help engage and connect with kids has been wonderful."