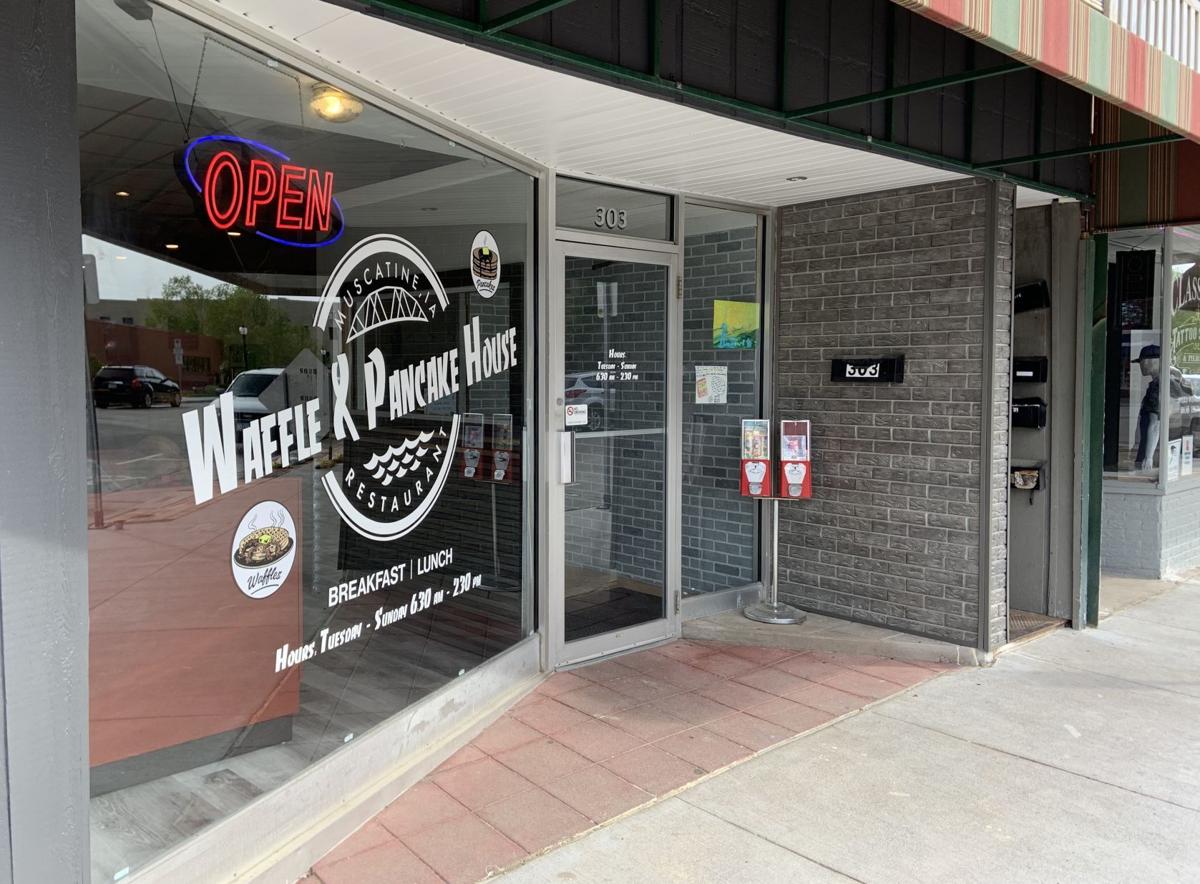 MUSCATINE – Many residents in Muscatine have recognized the spot at 303 E 2nd St. as the location of the Riverside Diner, one of downtown's locally-owned restaurants.
Riverside Diner officially became Muscatine's Waffle & Pancake House on April 1. The new owners, Boni and Marcella Alimoski, are easy to recognize since the Alimoski family owns three other local restaurants.
These include Arty's Ice Cream and Grill and the Wilton Café in Wilton, which are both owned by Sakir Alimoski, and the Muscatine Family Restaurant, located on 1903 Park Ave., which is owned by Andy and Rosie Alimoski, Boni's parents. Andy and Rosie are co-owners of the Waffle & Pancake House.
"I wanted my own place," Boni explained, "So I went into a partnership with my father, and he bought the café on Apr. 1." He said he and his family hope to add to the local restaurants in Muscatine, because "we love this town."
When asked about the name change, Boni said he wanted to stand out from the other diners in Muscatine. "We have a lot of small family diners in town, so just focusing on the waffle and pancake aspect makes it something special and creative for the downtown area. And hey, everyone loves pancakes and everyone loves waffles, so why not name it after that?"
People may notice the new renovations, and the backs of all of the employees' shirts, which now read "Waffles are just pancakes with abs". But whether you prefer waffles, pancakes or even french toast, the Waffle & Pancake House has a full menu.
In the month since the Alimoski family bought the diner, Boni and his crew have created several specialty pancakes and waffles. This includes a Nutella waffle, raspberry swirl pancakes, and even a pb&j special. "It's unique, and it's something different for downtown Muscatine."
Boni says the rest of the menu will be similar to the menu at the Muscatine Family Restaurant. With the addition of a pie case and an espresso machine, there will also be a focus on soup, sandwich and pie specials as well as espressos and flavored drinks. "It's a big change."
One thing that hasn't changed is the staff from Riverside Diner. All of the waiters and chefs have stayed at the restaurant, much to the delight of their regular customers.
"When we bought the place, we gave everyone the opportunity to stay, and if they decided to leave, that was on their own," Boni said, "A lot of them have been working here for a while, and I told them that they were more than welcomed to stay. We didn't force anyone out, and all the employees decided to stay and give it a shot."
Boni said one of his goals with the restaurant is to be more involved in the Muscatine community. "I've been in this community since 2004. I went to MCC here, and I have four kids of my own, so I want to be able to get them involved in stuff."
He also hopes to provide a family environment in his restaurant, with food that people of all ages can enjoy. "I want it to feel like home from the moment you walk in the door."