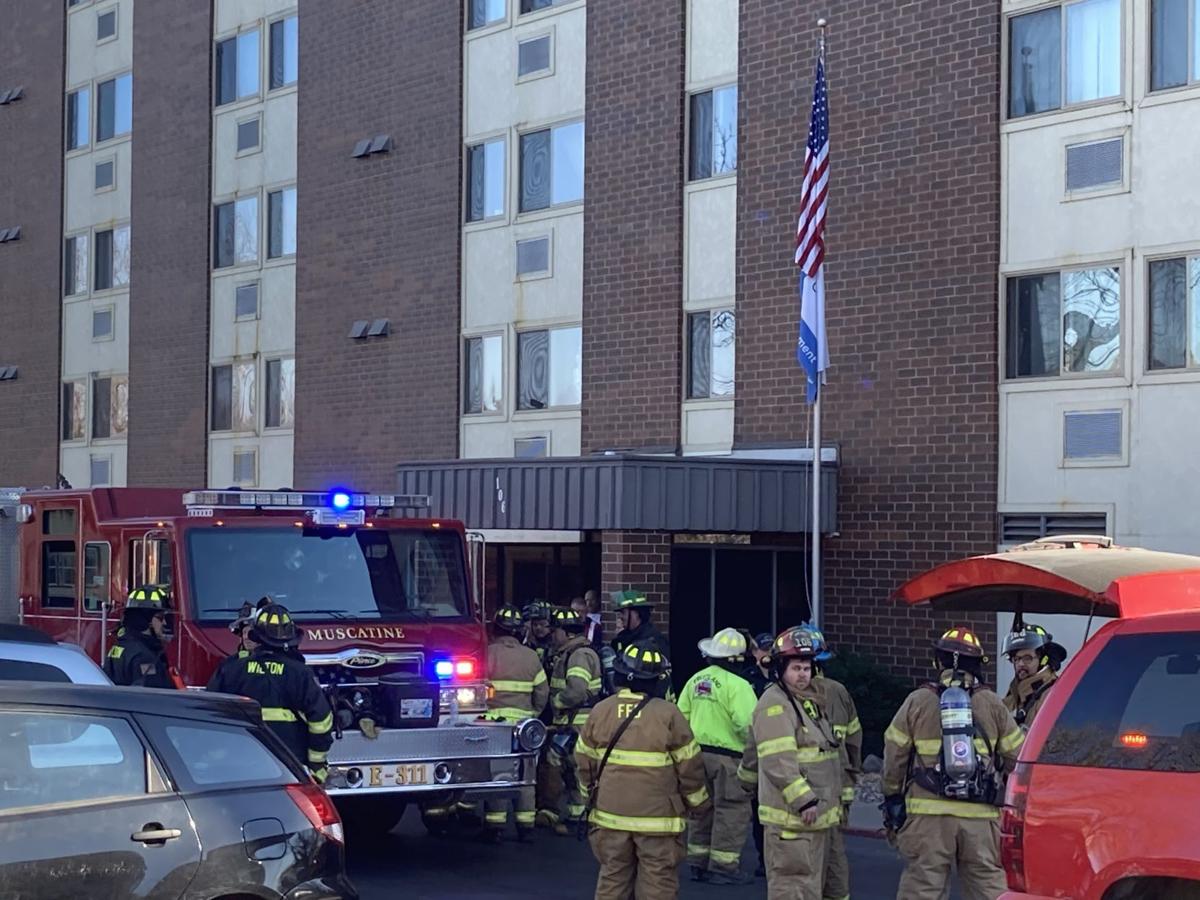 MUSCATINE — The residents of Muscatine Tower Apartments awoke to an early morning fire on Sunday, but thanks to a functional sprinkler system and the quick work of the Muscatine Fire Department, the incident only saw one injury, though 86 people were evacuated.
According to a news release, Muscatine County Joint Communications Center was notified at approximately 9:44 a.m. of a fire located on the seventh floor of Muscatine Tower Apartments.
The Muscatine Fire Department soon arrived on scene alongside Fruitland Fire Department, Wilton Fire Department and the Muscatine Police Department. Upon entering the apartment, crews found one injured individual inside and successfully rescued the victim. The resident was then transported to UnityPoint–Trinity Muscatine for treatment.
Due to the sprinkler system in the building, the fire was contained to the apartment. Only three sprinklers were activated during the incident. According to Assistant Fire Chief Mike Hartman, the fire only took about five minutes to put out.
"We are done with the on-scene investigation, and everything we've seen so far is pointing towards an accidental cause, and I expect that to be the final determination," Hartman said.
After the fire was put out, crews spent several hours evacuating the building, with the residents closest to the location of the fire evacuated first. Due to extensive smoke and water damage, the building was closed and Muscatine Tower residents were forced to find temporary living arrangements as cleanup operations began on Monday.
"Our crews were focused on fighting the fire and evacuating people, so we were not able to shut down the sprinkles quite as quickly as we wanted, but they did turn it off as soon as they could," Hartman said. "With situations like this, a lot of times we'll focus on the damage ... but the fact of the matter is, if we didn't have sprinklers in this situation, I am certain we would have had at least one fatality, quite possibly a couple more."
The Salvation Army of Muscatine County was also on scene to help with those displaced. Salvation Army Lt. Greg Bock said that he had started his preaching for that Sunday's church service when he received the call about the fire.
"In a way, that's how we worship sometimes," Bock said. "We don't worship during a church service, we worship through our community service, and that's how it was yesterday."
Bock and his team found temporary living arrangements for 60 people for the next five days. This was done in coordination with the AmericInn of Muscatine and the Super 8 Hotel of Muscatine.
The Salvation Army also coordinated with McDonald's in order to get food and bottles of water for the first responders on scene, as well as with Pizza Ranch to get hot meals for the displaced families. The Muscatine Diabetes Project also helped those who had diabetic needs.
"I've said it before and I'll say it again, whenever there's a need that is presented to the community, people respond and help every time they're able to," Bock said. "I had seniors with tears in their eyes thanking me, and it brings me so much joy to say that while I appreciate it they should be thanking their community for giving all year long. It's a good feeling. We're just thankful that we have all this support in the community."
"In a way, that's how we worship sometimes. We don't worship during a church service, we worship through our community service, and that's how it was yesterday."

Salvation Army Lt. Greg Bock, about helping at scene of fire