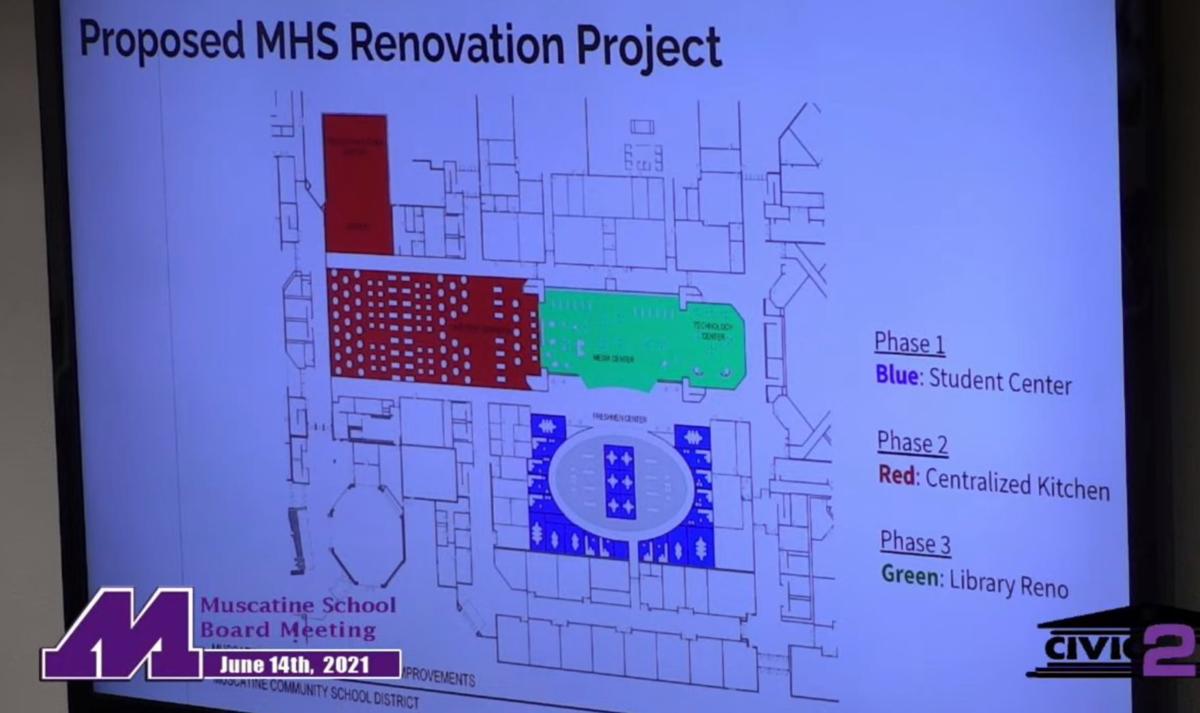 MUSCATINE — As part of its targets and goals, the Muscatine Board of Education used this month's school board meeting to focus on a maintenance study utilizing resources in an effective and equitable way, touching on three different project updates.
Superintendent Clint Christopher kicked off the presentation with an in-depth look at each of the district's facilities, and what is needed for long-term maintenance and to make plans to provide these necessities.
"We've talked about moving forward with this facilities study for some time," Christopher said "Long-term facility maintenance is one of those things that is critically important, but it's also expensive … but it's a lot more expensive down the road if you do nothing."
Maintenance recommendations were placed in categories and prioritized by the district. The highest priority was on projects that need to be completed in one to three years.
The total projected cost for the top priority projects — HVAC, roofing, sitework, masonry, doors, windows and interior finishes — totals a little over $12.7 million. Installing HVAC systems in each building was the highest need project, and would be funded through ESSER — Elementary and Secondary School Emergency Relief — as a way to manage the costs.
"It's something we need to do as soon as possible," Christopher said, adding that the value placed on fresh, circulating air within the schools in the wake of the COVID-19 pandemic make an effective heating and ventilation system increasingly important.
As for lower priority projects, second tier work is expected to total around $4.9 million and would need to be done in three to six years while third tier, which Christopher referred to as a sort of "wish list" from the district, had the biggest projected cost of nearly $26.6 million.
This summer, a committee will  plan out the next 10 years of maintenance projects based off this study. Christopher said there would not be any allocation of funding to the former Central Middle School building. Though the building's auditorium, gymnasium and kitchen will still likely be taken care of due to their importance to the community, it is unlikely that the school district will continue to fund the upkeep for it in the future.
Another renovation project that was touched on during Monday night's board meeting was the renovation of the former Science wing at Muscatine High School. This project will be done in three phases, the first phase will create a student center, the second will focus on the building's centralized kitchen, and will finish off with a library renovation.
"We have kind of an older section of the building that is a lot of temporary walls," Christopher said in reference to the former science wing. "We also spent a lot of time trying to develop a student tutoring program, and one of the challenges we had was that there was nowhere to put the students and the tutors. So this renovation had become a higher priority to create more open, flexible learning space."
Finally, Christopher expanded on the ESSER funds, as well as GEERS — Governor's Emergency Education Relief — funding, that the district has access to. The first round of ESSER funds amounted to $734,504 and has since been used on pandemic-related expenses such as Return to Learn planning, nursing, cleaning and custodial supplies, and the online program.
The next round of ESSER funds, however, was nearly $11 million. Along with the upcoming HVAC upgrades, these dollars will help fund technology access such as hardware and instructional software, student support, career/college counseling. $270,400 of GEERS funds will also help fund hardware, internet access and software.
The district has been given a little over $1.7 million to use to address learning loss in the third round of ESSER funding. This money will fund the summer school program, extended learning, STEM spaces, STEAM work and Teacher Innovation Grants.
"We'll continue to update this as we move forward," Christopher said. "We also know now that we have until the fall of 2024 to expend these funds. We'll be able to fund all of summer school this year with it, and we'll be able to do it for the next two years as well, so we'll get some good use out of it."