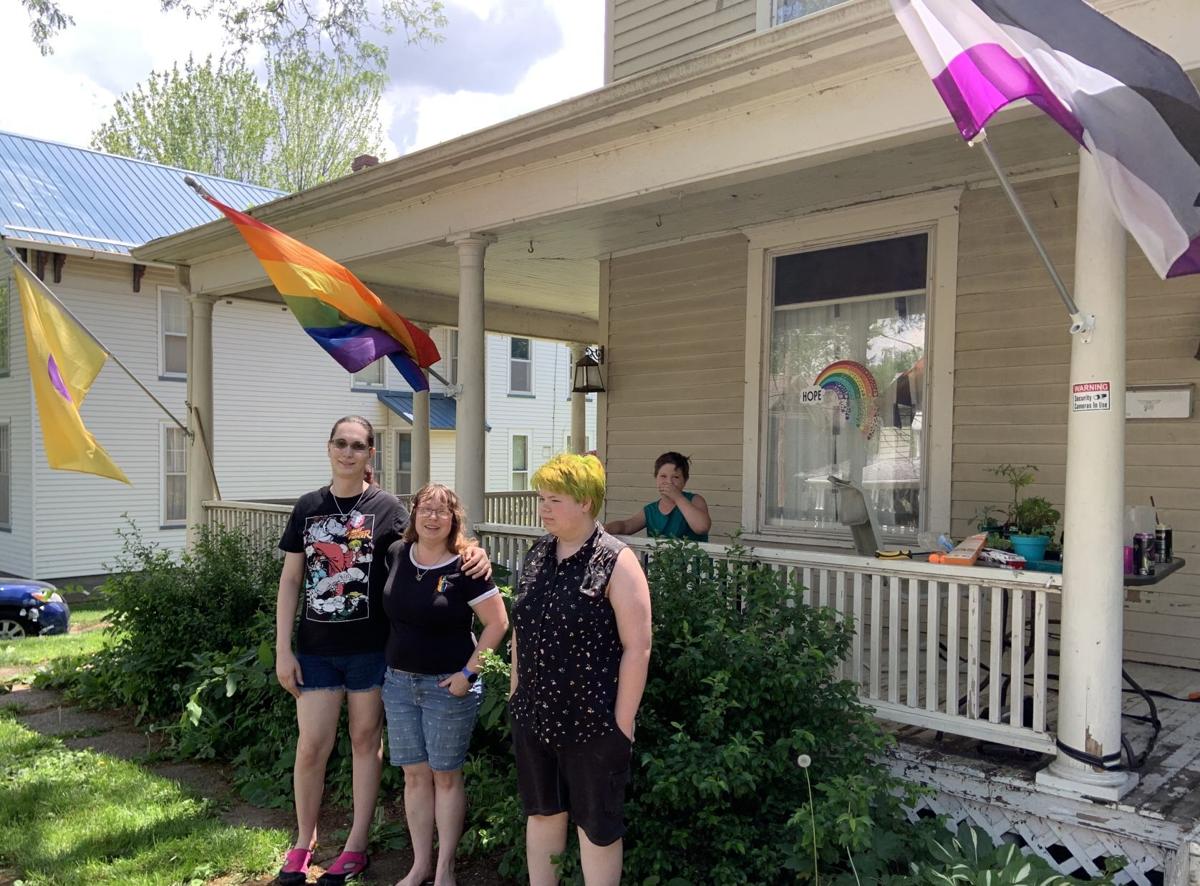 MUSCATINE — During Pride Month, several local households celebrate and support the LGBTQ community.
One home on Mulberry Avenue has taken this idea one step further, thanks to their collection of pride flags — a collection that is, for the moment, incomplete.
Early Monday morning, between 9 and 10 a.m., a polyamorous pride flag was stolen from this home. During the theft, the flag pole was bent and the brackets damaged.
The family put up different flags each week over the year, switching every couple days during Pride Month. According to homeowner Stephie Levsen, who was there at the time of the incident, this was the first time that one of their flags had been stolen.
"I was outside (Monday) morning with the dog and all of the flags were still there. Then I went in for a little while, went back outside, and it was gone," she said, adding that she had no idea why someone would take that flag in particular when there were other flags out at the time. "Maybe because it was the one in the middle?"
The theft of the flag representing polyamory left Levsen and her family feeling confused and hurt. The family is upset they now may not be able to put out a flag on the Polyamory Day of Pride Month.
Levsen's fiancé, Vanessa Langdon, said when she began hanging these flags, it was a way to show the pride and support she wished she had when she was growing up bisexual, transgender woman.
"When I was younger, there was no representation anywhere. … I was scared to come out," she said. "And so, I was thinking that as an adult, I can kind of be the adult that I would have really needed as a kid to help inspire me."
"I'm mostly sad about what happen," Levsen added. "We were receiving a lot of positive feedback about our flags, and we've lived in this house for almost a year, and this is the first negative things that's happened."
Their house has drawn attention thanks to a Facebook post, with many people voicing their gratitude and support of the flags making this theft all the more unexpected.
"It's very obvious that what we're doing is giving people hope," Levsen said, referring to the post, "Everyone was saying how much they enjoyed seeing it."
"We've had a couple people say that they were scared to put their pride flags or pride stuff out until they saw our house," Langdon added.
Following this incident, the family was given donations to cover the costs of a new polyamory flag, which is currently on its way, although they are unsure if it will arrive in time for Polyamory Day. Additionally, the family still hopes to see the original flag returned.
"I'm not really angry, I'm more curious as to why they would vandalize someone house," Langdon said. "We've put a lot of effort into this. For someone to tear it down needlessly, I just want to know why. If they want a polyamory flag that bad, we can give the information of where you can get one, you don't have to steal it."
Langdon added they would keep hanging up pride flags.
"We're not going to let this deter us," she continued. "We've got security cameras that we're going to install. It kind of sucks to get to that point because you want to feel safe in your community, but if something like this happens again, we'll just replace the flag and keep going.
"I hope that people just live and let live. There are flags that have been around the neighborhood that we don't agree with, but Freedom of Speech, that's what I say."