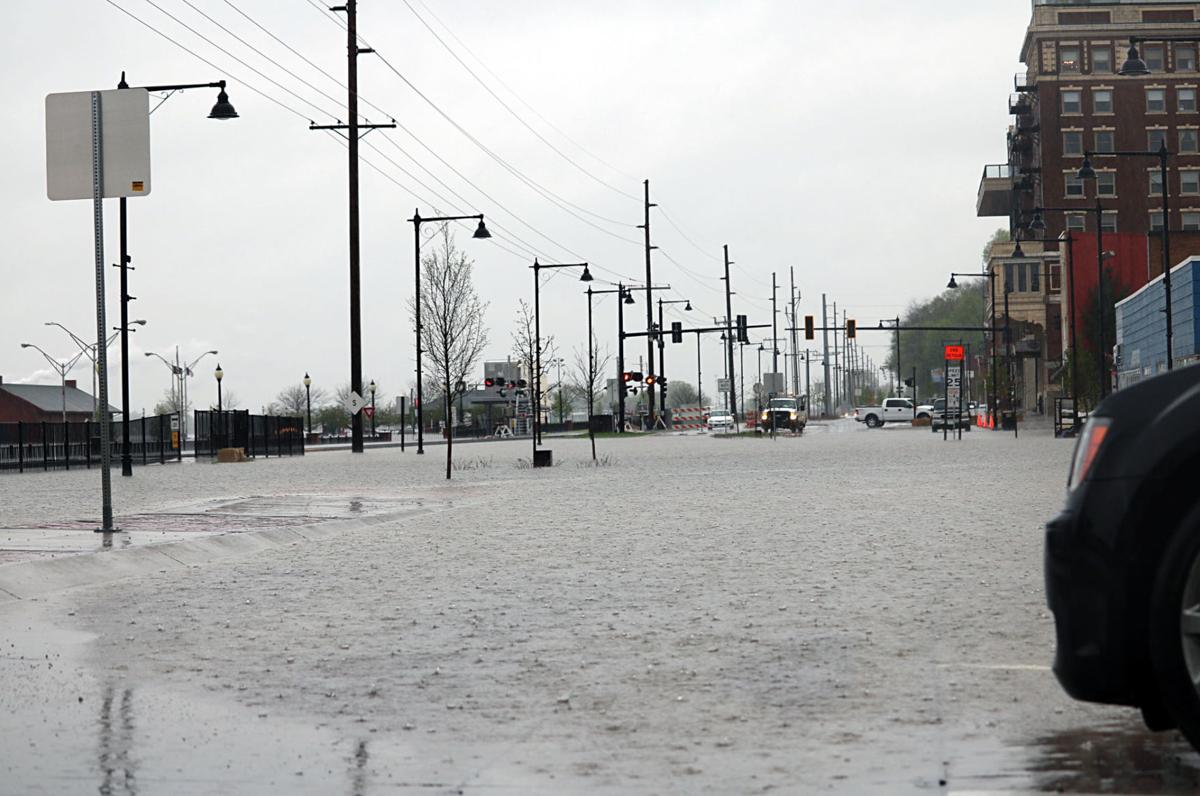 MUSCATINE — While many cities in the Midwest continue to recover from last year's flooding, concerns are on the rise for spring flooding of the Mississippi's banks.
In his presentation to the Agriculture and National Resources Appropriations Committee on Jan. 28, Witold Krajewski, director of the Iowa Flood Center at the University of Iowa, said the outlook for spring flooding was "not so good," though it's difficult to pinpoint which areas could see the most.
The May 2019 crest of the Mississippi at Muscatine was reported to be the fourth-highest level in recorded history, hitting just above 24 feet. Several months earlier, in October 2018, the river reached 20.16 feet, shutting down two blocks of Mississippi Drive because water covered the Walnut Street intersection.
Major flood stage in Muscatine is 20 feet, causing a significant impact on the roads and local businesses near the river, as well as the city itself. From March 1-May 19, 2019, the city spent over $73,000 on flood activities, including labor, equipment and material costs for everything from sandbags to cleanup.
"Last year it was interesting because we had the river come up and down so many times that we were able to kind of benchmark some of our action items and test them out," said Public Works Director Brian Stineman.
According to his Mississippi River basin-wide soil moisture data, Krajewski said the basin has the wettest or second-wettest soil moisture on record for the past 65 years.
"It's not only the water that is stored in the soil and the snow pack, but also when storms will hit and how the spring warming develops," he said.
While a slow spring warming would lead to easy water drainage, it's too soon to say how warm or how wet Muscatine's spring will be.
The Mississippi River crest in Muscatine was at 11.33 feet as of Jan. 31, but that could change as the temperature warms up and the spring rain moves in.
Andy Ervin, a meteorologist at Davenport National Weather Service, said they would put out their annual Spring Snow Melt-Flood Outlook, their first flood outlook of the year, on Feb. 13.
"Before then, I really can't be very specific, though the general set up is favorable for spring flooding," he said. "That has been largely unchanged since Fall 2019 because of what we had last year which continued all the way through the fall of being wetter than normal across the upper Midwest before the ground froze."
Most of the Midwest's rivers are also running above normal.
"Those two factors alone will support an enhanced risk for spring flooding," Ervin said.
Muscatine is prepared for floods thanks to the plans established by Public Works, Stineman said. Downtown businesses shouldn't have the experiences of water coming up into their basements, thanks to Public Works' negotiating with Iowa Department of Natural Resources and making some changes in how they operate the valves in that area.
Other than that, he isn't expecting to have to alter the flood plan too much this year, saying it'll be the same basic procedure of "watching and waiting" until the water comes, and then reacting to it as necessary if there's time.
"I am expecting it to be similar to last year, which is unfortunate, but we've been through it now," Stineman said, "Last year, we exercised the entire flood plan last year except for the last page. We exercised all the gates and valves and went through the whole procedure, so it's still fresh in our minds, which is a good thing, so hopefully we can avoid any issues."
Be the first to know
Get local news delivered to your inbox!