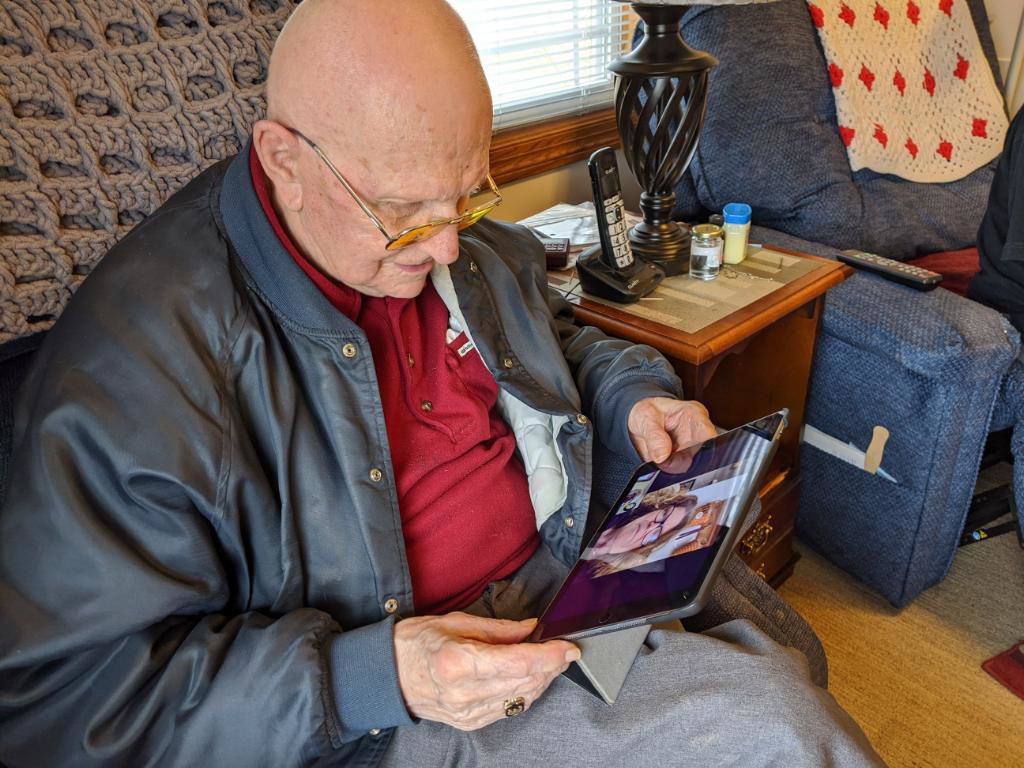 MUSCATINE — Sunnybrook Assisted Living is known for many social events, from being the setting of the Eagles and Ivories Ragtime Kickoff concert to their monthly Lunch for a Cause events.  Sunnybrook has been a lot quieter lately, though it's trying to keep up social interaction between its residents.
This Wednesday, the residents that make up the Sunnybrook After Lunch Bunch group got together for a meeting. "After Lunch Bunch is a small social group that visits after lunch a few times a month to reminisce about a variety of topics," Megan Francis, the Marketing Director for Sunnybrook said.
For this meeting, the group discussed advantages in technology and how technology keeps people connected. Sunnybrook is one of many assisted living facilities across the country that have locked their doors to public visitors due to COVID-19. Family, entertainment guests, and regulars like mail carriers and beauticians are not allowed inside in order to keep residents safe.
Sunnybrook residents understand this decision, and are grateful for their safety and comfort. One resident took to playing the piano in place of the usual visiting musicians. Another resident, Marion Michael, said that she found comfort in knowing that her children didn't have to worry about her and that her care wouldn't be interrupted even during such a hectic time.
However, it is still difficult for some. "When we asked them 'what's the hardest part of this isolation', there is one common theme and it's not being able to see friends and family," Francis said.
Even in lockdown the residents – especially the After Lunch Bunch – know they're not completely alone. As they discussed how much things had changed over the years, memories of community 'party line' numbers came flooding back.
"Before there were enough phone lines, small towns and neighborhoods used to share one party line," Francis explained. Residents remembered how their family members would warn them of eavesdroppers on these lines, or of people who always seemed to be 'in the know' thanks to the many afternoons spent on these lines.
Turning from old to new technology, while they may have as much experience with it, the residents at Sunnybrook certainly appreciate it. Not only do they have the opportunity to speak their families on private phone lines, but thanks to the efforts of the Sunnybrook staff, many have gotten the chance to schedule video chats. These calls have been a great success, and while unusual, residents nevertheless consider these calls just as special as face-to-face interactions.
"Seeing your loved one's face, seeing a smile and knowing they are still close by even when being in the same room is not advised – it just means so much," said Francis, "All of these connections bring a 'warm and fuzzy feeling' at an otherwise difficult time."
As they take advantage at the technology at their disposal, Francis not only encouraged family or friends to keep calling their loved ones, but to continuing making connections in whatever way they can. This can include visiting through the windows of the facility, or by sending cards, letters and photos.
"It really does make a difference," Francis said, "And remember that we miss everyone too." While there is no indication when Sunnybrook will reopen its doors to the public, phone calls, surprises in the mail such as cards or letters, and virtual visits through video calls can help make social distancing feel a little less isolating.
Those who wish to schedule a video call or Skype call with their Sunnybrook resident can call (563) 263-5108 and letters can be sent to 3515 Diana Queen Drive, Muscatine, IA 52761.
Concerned about COVID-19?
Sign up now to get the most recent coronavirus headlines and other important local and national news sent to your email inbox daily.