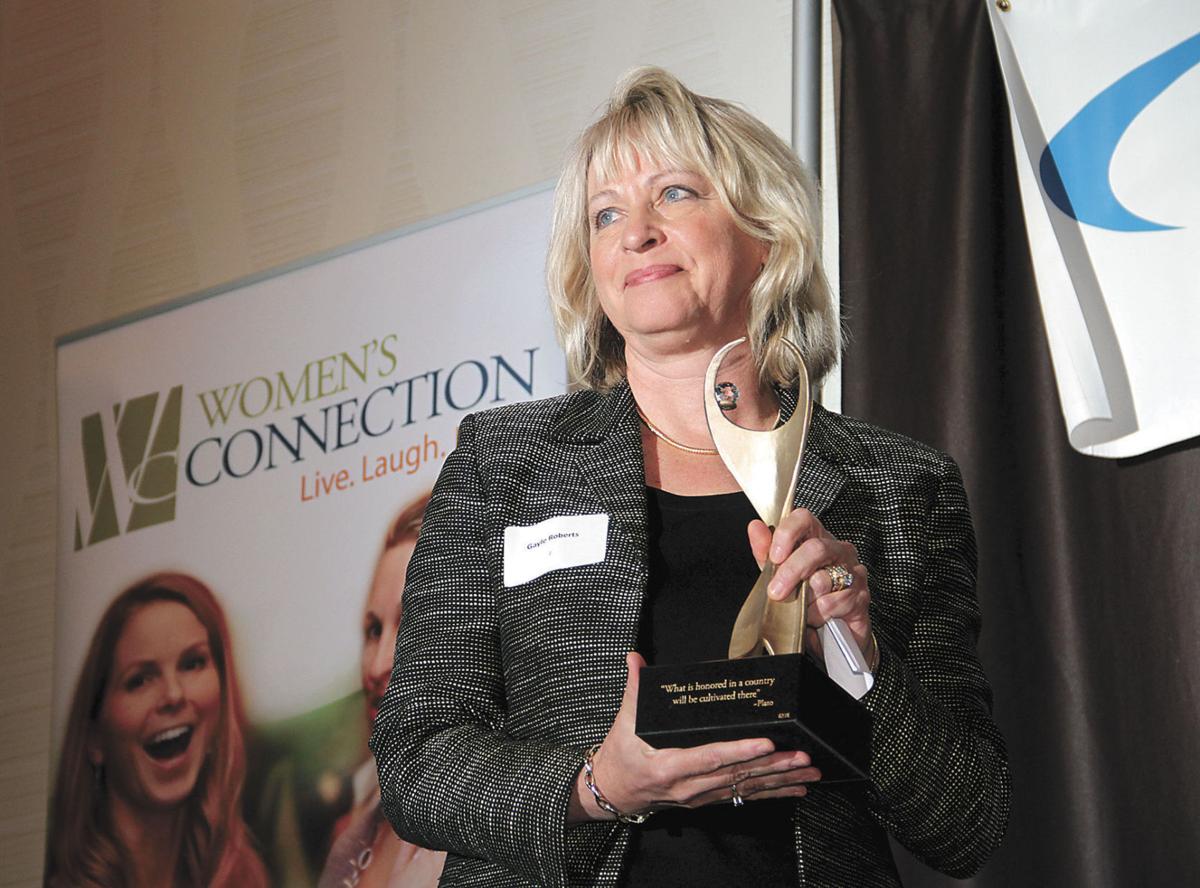 ROCK ISLAND — Gayle Roberts, the 2012 Athena Award recipient, believes that women need to believe in themselves and their abilities as well as mentor other women to do the same.
Roberts, who was among six Athena honorees, was announced as the winner Thursday during an awards luncheon at Jumer's Casino and Hotel in Rock Island. More than 350 people attended the seventh annual awards event, hosted by the Quad-Cities Chamber of Commerce and The Women's Connection. The award is presented annually by Missman Inc.
"It's hard to be singled out because there are so many women who deserve this recognition," Roberts, the president and chief operating officer of Muscatine's Stanley Consultants, said after receiving the award.
In a video tribute that featured all six honorees, Roberts offered this advice for helping young women: "The best way to give back is to make the path forward a little easier."
The honorees also offered their thoughts and insights on leadership, giving back and the important role of women play in their communities, workplaces and families.
Roberts was recognized for being a role model and a champion for women in the male-dominated field of engineering throughout her 30-year career. In 2007, she became the country's only female president of an international engineering firm. She joined Stanley Consul-tants in 1981 and is a licensed professional engineer in seven states and Puerto Rico.
A strong advocate of mentoring, particularly young women, she reminded the audience to "believe the glass ceiling is a myth, because it really is."
This marked the second year that a single Athena recipient was selected from the group of honorees. Previously, all honorees were recognized as Athenas.
Last year, the Quad-City program affiliated with Athena International. Colleen Rafferty, executive director of The Women's Connection, said the affiliation "elevates the stature of the honor by joining women around the world who are leading the change."
"The more women we have in leadership, the better off we'll all be," she said.
Since 1982, more than 6,000 Athena Awards and Global Athena Leadership Awards have been presented by Athena International in more than 500 communities in the United States, Canada, Russia, China, United Arab Emirates and the United Kingdom.
Locally, the nominations are narrowed down each year to a group selected by the previous year's honorees. One Athena winner is selected from the honorees by a committee that includes the previous honorees and other community leaders.
Get local news delivered to your inbox!
Subscribe to our Daily Headlines newsletter.