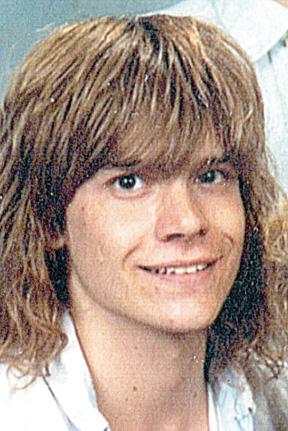 MUSCATINE, Iowa - Robert Lee Kellar always wanted to be a singer in a rock and roll band. He would hitchhike to California, Colorado and Florida, exploring the United States and chasing that dream.
It has been nearly 16 years since his family has seen him. They haven't forgotten his outgoing personality and contagious smile.
Now, they just wish they knew what has become of him.
His sister, Stephanie Ruefer, 35, of Muscatine remembers her brother leaving in February 1990.
"He didn't say where he was going; he was always traveling here and there. He just wanted to do his own thing," Ruefer said. "We didn't talk to him much when he was away. Every two to six months, he'd come back, so we weren't necessarily worried that we hadn't seen him."
Kellar was 19 when he left Musca-tine for the last time. No one in the family has heard from him since then.
Kellar's mother, Verna Craig, of Muscatine had tears in her eyes when she talked about the boy she remembers and misses deeply. Craig, 57, said her son was having problems and may have been using drugs.
"He wasn't acting like himself," Craig said about Kellar's behavior during the months prior to his disappearance. "I think he was depressed and also had other problems that were hard for him to handle."
Ruefer reported Kellar missing in 1992, two years after he left on his last cross-country trip. She said the family assumed he would be back. Muscatine police took the report but didn't find evidence of a crime.
Though they were worried, they waited. Eventually, the family lost hope of his return and grew concerned that something was wrong.
Ruefer has spent many hours searching Web site lists of missing people, wondering about the fate of her brother. A few weeks ago, she took Kellar's photograph to the Muscatine Police Department in hopes of having the case reopened.
According to Capt. Mike Scott of the Muscatine Police Department, because there was no indication of foul play in the disappearance of Kellar, the investigation concluded that he left the area voluntarily.
In such cases, police enter the information they have into the National Crime Information Center (NCIC), a computerized index of criminal justice information. If Kellar is ever located, the information of his whereabouts will be forwarded to the Muscatine Police Department.
Scott also passed the case information on to the Doe Network n volunteers who search Web sites, news articles and law enforcement agency information looking for connections in missing persons and unidentified persons cases.
The Doe Network functions through a Web site that lists each incident by case number.
Angie Bunch, 31, of Williamsburg, Ky., is the Indiana and Iowa area director. She said the network began with two people in 1999 and now there are more than 580 volunteers. Donations support its operation.
There are 38 missing persons and four unidentified victim cases posted for the state of Iowa on the network's Web site.
"That is nowhere near the number we should have," Bunch said.
She encourages interested families to contact the Doe Network to place information about missing persons in the database.
To date, the Doe Network has not solved any Iowa cases. Nationwide, 34 cases have been unraveled, some with the assistance of law enforcement agencies.
According to Bunch, 15 volunteers have already responded to the posting of Kellar's disappearance. One volunteer told Bunch she had a feeling that she had seen his face in past searches.
That feeling has yet to produce any useful information.
Those in the family of Robert Lee Kellar continue to seek closure to heal the loss and fill the void.
"Honestly, I think he is completely gone n passed away," Ruefer said. "I can only hope someone, somewhere has a clue to his disappearance. We want to know regardless of the situation."