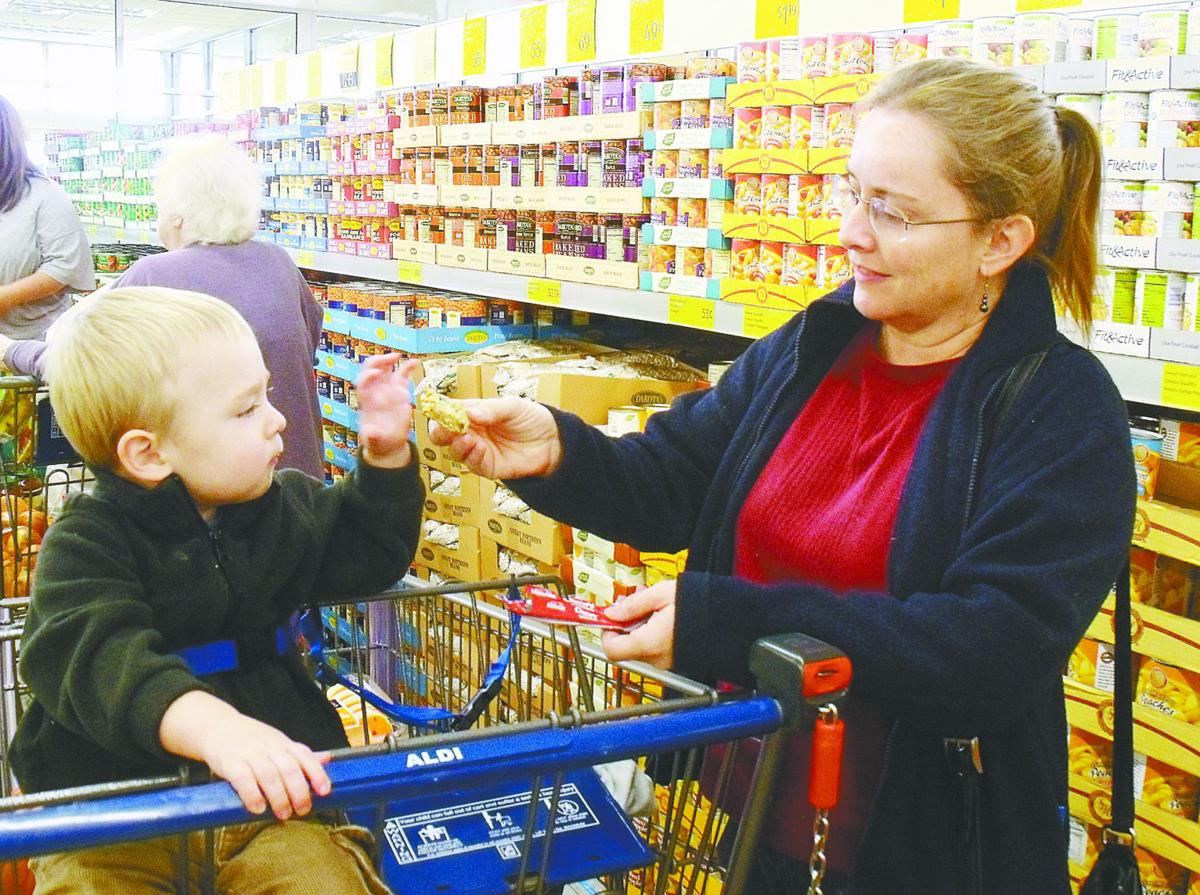 MUSCATINE, Iowa —  Musca-tine's new Aldi grocery store opened for business Monday to a throng of eager customers and a smiling mayor.
An 8:45 a.m. ribbon cutting for the new building featuring Muscatine Mayor Dick O'Brien was followed by a surge of customers whose cars filled up all the new store's 84 parking spots.
Throughout the morning, drivers navigated the full lot, waiting for a space to open.
Andy Jones, 30, of Durant, brought his little girl, Victoria Jones, 2.
"This is the first day," said Andy as he placed his daughter in a grocery cart. "We had to come and check it out."
He said the new store's location,  just off U.S. Highway 61 at 3200 Northport Drive, will be easier to get to than the former store at 1820 Park Ave.
You have free articles remaining.
Bea Dayton of Muscatine called the new store "beautiful."
"This has been a long time coming," said Dayton, 57, who said she shopped at the former location since it was built in 1984.
Longtime Aldi customer  Michael Capozziello of Muscatine, who was shopping with his wife, Maria, said he wasn't expecting the new store to so spacious.
At 17,000 square feet, the new store is 4,500 square feet larger, than the former building.
Heather Moore, vice president of the Aldi Dwight Division, said someone is interested in purchasing the former Aldi location.
Aldi cashiers accept cash, debit cards and electronic benefits transfer  cards for the food stamp program. The company keeps costs down by not processing regular credit cards, said Moore.
Other cost-cutting measures include having customers pack their own groceries and a 25 cent, refundable deposit for the use of grocery carts. 
Store hours are 9 a.m .-8 p.m. Monday-Saturday and from 9 a.m.-6 p.m. Sunday.
Be the first to know
Get local news delivered to your inbox!