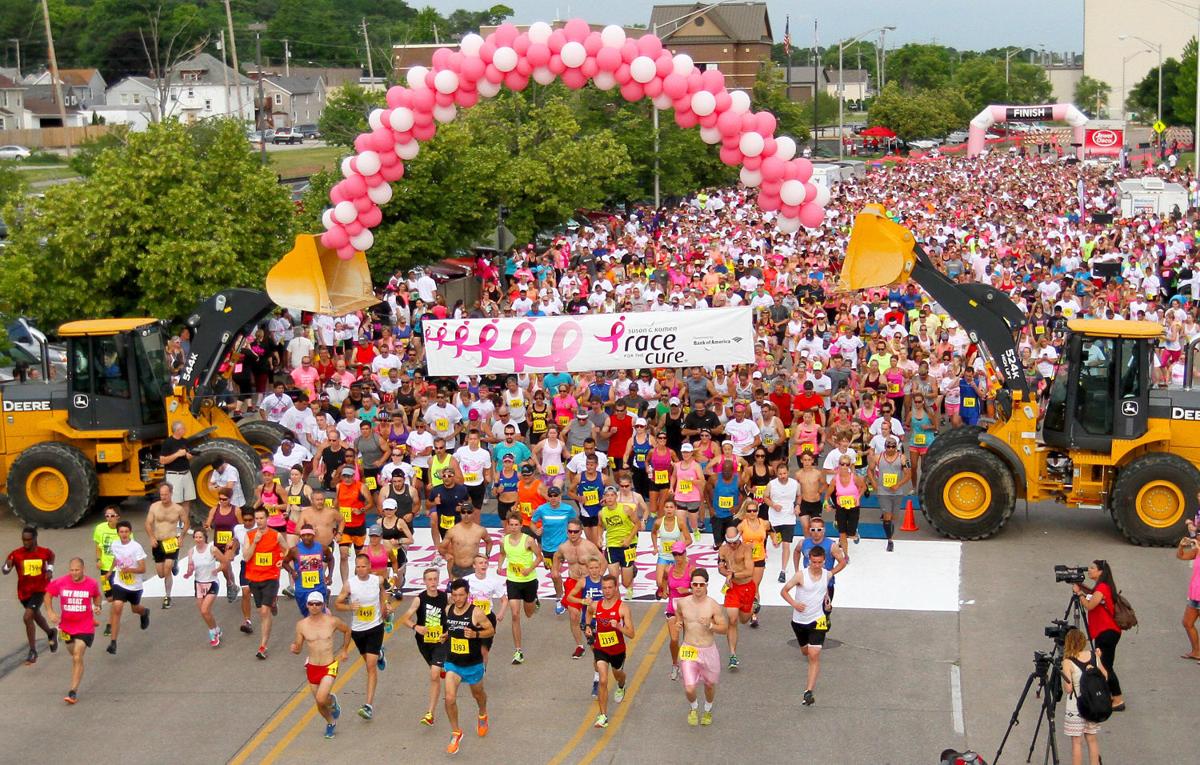 Three Iowa-based Susan G. Komen affiliates, including Komen Quad-Cities, have merged into a new united affiliate known as Komen Greater Iowa.
The merger, which was effective Jan. 1, combines the Bettendorf-based affiliate with Susan G. Komen Iowa in Des Moines and Komen Siouxland in Sioux City. The new affiliate's main administrative office will be in Des Moines, but offices and staff will remain in place in the Quad-Cities and Sioux City.
"We hope the merger will maximize the time, talent and resources of all our staffs to make a difference in all the lives of people in Iowa and surrounding cities," Christina McNamara-Schmidt, marketing and fundraising specialist for Komen Quad-Cities, said in an interview.
Komen Greater Iowa will serve all of Iowa's 99 counties as well as Henry, Mercer, Rock Island and Whiteside counties in Illinois, which were part of Komen Quad-Cities; Dakota and Thurston counties in Nebraska; and Union County in South Dakota.
According to McNamara-Schmidt, the merger comes as many affiliates across the country — like other nonprofits —are merging. She added the national organization "is encouraging affiliates to share resources and consolidate, but they are not forcing us to merge." 
One of the main benefits will be efficiencies gained from having the combined staff work to meet national's requirements, including a comprehensive community profile, which helps identify gaps in breast cancer health care. The unified affiliate will employ more than a half dozen staff, who are currently employed.  
"Our shared commitment to the women and men we serve will not change," Rebecca Brommel, Komen Greater Iowa's board president, said in a news release. "By working together in a smart and strategic way, we strongly believe we will be able to improve our capacity to deliver on Komen's mission and reach the new bold goal."
Last fall, Susan G. Komen announced a goal of reducing the current number of breast cancer deaths by 50 percent within the next decade. To accomplish this, Komen and its affiliates will focus on investments in research for new early detection methods and treatments for aggressive and metastatic breast cancer. It also plans to address disparities in access and timely utilization of quality breast cancer care.
The Komen Quad-Cities Race for the Cure will retain its name. Online registration is open, with a reduced $15 registration fee through Feb. 28. To sign up, visit komeniowa.org/qcrace.
"We are committed to maintaining our local race, local funding support and a local office and staff," said Martha Watters, board president of Komen Quad-Cities. She added that the merger will leverage "the efficiency of centralized administrative functions, which will allow the staff of the new Komen Greater Iowa to dedicate more minutes to our mission."
The new Komen Greater Iowa will host Race for the Cure events in Des Moines, Moline, Sioux City and Ottumwa as well as other fundraising events. The former Southeast Iowa Affiliate in Ottumwa merged with the Des Moines affiliate in January 2015.
McNamara-Schmidt said the affiliates will benefit from leadership of the Des Moines organization, which was honored as Affiliate of the Year. The merger also could lead to some statewide race sponsorships by donors.
Last year, the combined total of grant funding of the three affiliates was more than $600,000.
Founded in 1982, Susan G. Komen is the world's largest breast cancer organization. Since its founding, it has funded more than $920 million in research and provided more than $2 billion for screening, education, treatment and psychosocial support programs.
Be the first to know
Get local news delivered to your inbox!