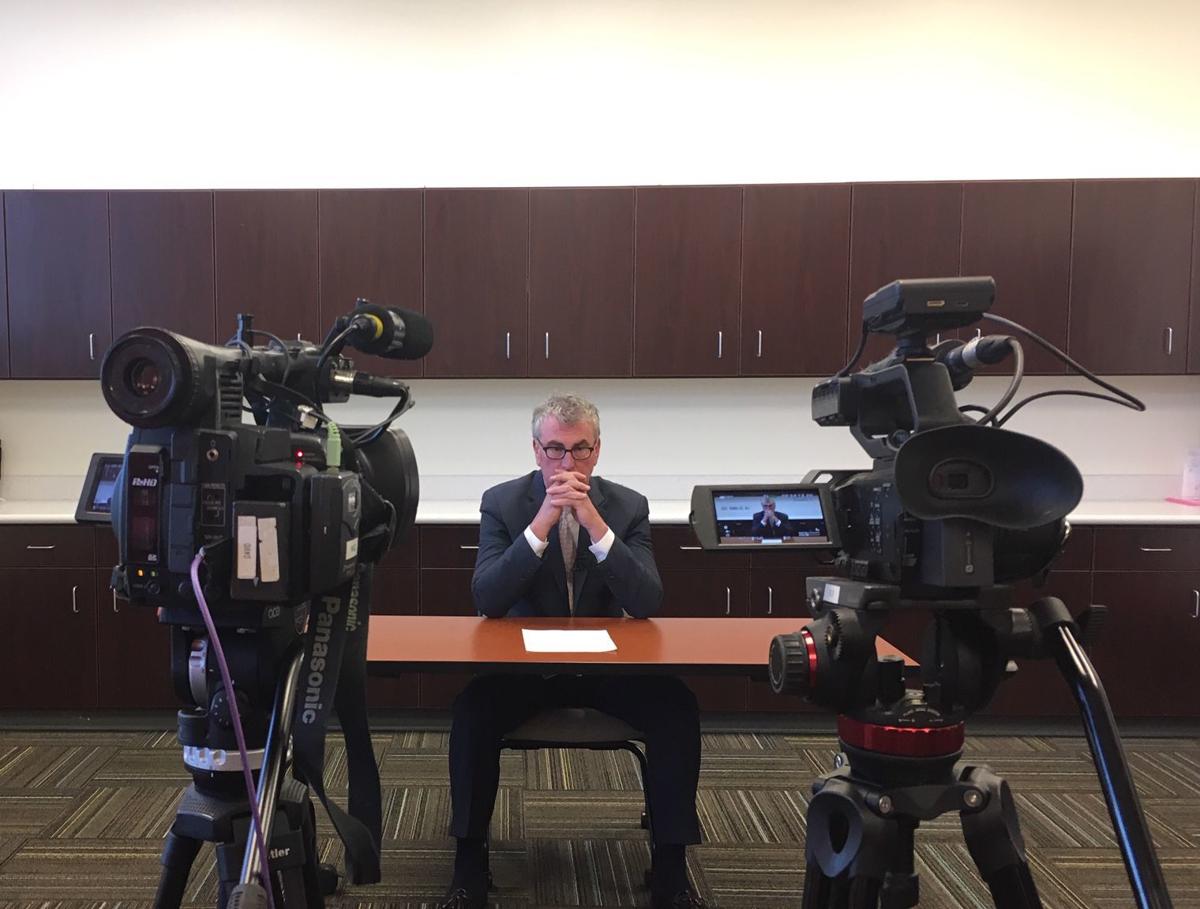 It's safer to fight in school.
That's a message Davenport Schools Superintendent Dr. Robert Kobylski heard when he spoke with a teenager following a recent fight at Davenport North High School.
"It caught me completely off guard," Kobylski said Monday. "To hear that students fight in school, because it's actually safer, left me speechless. The student said they know there will not be guns in schools. And they know there will be someone there to break it up.
"Then the student told us something I'll never forget: 'If we fight in our neighborhood, we might die.' It was unbelievable to hear that."
As the Thanksgiving break approaches for students, Kobylski is in the midst of reassigning some of the district's security guards, re-evaluating bullying policies, listening to teachers, administrators, parents, and students about a level of violence he said "seems to be the only option in some students' lives."
"The vast majority of our 14,000 or so students are great kids and don't have problems," Kobylski said. "As usual, it is a relatively small number of kids who create the greatest problems.
"But I'm not willing to simply write off any kid — especially the kids who are struggling with problems. We have what I like to call a lot of 'off-ramps' for kids — ways to take them out of the educational environment. What I would like to do is to create more 'on-ramps,' ways for kids to continue to learn and get the help they need."
Chosen in February to lead the district, some of challenges Kobylski faces became starkly defined.
The new school year started with a series of fights at North High School that required response from the Davenport Police Department, and an escalation of fights and disruptions in the intermediate schools.
On Nov. 4 a 15-year-old student attacked another 15-year-old in Davenport West High School's cafeteria — and the violence was recorded on a third student's phone. The attack left the student with a severe brain injury and his attacker expelled from Davenport schools until at least 2022.
Following the attack, questions swirled about how school officials responded before, during, and after the incident. Kobylski reiterated his belief West school officials acted "the best way they could with the information they had."
"There was simply no indication an attack like that would happen," Kobylski said. "Our principal in the school spoke with security to alert them of a possible issue and I'm afraid the student got into the cafeteria and attacked another student.
"In no way was that allowed to happen. The student wasn't 'allowed' in the cafeteria. And staff in the cafeteria reacted as quickly as they could."
Kobylski said "it is very easy to get emotional" about an incident like the one at West.
"It is inhumane and hard to watch what happened," Kobylski said. "There are extreme positions on both sides of this issue. But my job — and the job of every educator in this district is to find rational solutions. Like I said before, these are still children. We are not going to throw them away.
"Kids are still learning. We have to do our best to teach."
Kobylski moved all the security guards who were in elementary schools to intermediate schools — a move he said, of "four to five" guards. He would like to have even more prevention in place.
"What I would like to see, long term, is what might be called a crisis interventionist, in the schools," Kobylski said. "Actually, I would like to see fewer security guards and as many crisis interventionists as possible.
"We need people who can help kids, help identify possible problems, and work through things with students before we have what we had at West."
Kobylski is convinced the notion of intervention works with the idea of expanded "on-ramps."
"We don't throw children away — so what does that look like?" he said. "I think we have to look at more virtual schools, more after-school programming. We have to look at school-within-a-school situations. And we have to have a transition plan to either get kids back in schools, or find a way to get them help and help them get an education.
"I believe in second chances — but the student has to prove they deserve it. The student can't do that without help, without continuing to learn, without continuing to learn the skills needed to appropriately deal with things like bullying and all the other challenges they face."
The superintendent then said "No student, however, gets a second chance at the expense any student's safety. To get a second chance you really have to prove it."  
Kobylski thinks teachers and other school personnel have to take on an expanded role in the lives of students. He also said schools need more partners.
"Schools don't face these problems alone," he said. "We have partnered with the Davenport police and we have to do more. Poverty is a big issue — and has an incredible impact on our students and their behaviors."
Kobylski pointed to one of the greatest added challenges when combating bullying and violence.
"Social media. That's the biggest contributing factor to many of the incidents we see," Kobylski said. "Kids are emboldened to post what immediately comes to their minds. There is no time-lapse. No filter. No notion of being circumspect or thoughtful.
"And so kids are saying things that can infuriate their peers. That in no way excuses any kind of violence — but we see children who are not equipped to deal with emotions and anger reacting to posted materials.
"Cell phones, the access to social media, shortens a child's time for thoughtful reflection. And that lends itself to children reacting in the only ways they know how."
Sign up for our Crime & Courts newsletter
Get the latest in local public safety news with this weekly email.