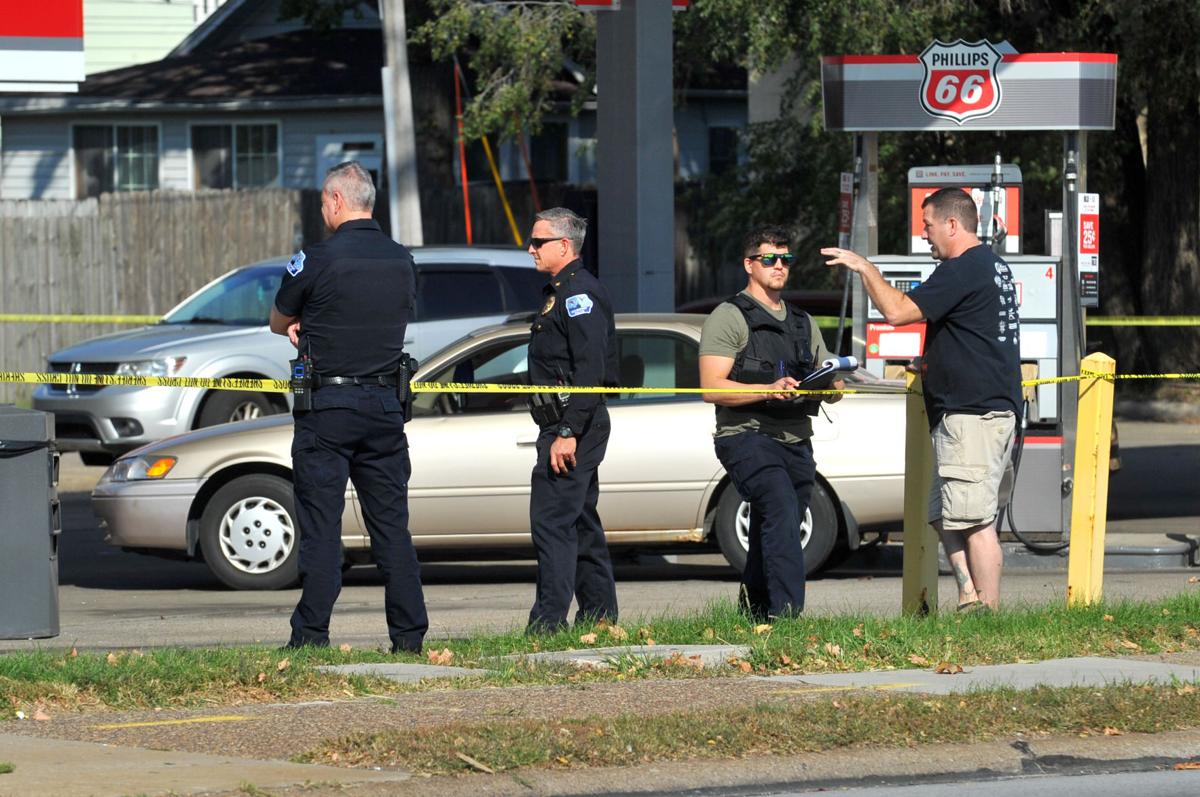 Scott County has 165,224 residents and three major metropolitan law enforcement agencies — the county sheriff's department and the police forces from Davenport and Bettendorf.
There are 260 officers and deputies patrolling the county. All but 20 are white.
The leaders of these agencies said building ethnically diverse forces is important and one of the greatest challenges they face. All three said they and their officers are committed to listening to the communities they serve and protect.
And they insisted recruitment of minority candidates is fraught with difficulties.
Davenport
Davenport is the largest city and law enforcement agency in Scott County, where 168 patrol officers police a population of 99,685. White people make up 81.9% of the population.
The city of Davenport has a minority population of roughly 18% — with the largest minority populations Black, at 11%, and Hispanic at 8.5%.
The city's police force is 91.7% white.
Davenport Police Chief Paul Sikorski said statistical percentages of race and gender are "very, very important ... but can also be very simplistic ways to look at any public institution."
"We look at life experience as diversity, as well," said Sikorski, echoing a sentiment expressed by Bettendorf Police Chief Keith Kimball. "There are a lot of ways to relate to a community — education and previous experience in law enforcement can be very valuable kinds of diversity."
Sikorski said it is important for all Davenport residents to see their police force as striving to be open-minded and committed to change.
"We — along with the Bettendorf police and the Scott County Sheriff's Department — have worked very hard to listen to the local NAACP and LULAC to hear about concerns and suggestions.
"We are working very hard to build trust," Sikorski said. "I think we have formed a trusting working group and it's respectful.
"We don't always hear the things we want to hear, but when you're in a trusting, respectful atmosphere, those hard things to hear are a product of mutual respect."
The Davenport Police Department has 14 officers considered members of minorities — seven Black officers, or 4.2% of the force; five Hispanic officers, 3% and two Asian officers, 1.2%.
Sikorski and Kimball were candid about the difficulty recruiting minority officers to the Iowa side of the Quad-Cities.
"We seem to have more success with local recruiting than outside the Quad-Cities," Sikorski said. "It seems like officer candidates want to be familiar with the area they could be working in."
Kimball said much of the hiring process is out of the hands of police chiefs.
"We have a human resources department that posts the jobs. And we have state testing — both physical and written tests," Kimball explained. "That weeds out a lot of candidates from all walks of life.
"We are lucky to get 40 people to the testing stage. And then the written test often cuts that pool in half. My point is simply that recruiting — let alone targeting minority recruits — is not easy. It is difficult to become a police officer."
Bettendorf
The city of Bettendorf has a population of 36,543 and has an authorized strength of 45 police officers. When data was submitted in September, the police force had 47 officers in preparation for two upcoming retirements.
The city's population is 87.3% white, while its police force is 93.6% white.
The Bettendorf police has no Black officers, and three Hispanic officers, or 6.4% of the force.
In Bettendorf, Hispanics comprise 4.5% of the population, Blacks make up 3.5%, Asians make up 5.3%. The overall non-white population is 13%.
Kimball said his officers have been his best recruiters, and since submitting data in September, the Bettendorf roster has already become more diverse.
"When we filed our information, we had two Hispanic officers and we added another," said Kimball, who has spent his entire 30-year-career with the Bettendorf police. "One of the ways I hope to improve on some of the diversity issues we face is that the word-of-mouth we have seen will continue."
Scott County
Sheriff Tim Lane said minority recruitment has been made harder by a "climate of mistrust of police."
"I feel many people are discouraged from law enforcement because police are seen in negative ways," Lane said. "I think sometimes broad statements are made about police based on very serious incidents.
"But being in public service is not a disservice to your community — no matter your race or gender."
The 165,224 people who live in Scott County are served by 45 Scott County Sheriff's Department deputies who work in patrol. The residents are 85.5% white, 8.0% Black, 7.0% Hispanic and 2.9% Asian.
All told, 15% of Scott County residents are non-white. The sheriff''s department's 41 white deputies make up 91.1% of the force. Three of the officers are Black, and one is Native American.
There are no Hispanic or Asian deputies on the force.
A need for training
As Scott County's three largest local law enforcement agencies grapple with diversity and issues of ethnic proportionality, the leaders of those agencies stressed the need for training.
"I have found bias training along with the city of Davenport has been helpful," Sikorski said."We have worked with our civil rights group and we have trainers brought here to discuss ethics and bias."
Every Davenport police officer does 40 to 50 hours of continuing education that includes discussion of bias and diversity. The state mandates 12 hours.
Bettendorf police officers participate in annual training that includes sessions on biased-based profiling and de-escalating situations involving mental health emergencies.
"We have officers willing to learn," Kimball said. "In the department we have 33 officers with bachelor's degrees, two with associate's degrees, and eight who have their master's," Kimball said. "Is education the end-all and be-all? No.
"But I do think education does encourage people to be open-minded and thoughtful. I think it also helps them to be receptive to learning and change."
Sheriff Lane said the Scott County Sheriff's Department has tried to "build in" a level of training.
"Sean Roth, our first chief deputy at the department, has had sensitivity and bias training which he updates and passes on to our deputies," Lane said. "And we are looking at ways we can form training partnerships with Davenport and Bettendorf to do even more.
"I understand people wanting their police and sheriffs to reflect the community. I know the agencies in this county are striving to do that. And I know that we are always looking to improve and learn."
Watch now:Black in the Q-C: In Their Own Words
Black in the Q-C: In Their Own Words
Sign up for our Crime & Courts newsletter
Get the latest in local public safety news with this weekly email.