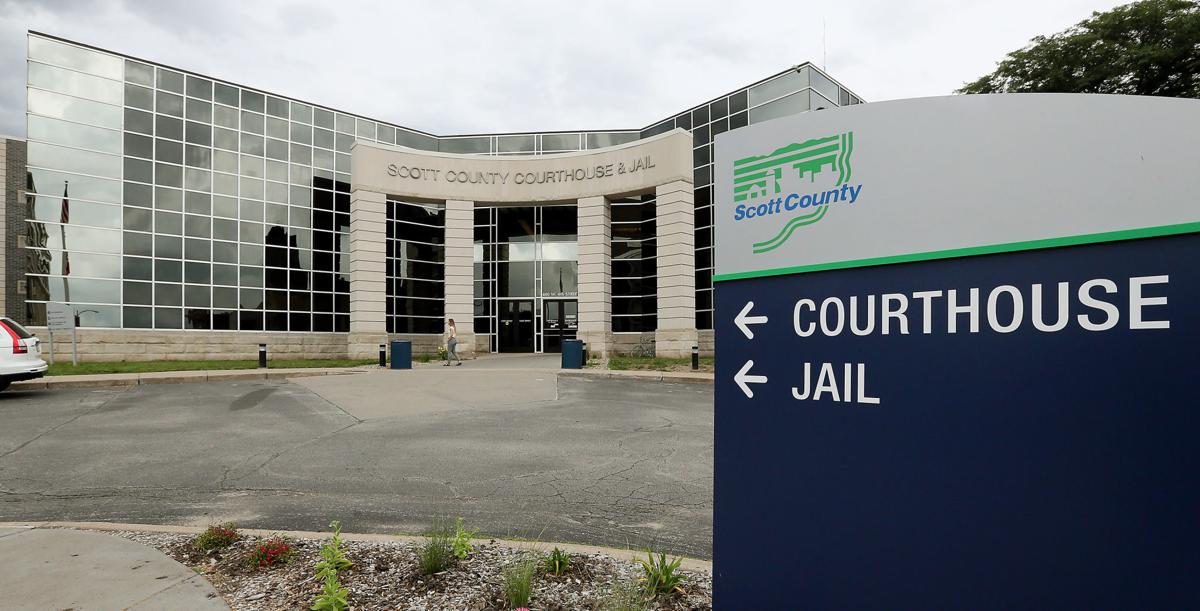 Bryce Schmidt is waiting.
"And I'm like a lot of other people right now — I'm just hoping for the best," said Major Schmidt, a chief deputy with the Scott County Sheriff's Department and the jail's administrator.
As the reach of COVID-19 in Iowa has become more evident in recent days, Schmidt said he is watching the stories of the virus' spread through jails in places like Cook County.
"So far? So far it's been good here. But things can turn around and go in the wrong direction with this COVID-19. So we're waiting and we're hoping," Schmidt said.
There were 212 inmates housed in the Scott County Jail as of Monday afternoon. Officials there, in the Seventh Judicial District, and local law enforcement are working to limit the number of people in jail and who pass through the Scott County Courthouse.
No inmate at the jail is suspected of having COVID-19, but two were recently put into isolation with coughs.
"We are erring on the side of precaution," Schmidt explained. "So far, no inmates have shown symptoms of COVID infection — the fever, coughing and fatigue that we have been told to watch for.
"It might help people to know that this is the time of year when we usually see some flu illnesses and allergy symptoms, so we are really working hard to monitor everyone who comes into the jail. And we are really trying to get the message to those who come and go from the jail — our staff. Honestly, a lot of our inmates have been here for a while, and they would be in a low-risk category. But I'm really worried about what could be brought in."
Schmidt explained that all deputies and staff have their temperatures taken before they enter the jail population.
"We don't want somebody to man-up or woman-up and come to work sick," Schmidt said. "We don't want that in normal circumstances. And we have really stressed the need to not be here if you aren't feeling well."
Schmidt said the juvenile detention portion of the jail had been cleared out.
"That's not the Juvenile Detention Center," Schmidt explained. "When the jail was built in 2007, we didn't have a 'juvenile wing' added in the design. But we've had an unofficial juvenile area where we hold juveniles charged as adults.
"That is cleared out. Right now, we have 10 juveniles charged as adults out of county."
Two adult males are being held out of county.
"That's a big improvement for us," Schmidt said. "In January we had a total of 70 inmates held out of county. So getting that number down has been a good thing."
COVID-19's threat has brought changes to the Scott County Courthouse. Social distancing is one of the key components.
"To follow the social distancing requirements, there are currently fewer clerks in clerk offices around the state, and many clerks are working from home," said Kathy Gaylord, the Seven Judicial District Court's administrator in Davenport. "Most of the court procedures in our courtrooms are now being held using videoconferencing or the telephone instead of in person, but the clerks in our offices and judges in our courthouses are available for criminal and emergency cases that cannot be conducted by videoconference or telephone."
Gaylord said emergency cases included " … substance abuse treatment proceedings, hospitalization proceedings, child removal proceedings, domestic and elder abuse proceedings, dependent adult proceedings, protective orders, motions to quash garnishments and landlord tenant proceedings in which the tenant poses a clear and present danger."
The courthouse has reduced on-site staff and made it possible for them to work from home.
"Clerks in the office and working from home are also processing and maintaining all documents filed with the court, collecting and processing fines, fees and restitution," Gaylord said. "They are assisting citizens with electronic filing of documents and sharing court information with all appropriate agencies."
Concerned about COVID-19?
Sign up now to get the most recent coronavirus headlines and other important local and national news sent to your email inbox daily.