Moments after he discovered he had COVID-19, Zachary Edwards, 37, of Davenport, stood in the Genesis Medical Center parking lot and wondered "What do I do now?"
Edwards, who lives with his wife, Leigh, in downtown Davenport, officially got word of the diagnosis at 9:55 a.m. Saturday. But Edwards, now 12 pounds lighter and able to take walks with his dog outdoors again, quarantined himself more than two weeks ago when he became ill with a fever and was certain he had the new coronavirus.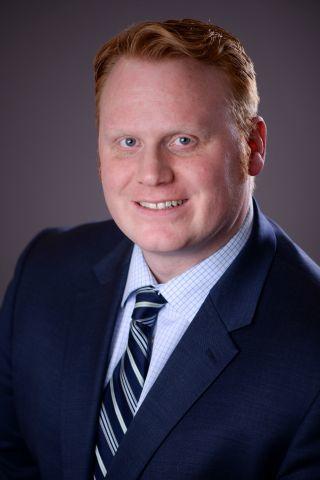 He thinks he contracted it just before St. Patrick's Day.
On March 14, he and his wife had some friends over, he said.
In the afternoon, they walked down to listen to some bands at a bar along with a group of seven other people.
"There hadn't been any reported cases in Scott County yet," he said. "I thought I was going to be OK."
Edwards, a financial adviser for Waddell & Reed, Davenport, felt tired the next Monday and Tuesday.
"I had been at that point cancelling my appointments anyway for my clients, just kind of out of preparation. On Tuesday night, about 9 p.m., is when I got a terrible fever that lasted three or four hours. It was bad," he said.
That was on St. Patrick's Day.
"I thought I had the flu."
Before that, his wife, who also works for Waddell & Reed, had become ill and tested positive for the flu. So Edwards checked into an extended-stay hotel on Monday night so they both wouldn't get sick.
"After I got the fever the next day, on Wednesday, March 18, I went to the Genesis clinic on 53rd Street," said Edwards, who has kept track of his experience.
He was surprised to test negatively for the flu.
"I didn't have the cough at that point, but I had the fever and the body aches. They said 'It sounds like you have the COVID virus.'"
The attending health-care responders said there was nothing with which to treat it, "and I should go quarantine myself for 14 days." If he had respiratory issues, he was told, he should call the emergency room first and identify himself as having COVID-19.
"I was a little bit in shock. I remember I went out to the parking lot and it was surreal. I was kind of like, 'What do I do now?'"
He called his wife, his parents, and his manager, because he was concerned about the rest of his team among the five who work in his office.
"I wasn't really scared because I didn't feel like I had the severe symptoms that were on the news," he said. "When the doctor said 'We don't have anything to treat this with,' that made me a little uncomfortable.
"They didn't have a test for me. At that point there were not enough tests available."
None of the people he was with on March 14 got sick, he said.
While the hours and days went by, Edwards continued to feel worse. A cough started Saturday. A fever seemed to set in during the evening and last throughout night.
"I was extremely tired. I was just exhausted," he said.
"I was having to work an hour and then rest for 45 minutes," he said. "I'm trying to work through this with my clients because at the same time the market's going crazy."
On Monday, March 23, he contacted his family physician. She said he could include family history, which includes high blood pressure, as part of the criteria to be tested.
So off he went to the Genesis drive-through tent on Northwest Boulevard and 53rd Street.
"It was a little odd, because I drove my whole car into this tent," he said. "The test itself was not the test I've seen online: They went to the back of my throat, more like a strep test."
Meanwhile, he continued to feel worse. "My cough was getting very bad. I was feeling awful," he said. "I was very dehydrated even though I was drinking water and Pedialyte (for rehydration.)"
Because his watch monitors oxygen levels, health-care workers advised him to keep an eye on that, and go to the hospital if it dropped.
On Thursday, March 26, the oxygen levels dropped a little, and Edwards was out of breath. His physician told him to go to the emergency room at Genesis Medical Center-East Rusholme Street. He called first and identified himself as having COVID-19, as he'd previously been told to do (although he did not yet have the test results.)
He was examined in a tent in the parking lot next to the emergency room. "In that tent they have all these rooms set up, like makeshift ER rooms, for diagnosis," he said.
It had been 11 days since he became ill.
"I said to the doctor 'If I don't have COVID, what the heck is wrong with me?'" He received intravenous fluids, and a chest X-ray came back clear. His blood work was fine.
He still coughed — so violently he sometimes had the dry heaves.
"Based upon what they had seen, they could confirm I had the COVID virus," he said.
After he was prescribed a Tylenol codeine liquid cough syrup and an inhaler for his lungs, he left the emergency room about 8 p.m., picked up his prescriptions and went home.
He endured another high fever that night.
By Saturday, March 28, he began to feel better. The fever lasted 11 days.
"A couple of nights there I stopped working about 5:30 and then woke up at 8 the night morning," said Edwards, who managed to continue to work from his home office.
Back at the physical office, a hazmat team was dispatched to clean up. "As of now, we haven't been back into the office," Edwards said. The whole team has worked from home and the physical office will remain closed until April 30.
Edwards continues to social-distance. He and wife, whom he considers to be asymptomatic (she has not become ill since she had the flu) stay away from other people. But they could not keep their distance from each other.
"We live in a two-bedroom condo downtown," he said. "It's not like I could seclude myself in a different wing of the house."
Once he had no fever after 72 hours, he began to walk the dog outside.
"I'm going on about nine days after my last fever," he said Saturday.
"Everybody that gets this is going to react to it in a different way," Edwards said. "It's much longer than the flu."
He thinks his symptoms were mild to moderate.
"The thing that weighed on me was how long it lasted," Edwards said. "It was wearing me down psychologically. It was tough, because the market was going haywire at this time. I had to be there for my clients. I was trying to make as many outgoing calls as possible."
He also was an adviser during the stock-market crash in September 2008.
"These are the times when I think we're most valuable — you have that person to reach out to, to talk to," he said. "I tried to answer the phone calls when I could."
Now, when he considers his experience, he feels extremely fortunate. "I saw some of these people who had this illness pass away — videos from Italy and everything we're hearing about from New York. I could have reacted a lot worse than I did."
He's also fortunate to have a job that allowed him to work through the experience. "At the end of all of this, I realized how lucky and how fortunate I am. It put a lot of things in perspective."
The first time he took the dog for a walk near the Mississippi River, "I appreciated every step," he said.
"I want the awareness to get out there. There are probably more people that have it in the Quad-Cities than what appear," he said.
"You see tens of thousands of cases in NYC, but it feels like it's far away.
"We have to take precautions so we don't spread it and overrun our health care system.
Friday: The latest on the coronavirus in the Quad-Cities
Here's the latest updates about the coronavirus and its impact on the Quad-Cities.
As of today, Clair Peterson sees the 2020 John Deere Classic taking place in July.
Michelle Juehring is still hoping that her first Quad-City Times Bix 7 as race director will come off as scheduled on July 25.
On a day when Iowa Gov. Kim Reynolds signed a new proclamation continuing the State Public Health Emergency Declaration through April 30, Illinois Gov. J.B. Pritzker announced a new program "All-in Illinois," aimed at reinforcing the state's core message: stay at home and stay safe, and that the entire state is in the fight against the coronavirus together.
Thousands of boxes of Girl Scout cookies went unsold this year in eastern Iowa and western Illinois.
The COVID-19 death toll grew by 16 Thursday, to 157, and the confirmed cases grew to 7,695, an increase of 715 from one day ago.
Two more people in Rock Island County have tested positive for COVID-19, bringing the total cases to 21, according to the Rock Island County H…
Nestled just off Davenport's 35th and Brady Streets, rests an icon, a Quad Cities staple since 1971.
A dwindling supply of personal protection equipment, or PPE, has Quad-City area health care workers worried — even scared — as the COVID-19 pa…
WATERLOO — A John Deere Foundry Operation worker, who had not been to work since March 20, was confirmed to have COVID-19 on Wednesday.
Initial unemployment claims continue to climb in the Quad-Cities, and the United States, as the COVID-19 pandemic continues.
All Whitey's Ice Cream stores will close temporarily starting at 10 p.m. Friday, the company said in a Facebook post.
DES MOINES — Pressure from medical experts and politicians mounted Thursday on Iowa Gov. Kim Reynolds to issue a statewide stay-at-home order,…
Ross College in Bettendorf closed its doors Wednesday night. Staff and students will be working remotely through the COVID-19 emergency.
DES MOINES — Leaders in the Iowa Legislature announced plans Thursday to extend the "pause" in their 2020 session until at least April 30 due …
Isolation Diary, Week 3. Or maybe Week 19. I'm honestly not sure. Time has lost all meaning. The other night I went to bed at 5 a.m. and woke …
Concerned about COVID-19?
Sign up now to get the most recent coronavirus headlines and other important local and national news sent to your email inbox daily.