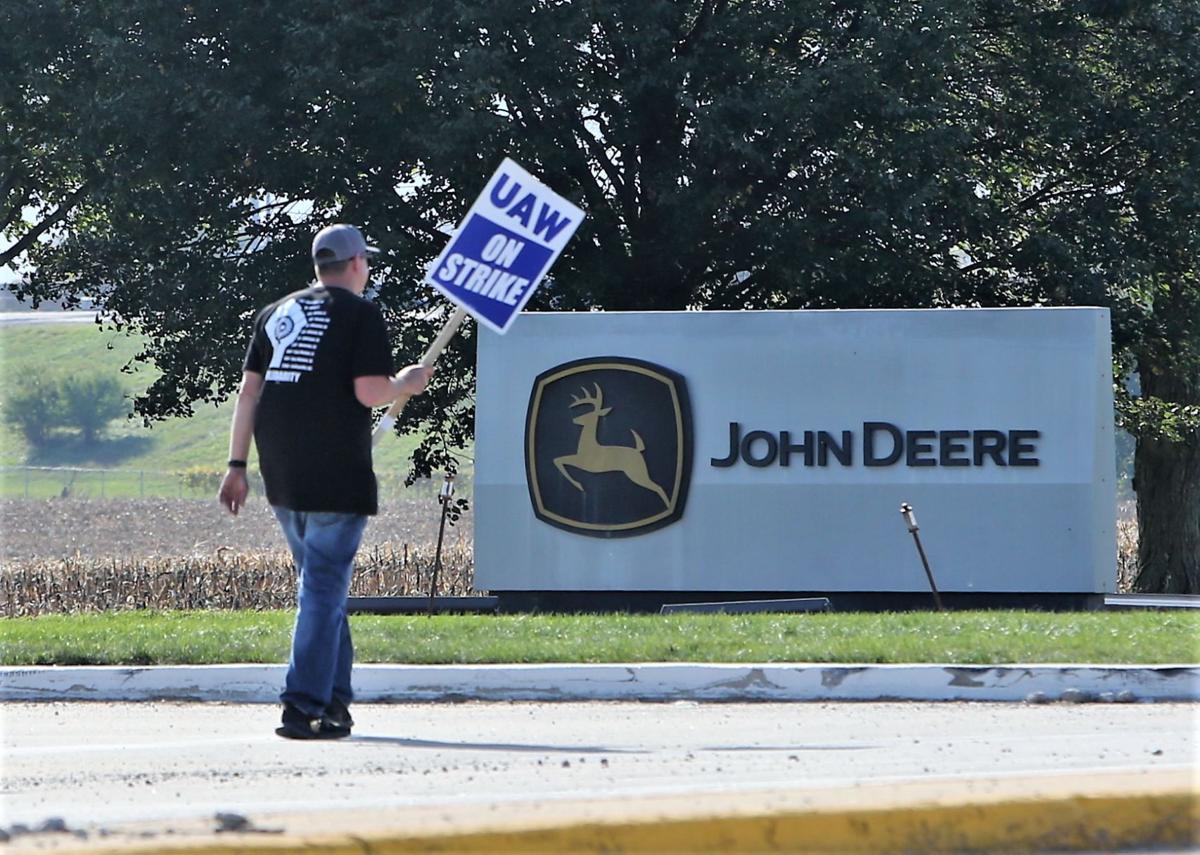 After a week on the picket line outside of the John Deere Davenport Works, strikers are now under strict restrictions over how and where they can picket.
Attorneys for Deere and Co. on Wednesday submitted a 10-page court motion, along with another 13 pages of evidentiary documents, seeking to prevent members of the United Automobile, Aerospace and Agricultural Implement Workers of America, Local 281 from trespassing and otherwise disrupting business at the Davenport Works facility.
Deere sought and received a temporary injunction, telling the chief judge of the district court in Scott County that picketers' conduct has disrupted access to their properties and put others, including UAW members, at risk.
"Deere & Co. was granted an order for temporary injunction to maintain a safe environment for all our employees and contractors — including those reporting to work and those exercising their right to strike," said Jen Hartmann, a company spokesperson. "This temporary injunction was put in place to provide safe entry and exit to the John Deere Davenport Works facility."
As part of her order, Chief Judge Marlita Greve also limited to four the number of picketers that can be "near" each gate of Davenport Works, banned the use of chairs and barrel fires by picketers and prohibited harassment and intimidation tactics.
In its motion, Deere said at least five trucking companies have said they encountered harassment from picketers since the strike began last week.
It's not unusual for companies to seek injunctions in strike situations, says Bob Bruno, director of the Labor Education Program at the University of Illinois. Technically, companies are not infringing on the rights of unions to strike but are placing safeguards to protect against alleged violent and dangerous behaviors.
"Think of it as limitations on time, place, and manner," Bruno said.
How injunctions influence the negotiation process
Injunctions are often used by companies during strikes to shift the power balance in negotiations, according to labor experts.
"If you got a big group of workers, you got 200 workers out there, and then you're trying to bargain with the union, the union's bargaining team is going to get a lot of energy, and they're going to feel really good about having all those members out there," Bruno said. "And the company is going to feel the pressure."
Placing an injunction on a strike also limits the public's awareness on the picket lines and negotiations, because it limits media coverage and visitors, like politicians, according to Bruno.
"If they can nullify the public representation of the strike, if they can reduce it to four people here and there, it looks like maybe interest is drained away, the community isn't so engaged," Bruno said. "... You're back at the bargaining table, but you're trying to shift the power balance a little bit. There's the psychology of a strike. There's the public face of a strike."
The point of a strike is to stop an employer from working, and this right is recognized by national and international law. An injunction can be an employer's way of trying to prevent that, said Paul Iversen, a labor educator at University of Iowa's Labor Center.
"Getting bogged down in the details of the injunction is kind of what Deere wants to have happen," Iversen said. "We should really focus on, from the workers' perspective, they're doing what they have the right to do."
Overall, injunctions should be proportional to what was observed on the picket line, according to Bruno.
"It really should be a minimalist approach," Bruno said. "The restrictions, from my perspective, should do minimally what you need to do to create that balance between the right to picket and the right of the company to secure a safe environment."
Injunction restrictions not the norm
Labor law experts who've reviewed the Deere injunction say the ban on chairs and fire barrels is unusual and the injunction lacks sufficient evidence to prove their role in impacting the ingress and egress out of the Davenport Deere plant.
James M. Cooney, a labor and employment law expert in the Rutgers School of Management and Labor Relations, said since the alleged exhibits lack a direct mention of fire barrels or chairs being used to create dangerous situations, there isn't a basis for the ban.
"I would think that there is no basis for prohibiting the fire cans unless there was some evidence that they were using the fire source to intimidate and block," Cooney said. "From the materials I read, even the company is not alleging that."
Iversen, at the University of Iowa, said it is unusual to see an injunction ban fire barrels and chairs. Typically, items that are banned have to be "disruptive" and "intimidating."
"The fact that you have something to keep you warm on a cold day is not usually the subject of an injunction over things that cause harm to Deere," Iversen said. "It's hard to see how burn barrels and chairs would cause harm to the company."
Iversen and Cooney said the restrictions on the number of picketers is also unusual.
"Four is pretty low," Iversen said "Typically you'll see six or eight."
Typically, for the restriction on picketers to be this low, Cooney said the gate entrance would have to be pretty slim. 
"I think some of the other things that were put in there might have been slipped in by the company lawyers to just see how many restrictions they could get, like the four-person limit," Cooney said. "That's kind of low, in my experience, unless there's some evidence that it's a really tight squeeze where four people would really block that."
The injunction prohibits picketing or congregating "near the Contractor Gate entrance," which is regarded as a neutral gate that cannot be picketed, Deere's documents state. Cooney said that since Deere states that the gate is used for companies outside of current negotiations it should not be picketed.
The ruling did not define "near" in specific distances, which, according to Cooney, is also unusual. Typically, court orders specify specific feet so that people know exactly how far to distance themselves. Without a specific distance, it is difficult for picketers to know where it is appropriate to occupy the space.
The potential for modifications
The UAW now has two days to respond to the court with its compliance plan. Cooney said this might open up the potential for UAW's council to argue for modifications in the injunction.
Specifically, the UAW can file a "motion for modifications" or to dissolve the injunction completely. In order to argue for modifications or dissolvement, they would have to provide evidence to counter what was alleged in Deere's injunction.
Lawyers could potentially argue that since there was no specific mention of how fire barrels and chairs were used to create a dangerous situation or impact ingress and egress out of the gates, there is no basis to ban them, according to Cooney and Iversen.
"I would like to think a judge would be open to that the obvious reason they don't want (fire barrels) there from the company side is if people were getting cold they're more likely to leave and stop picketing," Cooney said. "... There should be some way for them to keep themselves warm."
Cooney said that most judges would sign off on having one gate that contractors can use without picketers, which is pretty routine, because it guarantees unimpeded access. The judge should be open to hearing more from the union if they have other concerns and evidence relating to the injunction.
"I would think most judges will now be interested in hearing from the other side," Cooney said.
What about picket lines in Illinois?
It could be trickier for Deere to obtain an injunction in Illinois as restrictive as the one issued in Iowa. Differing state laws make it more difficult to receive an injunction in Illinois, and forces companies to be more specific, according to Matt Pappas, an attorney at Pappas Wright, P.C. in Rock Island.
"They're going to have to show specific facts that surround the circumstances in order to get an injunctive relief," Pappas said.