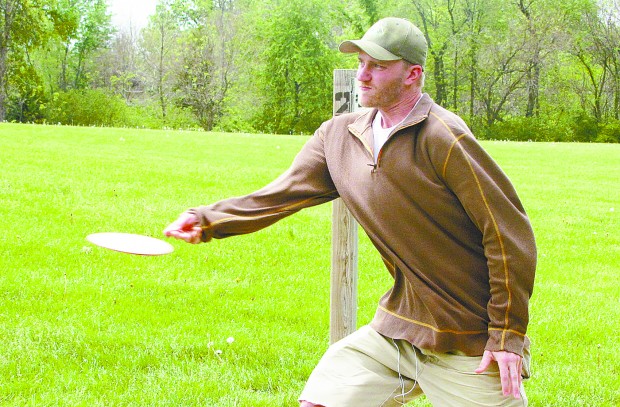 MUSCATINE, Iowa — Member of the newly formed Muscatine Disc Golf Club are hoping their club makes a hole in one with the community.
For the past 15 years, Tyson Castle, of Muscatine, has been playing disc golf. In 2006, he channeled his love of the game into working with the Muscatine Parks and Recreation Department to set up a disc golf course at Fuller Park in the 3300 block of Cedar Street.
"We tried in 2002 to get a course set up in Weed Park but that fell through," Castle, 31, said.
Disc golf, a game similar to traditional golf, involves players throwing a Frisbee-like disc at baskets; and instead of using different clubs, they use different discs of varied weights. The holes are measured in feet in disc golf, not yards like in traditional golf.
 Most of the holes for the course are par three equivalents, ranging in length from 200-250 feet.
"You're just working toward getting the best placement to get the disc in the hole," Castle said.
About a month or so ago, Castle took the initiative to set up a disc golf club league. Right now, the club has 10 members. Castle believes membership could grow to 50 by the end of the month.
"It's one of the fastest growing sports in the country," Castle said. "The sport spreads through word-of-mouth mostly."
"The club is finally online at discgolfscene.com and I update everyone [with times, scores and game styles] through that."
Club member Joseph Duehlmeyer, 27, of Musca-tine, said the game is a great way to teach patience.
"I get frustrated when I play too fast," Duehlmeyer said. "So the game teaches me to be patient with my throws."
Fellow club member Frank Cruz, 22, of Musca-tine, said the game provides a good workout, it gets people outside for a few hours and there are no green fees.
Castle said the club adopted Fuller Park, the home of the course, as part of the Parks and Recreation Department's Adopt-a-Park program.
He and fellow club members help maintain the course and park.
"In April, we put about 50 man hours of cleanup into the course," Castle said.
Castle said the club is open to all ages. Members hold random-draw doubles games on Saturdays, beginning at 1 p.m. for $5 per person. There is a one-time $20 fee to join the club.
"I'd like to get another course in Muscatine," Castle said. "The Quad Cities has around 20."
"I was hoping to create something for everyone to enjoy and I think it's a positive thing for the community."
Get local news delivered to your inbox!
Subscribe to our Daily Headlines newsletter.