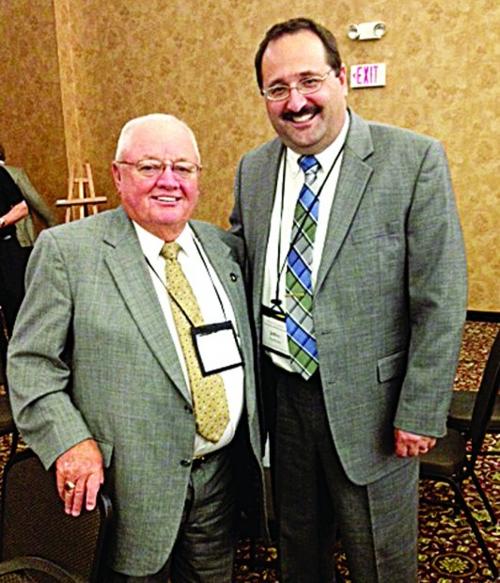 ...  And teaching is what MCC instructor Jeff Kaufmann was honored for by the Iowa Association of Community College Trustees
---
MUSCATINE, Iowa — As a leader in the Iowa House of Representatives, Rep. Jeff Kaufmann  has received plaques, awards and certificates by the wallful.
But none affected him like the award he won on July 27.
Kaufmann, who teaches government and history at Muscatine Community College, was named Iowa's faculty member of the year by the Iowa Association of Community College Trustees during a ceremony at Lake Okoboji.
It's the first time in 25 years that an MCC instructor has garnered the award.
"Working in politics is satisfying, but there are a lot of superficial duties you have to do," said the Wilton Republican. "An award coming from what I have done with students is very meaningful."
"Politics is what I do," Kaufmann added. "Teaching is who I am."
Kaufmann will continue to do politics, but it'll be a switch from the Capitol to the courthouse — assuming he wins, of course.
He's not seeking re-election to his House seat this November, instead running for a seat on the Cedar County Board of Supervisors.
But it was his work in the classroom that captivated colleagues and students — a fact borne out during remarks made during the award ceremony.
During the presentation, Bill Phelan , president and chief executive officer of the Greater Muscatine Chamber of Commerce and Industry, read unattributed remarks from four pages of documents submitted as part of Kaufmann's nomination.
According to those papers ...
In 1988, while an adjunct faculty member at MCC — he was still pursuing a doctorate at the University of Iowa — Kaufmann demonstrated Gen. Ulysses S. Grant's Civil War battle strategies by having students "storm" a doorway while Kaufmann "defended" it.
"The students were completely captivated," a dean at the time recalled. "I knew he was a special teacher then, and when a full-time history position came open, I held it for a year until I knew he was available for full-time teaching. That was one of the best decisions I ever made."
"His sense of humor is legendary," one colleague said, "as is his ability to retain an amazing amount of information. He knows that history is really about stories, and he is so good at drawing [students] into the stories. His class is not a lecture — it's a series of very active
Also in the nomination papers were comments shared by Kaufmann's students, including these ...
-- "I've been learning about the same tired subjects since third grade, but I felt myself really learning something here."
-- "He made us feel as if we could make a difference in politics."
-- "This course enlarged my horizon."
According to the papers, MCC President Bob Allbee said that Kaufmann "always takes a student-centered approach. He's all about the classroom and the student. He's a very funny guy, but when you cut through all the joking around, he really cares, and he always does what's right for the student."
As House Speaker pro-tem, Kaufmann has been, in the words of Phelan's nomination, "an outspoken and unapologetic advocate for Iowa Community Colleges, their mission and the essential role they play in providing Iowans with access to quality and affordable higher education and in supporting the economic development of Iowa communities."
"Even in this role," Phelan added, "Jeff has been the ultimate teacher."