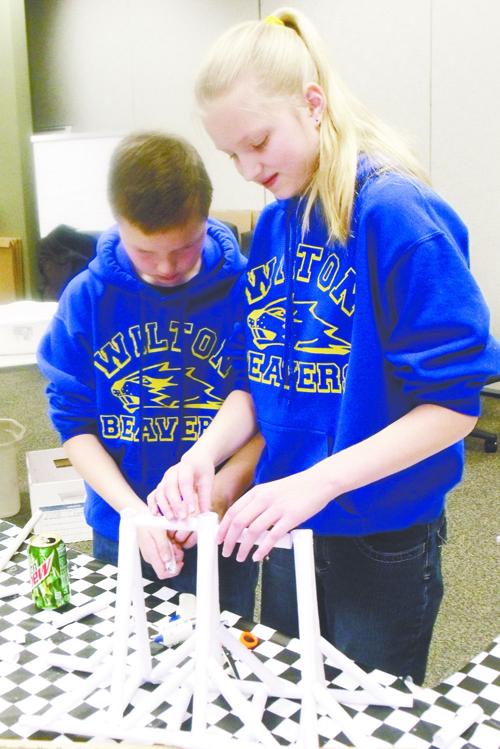 Students' span-do attitude helps them learn about building bridges at local contest
---
MUSCATINE, Iowa – Nineteen students from both sides of the Mississippi River spent Saturday morning building paper bridges destined to be crushed.
This they did gladly – in part because they were vying for
$50 prizes — but that wasn't the only reason.
"It's fun," said Kyle Lund, a fifth-grader from Wilton, who was teaming up with his friend, Ronen Santiago, another Wilton fifth-grader. "It gets you out of the house, and gives you something to do with your hands."
"It definitely would take a lot of work to build a real bridge," said Jacob Reimche, a Wilton fourth-grader.
"And I probably won't grow up to be an engineer," said his 11-year-old sister, Hannah, who teamed with her brother to build an entry.
Musco Lighting hosted a bridge-building contest in which students grades 4 through 12 could use only paper, glue, rulers, scissors and tubes (for rolling strong bridge beams).
Dave Moritz, an engineer for Stanley Consultants, and wife Diane, a Wilton science teacher, organized the contest, with a lot of help from their friend, Bob Windt of Cordova, Ill.
aerospace engineer and the builder of more than 100 working hovercrafts. He has a long history working with students to get them as excited about science as he is.
"I just love it," he said, "when you see a light bulb go on over a kid's head."
"You walk into Bob's house," Moritz said, "and it's like a toy shop."
Windt opened his time with the students by showing them a book describing how engineers design strong bridges. He gave students a few pointers for their designs, such as "use your worst-looking pieces on the bottom, because they're probably the strongest pieces" and "don't glob on the glue, because it'll add too much weight," before turning students loose to get to work.
Windt also brought along prototypes of miniature hovercraft he's designed, along with rockets and gliders, all homemade from readily-available materials. His motto: "The best toys are the ones you make yourself."
Windt grew up in Chicago, where he said he and his brother could easily purchase chemicals like potassium nitrate for use as fuel in their homemade model rockets. Once his brother purchased a five-gallon bucket of shotgun shells, which the boys took apart for the gunpowder to fire their rockets.
"Our garage had a lot of holes from our misfirings," he said, chuckling.
After two hours of bridge-building, students brought their bridges forward so that Moritz and Windt could see how much stress they could stand up to.
A dial indicated how much pressure each bridge withstood before it failed. Dividing that number by the bridge's weight determined three winners: Tyler Much of Muscatine High School, Max Cremer of Pleasant Valley Junior High School in LeClaire and Noah Brown of Wilton Elementary School. Each took home $50, courtesy of Musco Lighting.
Children learn much better by doing than by watching, Windt said, and he's got a lifetime of testimonials to prove it.
"Kids are always telling me, 'That's the best day I ever had in school!'" he said.