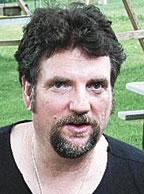 When Muscatine native T. (Thomas) Scot Halpin died in February 2008 after a long battle with a brain tumor, his wife, Robin Halpin Young and their son, James, 17,  needed time to heal.
"After he died I fell apart," she said from her home in Bloomington, Ind. 
In an effort to preserve the life and work of Halpin, a musician and artist, Robin Halpin is hoping to help produce a documentary of his life.
"I've come to realize how Scot viewed this work with a healing
energy," Halpin said of her late husband's art. "This was clearly his intention."
Halpin was catapulted to the spotlight in 1973 at age 19 when he filled in for The Who drummer Keith Moon at a concert in San Francisco.
Moon, who had induced a mix of alcohol and drugs, passed out at  his drumset. When The Who singer/guitarist Pete Townshend put out a call to the audience for a drummer, Halpin's friend volunteered him.
Halpin was later named "Pick-up Player of the Year" by Rolling Stone that same year.
"He seemed to me to be the most lovely man, with a generous and selfless energy," Townshend said shortly after Scot's death. "I measure my life by the great and good people I have occasionally met. Scot was one of the truly great and good ones."
Halpin, however, was ever the musician, even before his center-stage performance with The Who.
After Scot died at 54, Robin Halpin has been working tirelessly on a T. Scot Halpin blog, featuring pieces of his artwork accompanied with music.
The first piece of art Robin posted, "The Transparent Dimension," features a song performed by Halpin and friends in their early teens.
"It's a huge responsibility because it takes a lot of time to find the track I want to use," Robin Halpin said.
Now faced with several stacks of her husband's art, Robin Halpin is researching ways to preserve his legacy and spread his energy for art.
"He was all about creating this work; he never stopped," she said. "He had this wonderful, caring desire to help people in their own creative process."
His art is inspired by the likes of Pablo Picasso, Paul Klee and illustrator Ralph Steadman.
The documentary was the first step. At an art show of Scot's work in New York, David Wollos eyed the colorful pieces in wonder.
"I saw the images of Scot's work and saw something very unique," Wollos said. "There's something here."
Wollos is a co-partner of ThinkTank Emporium, an intellectual property coaching and consulting group. He and his company partner, Joan Luks, come from a media background.
"The materials fascinate me," Wollos said of Scot's art. "What I'm leading to is the story can be told in a number of different ways to a mass audience."
Wollos said the documentary will not run in theaters, but will be an "educational presentation" roughly between 30 and 60 minutes in length. Wollos and Robin Halpin are still in the process of choosing a filmmaker.
"The right person will not only grasp this but it's almost that that person is going to be living Robin's life and nurture what is a meaningful documentary," Wollos said.
Scot's lifelong friend, Steve Teraberry, has been assisting Robin with avenues to share Scot's art.
"I think that her aim is to see that this body of art lives on," said Teraberry, a graphic designer at Stanley Consultants who has also been assisting her with graphics for the blog.
"Robin's association with ThinkTank Emporium gives me the opportunity to stay connected to Scot, much in the same way we were connected in life – through art," Teraberry said. " I'm looking forward to seeing his legacy live on in a way that will allow others to experience, or re-experience, Scot's inspirational influence."
Get local news delivered to your inbox!
Subscribe to our Daily Headlines newsletter.