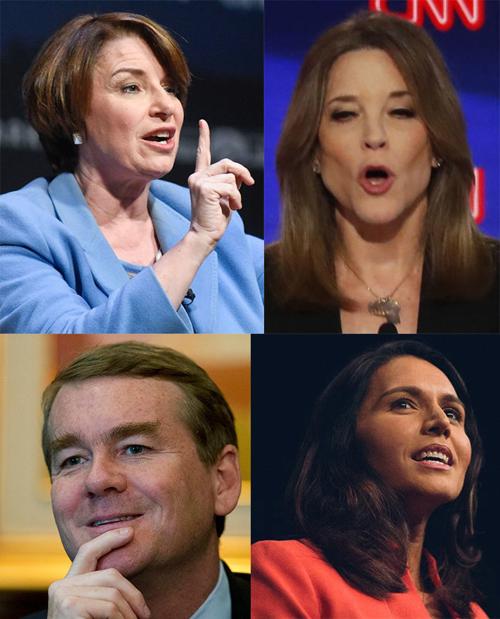 The chicken fry picnic begins Monday at 11:30 a.m. at the Rock Island County Fairgrounds, 4200 Archer Drive, East Moline. Speakers will take the stage at around 1:30 p.m. 
Rock Island County Democratic Party Chairman Derek Jones said having four presidential candidates attend the picnic is a record for the event. 
"It did take a lot of hard work and outreach," Jones. "We were persistent with phone calls and letters to their campaign headquarters. This is the most presidential candidates that have ever attended at one picnic. Our sales so far just on meals alone have surpassed more than 2,100 tickets.
"I'm very excited, I think this it's going to be great," Jones said. "We have candidates from all over the country coming to the Quad-Cities. They know the Midwest is where Democrats need to win."
Entrance into the event is free, and tickets for the fried chicken dinner are available at the door and cost $15 for adults and $7 for children under age 12. Beer and drinks will be available for purchase. 
Jones said proceeds from the event will go toward upcoming election efforts, mailings, social media marketing and office expenses and staffing. 
Other speakers include former Maryland Gov. Martin O'Malley, who will speak on behalf of Beto O'Rourke; U.S. Sen. Tammy Duckworth, D-Ill.; U.S. Rep. Cheri Bustos, D-Moline; State Rep. Mike Halpin, D-Rock Island; Illinois Treasurer Mike Frerichs; Iowa congressional candidate Rita Hart; and county and labor leaders. 
Jones said O'Malley endorsed O'Rourke early in the race. O'Rourke cannot attend the picnic because he will be attending a memorial service for victims of a mass shooting that happened at a Walmart store in El Paso Aug. 3 in which 22 people were killed. 
Labor Day parade
Rock Island will hold its 35th annual Labor Day Parade, beginning at 9:30 a.m. at 33rd Street, going west along 18th Avenue. At 24th Street, the parade turns left and continues south to 25th Avenue, ending at Rock Island High School. 
This year's theme is "Parade of Champions" as a way to recognize champions in the community. Rock Island's Citizen of the Year, Christian Care, will serve as the grand marshal. All other Rock Island Citizen of the Year category winners will also march in the parade. 
All parade entries will be judged with winners selected from different categories: mayor's choice; council's choice; parade board choice for best theme-related entry; and citizen's choice.
Awards also will be given for best floats from a business entry, church entry and school entry. All winners will be recognized at an October Rock Island City Council meeting.
Get Government & Politics updates in your inbox!
Stay up-to-date on the latest in local and national government and political topics with our newsletter.