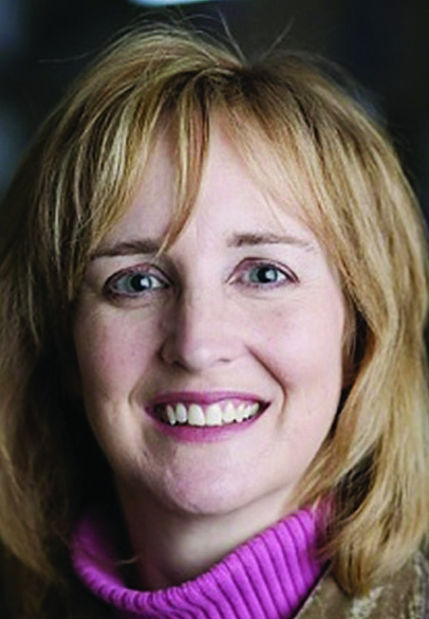 Editor's note: Every Monday, the Muscatine Journal profiles a local figure who responds to questions provided by one of our reporters.
MUSCATINE, Iowa — Dr. Laura Hansen, a  professor and cancer researcher who grew up in Bettendorf and Davenport and the author of the young adult novel "Cruise of the Undead," will be at the Muscatine Hy-Vee store, 2400 Second Ave., from noon-2 p.m. on Sunday,  March 24, to sign copies of her book and chat with readers.
Hansen, a biomedical sciences professor at Creighton University in Omaha, Neb., and the director of the university's Molecular Mechanisms of Carcinogenesis Program in the School of Medicine, has two children — Charlie, 15, and Jack, 12 — on whom the book is based.
According to a synopsis of the book at goodreads.com, "Some late-night sneaking around by Charlie and his brother Jack convince them that the unimaginable is really happening: the recently dead are walking the cruise ship they're aboard.
"After a gruesome attack at the Death by Chocolate Buffet, a seriously scary comedy of clashing personalities occurs when intense Charlie and his hip hop, extroverted younger brother, Jack, forge an alliance to defeat the zombie menace."
Family: Husband Dave Reed is also a professor at Creighton University; two children, Jack and Charlie
Education: She's a graduate of Pleasant Valley High School in Bettendorf and Iowa State University. She earned her postgraduate degrees from Duke Univer-sity and North Carolina State University.
Early literary influences: Includes Edgar Allen Poe, Stephen King, Jack London and J.R.R. Tolkien — "anything I could get my hands on, to my mother's sometimes frustration since I'd read nonstop until the book was finished."
It seems like writing a book for young readers might be a welcome outlet for someone who's a cancer biologist.
Yes. I write every day at work, scientific manuscripts and grant proposals mostly. It's very technical stuff.
Fiction is a just a joy. After I wrote the first paragraph of "Cruise of the Undead," my kids were enthralled. Their enthusiasm fueled me, and the story poured out of me over the next six weeks.
We read it aloud each night. The kids vetted it. Since they are the main characters, they were brutally frank about what worked and didn't, what they liked or didn't.
A lot of their dialogue I transcribed while they were doing whatever goofy thing. One scene was taken pretty much word for word from a baseball game played in our living room. I know it doesn't seem like an indoor sport, but it happened.  
How is it to compartmentalize your two careers?
Makes for a very busy life!
You say your two children provided the inspiration for "Cruise of the Undead." Can you elaborate? Are they OK with this arrangement?
They are the book's stars. I wrote it for them, and it's pretty true-to-life. Much of the book really happened, except for the zombies.
Jack is delighted to be a (minor) celebrity. It's his face that appears in a lot of the promotional material for the book. Charlie would prefer I never mention the book has anything to do with him. It's harder for him being in high school. No one wants to be different, and nobody else's mom has written a book about them!
Why are zombies so darn popular with young readers these days?
There's something precarious-feeling about life post-9/11. Zombies provide a way for kids to imagine taking their own safety in their own hands, defending themselves and surviving, in a way that's not violent towards people. They're what Charlie and a lot of his friends want to read.
Jack had a friend at school the other day who argued with him about whether zombies are real. Jack was incredulous that his friend seemed to think they were.
Can you tell us something about your next book(s) for young readers?
It's a sequel to "Cruise of the Undead," due to be released in late 2013. I don't want to give too much away, but the opening scene is in an airplane.
What in writing for youth gives you joy?
I've had so many kids come up to me at book signings, and say how much they love the book. That is the coolest thing.
One grandpa took a video of me to send to his grandson in Texas. They read copies of the book at the same time and loved it.
One mom at Creighton stops in occasionally to find out how the sequel is coming, her son is so eager to read it.