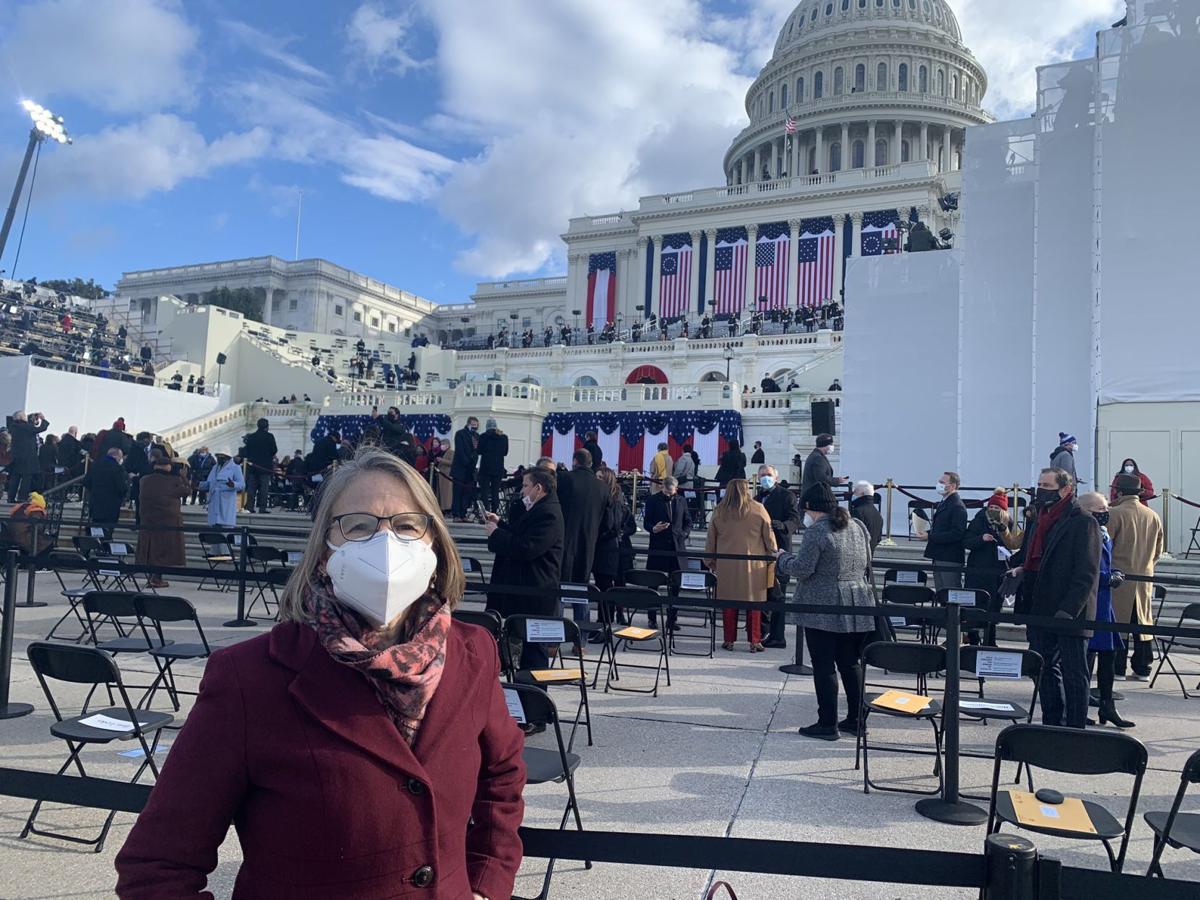 Iowa and Illinois federal lawmakers from both sides of the aisle expressed willingness to extend an olive branch and "rise above the partisan fray," hoping for renewed cooperation under Democrat Joe Biden's new presidency.
Here are their reactions to the Biden-Harris inauguration:
Iowa
Just hours before his inauguration, Iowa Republican U.S. Reps. Mariannette Miller-Meeks and Ashley Hinson joined GOP colleagues in a letter sent to Democratic President Joe Biden expressing their willingness to work together on key issues facing the nation.
Miller-Meeks, who represents southeast Iowa's 2nd District, tweeted that she offers her "sincere willingness" to work together with the new administration on coronavirus relief, infrastructure and rebuilding the economy.
The letter, signed by 17 House Republican freshmen, states: "After two impeachments, lengthy inter-branch investigations, and, most recently, the horrific attack on our nation's capital, it is clear that the partisan divide between Democrats and Republicans does not serve a single American."
Across the country, "Americans are tired of the partisan gridlock and simply want to see leaders from both sides of the aisle work on issues important to American families, workers, and businesses," the letter states.
The pair express hope to "rise above the partisan fray" to work with the incoming Biden administration in bipartisan fashion, per the letter, to "extend targeted, meaningful coronavirus relief for families businesses; protect Americans with pre-existing (health) conditions; strengthen and modernize our infrastructure; enforce our antitrust laws against emboldened technology monopolies; and restore our economy struggling in the aftermath of the coronavirus pandemic."
Hinson, who represents northeast Iowa's 1st District, tweeted: "People are tired of the chaos and dysfunction that runs D.C.," and that she stands "ready to find common ground with the Biden Administration where possible so that we can help Iowans & Americans."
However, in a broader statement posted to Facebook, Hinson vowed to "serve as a check on the ultra-liberal agenda I expect from the Biden Administration and Democrats in Congress." 
"I will be watching like a hawk to protect your taxpayer dollars and will always fight for conservative policy priorities like upholding the Second Amendment, maintaining a strong national defense, and protecting the unborn," according to the statement.
U.S. Rep. Randy Feenstra, who represents western Iowa's 4th District, was the only member of Iowa's congressional delegation not at the inauguration.
Feenstra will attend "senior night" for his daughter's basketball team at Dordt University and return to D.C. Thursday, when the House convenes, a spokesman said.
"While the outcome of the presidential election was not what thousands of Iowans had hoped for, it's time to look ahead and work towards a brighter future for our children," Feenstra said in a statement. "That includes addressing our national debt crisis and working to deliver results for the people of Iowa. I am hopeful that President Biden will seek common ground to move our country forward."
U.S. Rep. Cindy Axne, the lone Democrat in Iowa's Congressional delegation representing central and southwest Iowa's 3rd District, tweeted: "Today, we begin working to unify, heal, and build our country back better than ever before."
U.S. Sen. Charles Grassley, R-Iowa, in prepared remarks on the Senate floor, said: "Like four years ago, I know that many Americans are not happy with how (the election) turned out. That is absolutely fine. In our country, you are not obliged to like or support the president."
Grassley added: "As I have with every president, I will seek to find common ground with President Biden wherever possible, but I will strongly oppose policies that I think are not good for Iowa and all Americans based on input I receive from Iowans."
U.S. Sen. Joni Ernst, R-Iowa, said in a statement: "As an eternal optimist, I am hopeful we can work together with President Joe Biden, and the first female Vice President, Kamala Harris, in a bipartisan way to deliver for the American people."
Ernst said "(f)rom the Renewable Fuel Standard to economic policy, and from agriculture to national defense, I will hold this administration accountable and always put Iowa's interests first."
Iowa Democratic Party Chairman Mark Smith in a statement said: "Today marks a day of unity and the return of compassionate leadership to the highest office in the land. After (four) years of divisive politics, Iowans are ready for new leaders in Washington who will work to make people's lives better," with a focus on rebuilding the economy, getting Americans vaccinated and providing "direct relief and raise the wage, support small businesses and schools."
Illinois
U.S. Sen. Tammy Duckworth, D-Ill., issued a statement shortly after Biden's inauguration. 
"After the last four years, I'm proud to be able to tell the American people that empathy, compassion and real leadership are finally back in the White House as a result of Joe Biden being sworn in as our nation's 46th President," Duckworth said. 
Duckworth attended the inauguration wearing aviator sunglasses as a nod to Biden's signature shades and a string of pearls in honor of Kamala Harris being sworn in as the first female vice president in American history. 
"On Day One, President Biden is already taking immediate action on the most pressing crises facing our country, like getting a handle on the COVID pandemic, providing economic relief for working families, dealing with the climate crisis, addressing racial inequity and starting to fix our broken immigration system," Duckworth said. "As Joe has said, he's going to work hard, not just for those who voted for him, but for all Americans. Now is the time to come together to solve our nation's problems, get us out of this pandemic and rebuild an economy that works for everyone.
"I can't wait to get back to work under President Biden's leadership."
U.S. Sen. Dick Durbin, D-Ill., also issued a statement following the ceremony, saying the inauguration "comes during a time of unprecedented challenge for our country — more than 400,000 Americans dead from the coronavirus; a struggling economy; a deeply divided nation; and a climate in dire straits. As President Biden reminds us, the moment calls for sober reflection, but it also calls for national resolve."
"With President Biden and Vice President Harris in the lead, it is also a moment of hope," Durbin said. "I am optimistic, now more than ever, that we can come together and overcome our challenges and divisions. Now it is time to get to work to build the country back better and restore the soul of our nation."
In a phone call with reporters after attending the inauguration, U.S. Rep. Cheri Bustos, D-Moline, said the day was "historic in all senses of the word" and that it was an honor for her to "witness this moment in American history."
Bustos said Biden's inauguration marks a turning point in history as the country struggles to recover from economic turmoil, the coronavirus pandemic, two impeachments of Trump, and the violent insurrection on the Capitol building by Trump supporters Jan. 6 when Bustos herself fled the House chamber to safety.
"It is a time to move forward from this dark period," Bustos said. "I know President Biden will lead us to brighter days ahead. 
"We've had a tough four years in our nation; we've got to deliver now."
Bustos said she hopes Americans will embrace Biden's theme of unity.
"My hope is that we can come together; that we value the truth and when we have differences, we can talk about them in a civil way."